Via a three-goal deluge in the space of six minutes and 20 seconds, Sunderland was trounced 4-1 by Arsenal at the Stadium of Light on Saturday, cutting it farther adrift from the Premier League's 19 other teams in a worst-ever start to a season.
David Moyes seems powerless to prevent the Black Cats' descent. His signings of players under-equipped in top-flight action – let alone a relegation battle – have unsurprisingly flopped, the club's own chief executive has admitted Sunderland lacks an identity, and the small collective of players with some pedigree have been entirely uninspiring.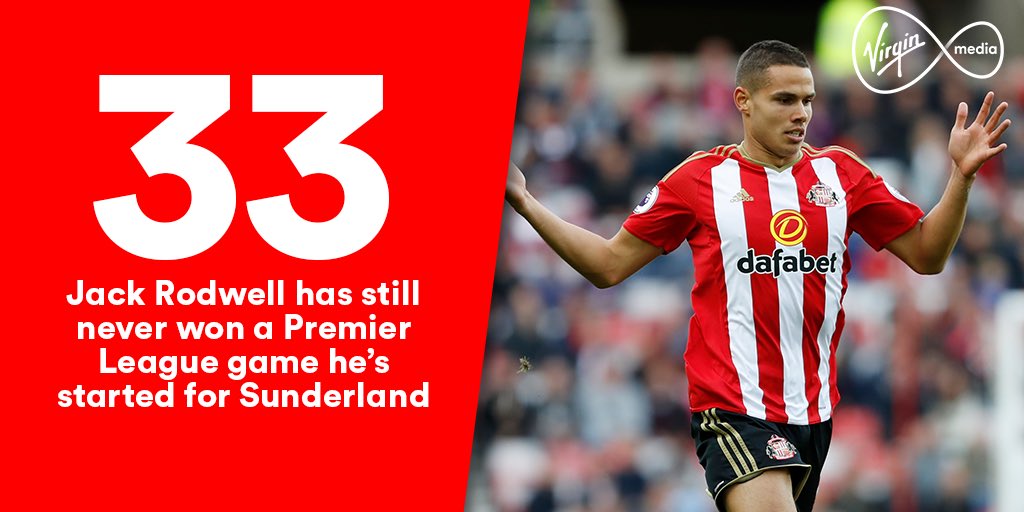 (Courtesy: @virginmedia)
The Wearside outfit is on pace to tally less points than the limpest amount recorded since three points were awarded for a win in 1981 – Derby County's derisory 11 in 2007-08 – and earning the unwanted title as the Premier League's most inferior lot in its 24-year history.
Here are the other sides scrambling to evade that crown:
Manchester City 1995-96
Sunderland's record of two points after 10 matches is only worse than Manchester City's, courtesy of a slightly worse goal difference.
The likes of Keith Curle, Steve Lomas, Niall Quinn, Peter Beagrie, and Uwe Rosler were Premier League standard, but no player was more feted by the Maine Road faithful than Georgi Kinkladze. The diminutive Georgian could conjure spells with his two little trotters, and was unsurprisingly the fulcrum of Alan Ball's side.
Related – Cult Heroes and Club Icons: The wizardry of Georgi Kinkladze
Unfortunately, like new chairman David Bernstein trying to straighten things up in the ransacked boardroom, Kinkladze struggled to do it alone for much of the season.
On the final day, however, City could've staved off the threat of relegation.
With Wimbledon ahead at Southampton and City drawing 2-2 at home to Liverpool, Ball's men would avoid the drop. Upon hearing this information, Lomas held the ball up by the corner flag to run down time – until a substituted Quinn came running down the touchline to tell him to get moving.
The information received by the coaching staff was incorrect, as the Saints were actually holding Wimbledon 0-0 – enough to demote City – but it was too late. City was relegated on 38 points, with an inconsolable Kinkladze continuing to play for the club in the second tier.
Sunderland 2005-06
The Mackems are familiar with this kind of ineptitude.
Coming off the back of a dominant campaign in the Championship – finishing with a nine-point cushion for promotion – Sunderland was on a high entering the 2005-06 term.
That was soon quashed, though. First-choice striker Jon Stead bagged just one goal in 30 league appearances, and the midfield was bereft of creativity. Winger Liam Lawrence had the footballer hair, but he misplaced more crosses than an irresponsible priest.
Sunderland dropped back down on 15 points.
Derby County 2007-08
Officially the worst team in Premier League history.
Manager Billy Davies shepherded the playoff-winning Rams into the Premier League believing that adding players such as Kenny Miller and Robert Earnshaw was all that was required to compete with England's best. The cult favourites that remained, like Stephen Bywater and Steve Howard, were simply ill-equipped for the challenge.
A rocket from Miller against Newcastle United in mid-September gave Derby some hope. It was lifted off the bottom of the table, and the uncompromising defending from Dean Leacock and Claude Davis vanquished concerns from recent 4-0 and 6-0 defeats to Tottenham Hotspur and Liverpool, respectively.
That was as good as it got. Davies was shown the door in November, but Paul Jewell's significant recruitment of experienced players in January failed to prevent the descent. The club ended its campaign with a torrid 11 points.
Aston Villa 2015-16
What a disaster.
Under the watch of Tim Sherwood and not long after reaching the FA Cup final, Aston Villa fans could've been forgiven for entering the 2015-16 season with some optimism.
Signings of Micah Richards, Idrissa Gueye, and Jordan Amavi further strengthened the Villans' bid to leave its residency towards the Premier League basement, but what followed was an unequivocal failure from all levels of the Birmingham outfit.
Reclusive owner Randy Lerner's neglect of Aston Villa was showing, and then further compounded by senior players – namely Joleon Lescott and Gabriel Agbonlahor – appearing to not take the side's predicament seriously. Sherwood's successor, Remi Garde, was a peculiar appointment given he had no experience managing in the Premier League.
Somewhat remarkably, Villa managed to nick 17 points over the course of the season despite squalid showings week in, week out. Now positioned 16th in the Championship, the club could take some time to recover from this sorry term.