Breakout or Fakeout: Which defensive stars will stay hot in 2021?
In this two-part series, RunSportBet's football editors give a verdict on whether 2020 breakout players will continue their success in 2021.
We looked at offense first. Next up are the defensive players. For the purpose of this exercise, rookies from the past season were not considered.
Fred Warner, LB, 49ers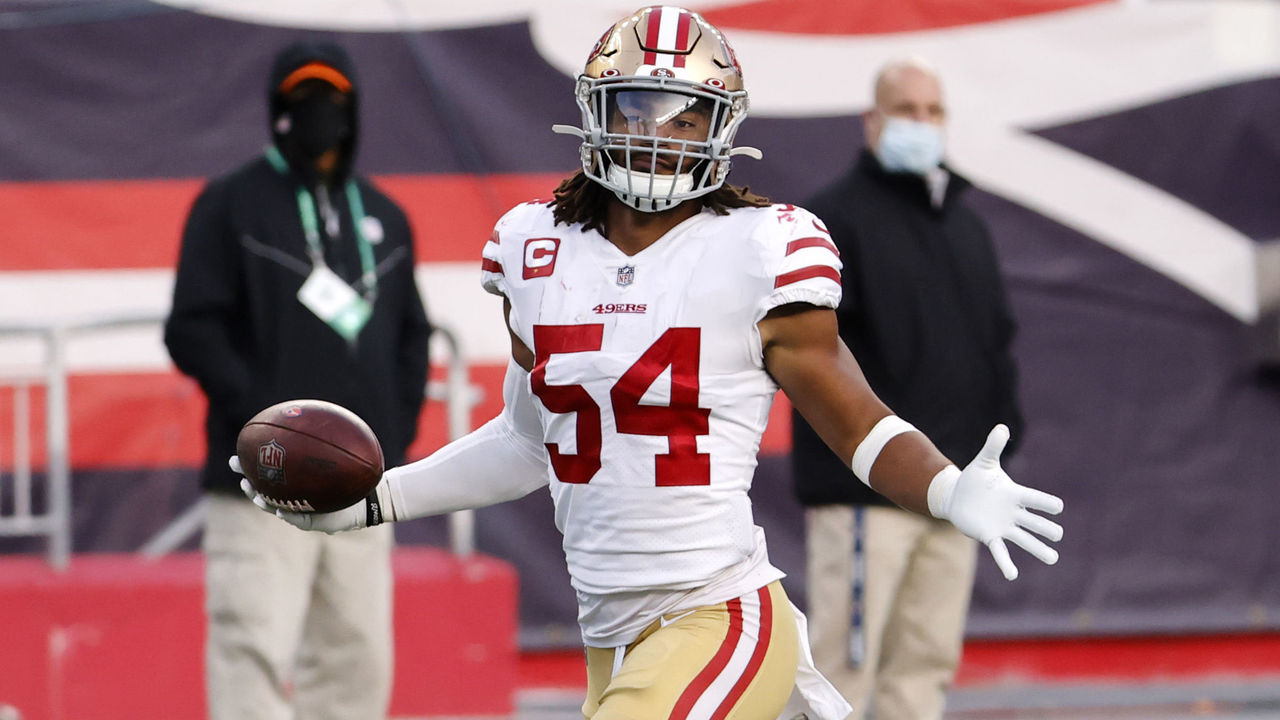 2020 stats: 125 tackles, 2 interceptions, 1 sack, 1 forced fumble, 2 fumble recoveries, 6 passes defended
Warner certainly wasn't a liability during his first two NFL campaigns, but he truly broke out in his third year. Cementing himself as a premier linebacker in the league, the 2018 third-rounder shined in the middle of Robert Saleh's defense and was awarded his first All-Pro selection.
The 24-year-old displayed elite coverage chops in 2020, and there's little doubt he can continue this success moving forward given his skill set. Warner possesses elite athleticism and processing and forced a tight window on 16% of his targets, per Next Gen Stats, despite linebackers rarely lining up directly across from an offensive opponent. He also allowed a 54% completion rate when targeted, the lowest mark for a linebacker since Next Gen Stats began recording players in 2016.
Warner is no slouch against the run, either, accumulating 25 tackles at or behind the line of scrimmage, according to Pro Football Focus. He's even a weapon on blitzes, as only seven linebackers earned more than his 10 pressures last season.
The ascending young defender is the poster boy for a new age at his position, matching up against dynamic tight ends and running backs while patrolling the middle of the field in zone coverage. Saleh may have left for the New York Jets, but Warner is too talented, both mentally and physically, for 2020 to be an anomaly.
Verdict: BREAKOUT
Trey Hendrickson, DE, Bengals
2020 stats: 25 tackles, 13.5 sacks, 12 tackles for loss, 1 forced fumble
No one saw Hendrickson's 13.5-sack outburst coming in 2020 after he took quarterbacks down a total of 6.5 times over his first three seasons. But with Marcus Davenport missing time due to injuries and Cameron Jordan garnering plenty of attention, the 2017 third-round pick produced hugely with his playing time increased.
Can Hendrickson repeat his success after leaving the New Orleans Saints to sign with the Cincinnati Bengals? His advanced stats may suggest otherwise. The 26-year-old ranked 21st among edge rushers with 49 total pressures, per PFF, and placed a solid, if unspectacular, 26th in pass-rush win rate. He deserves credit for finishing plays but wasn't as consistent as the raw numbers suggest.
Hendrickson is set to take on a larger role in Cincinnati. The former Florida Atlantic star's breakout 2020 and big-money contract will result in more eyes on him from offensive coordinators and blockers alike. We're not saying his game will fall off a cliff, but expecting another double-digit sack campaign from Hendrickson wouldn't be wise.
Verdict: FAKEOUT
James Bradberry, CB, Giants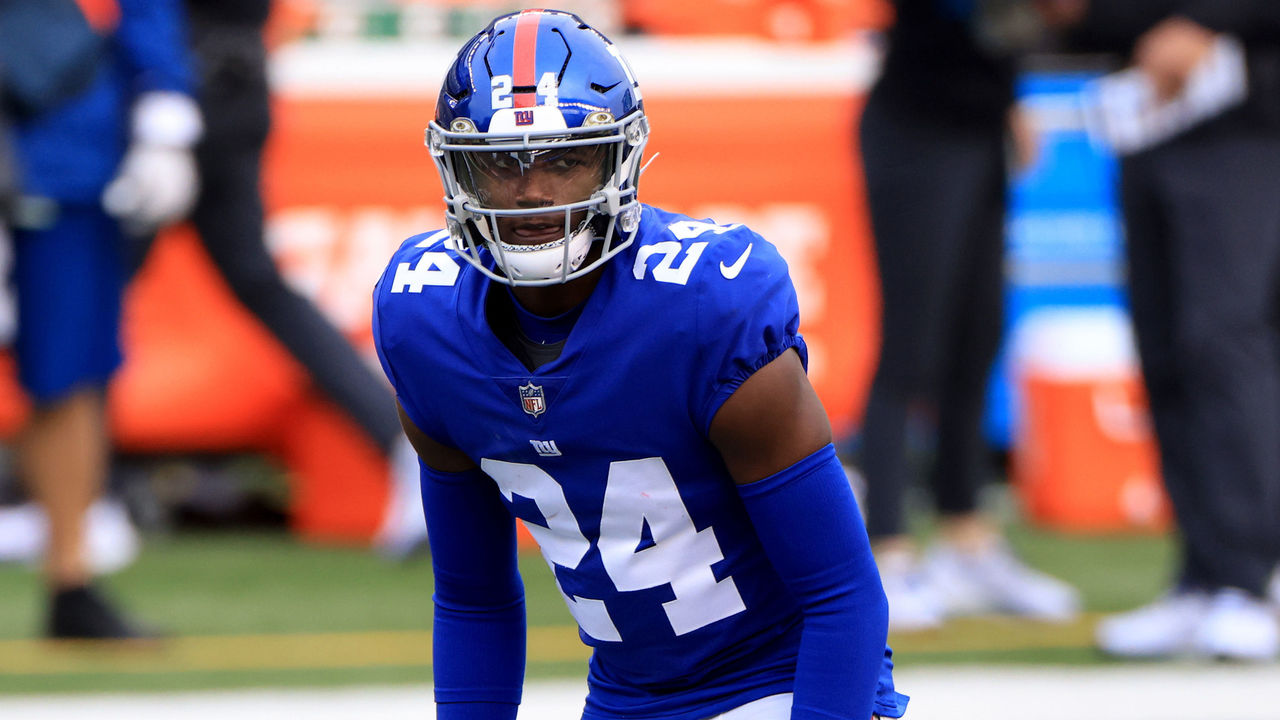 2020 stats: 54 tackles, 3 interceptions, 2 forced fumbles, 1 fumble recovery, 18 passes defended
Bradberry was a solid starter across his first four years with the Carolina Panthers but took his game to the next level after signing with the Giants last spring. Playing primarily zone coverage under Patrick Graham, the crafty defender often erased an entire side of the field while thriving in one-on-one matchups against the league's top receivers.
| Opponent | Receptions | Yards | TD |
| --- | --- | --- | --- |
| Allen Robinson | 1 | 14 | 0 |
| Robert Woods | 2 | 2 | 0 |
| Amari Cooper (2 games) | 4 | 25 | 0 |
| Terry McLaurin (2 games) | 4 | 30 | 0 |
| DK Metcalf | 4 | 62 | 0 |
| DeAndre Hopkins | 2 | 23 | 0 |
Bradberry displayed everything teams look for in a starting outside cornerback last year – his combination of physicality, mental processing, and ball skills was among the NFL's elite. He forced 17 incompletions in coverage, good for 21.8% of his targets. Both marks placed first at his position, per PFF. Ahead of his second season in New York, there's little reason to believe Bradberry can't keep this up. He's that good.
Verdict: BREAKOUT
Haason Reddick, Edge, Panthers
2020 stats: 63 tackles, 12.5 sacks, 15 tackles for loss, 6 forced fumbles, 4 passes defended
Like Hendrickson, Reddick enjoyed a massive breakout that landed him a significant pay raise with a new club this offseason. The former first-round pick accumulated 7.5 sacks in his first three years with the Arizona Cardinals before exploding for 12.5 sacks and three forced fumbles in 2020. The difference? He was finally placed in his most comfortable position.
| Year | Off-ball LB snaps | Edge snaps | Pass-rush snaps |
| --- | --- | --- | --- |
| 2018 | 84% | 15% | 23% |
| 2019 | 79% | 20% | 27% |
| 2020 | 9% | 90% | 73% |
Reddick was slotted at linebacker for most of his career prior to last season, resulting in him being viewed around the league as a disappointment. The versatile defender profiled as an athletic pass-rusher coming out of Temple in 2017, so it was surprising to see Arizona play him out of position until recently.
Now with the Panthers, Reddick has every chance to duplicate his success in a new system. Head coach Matt Rhule should utilize the defender's skill set next to young linemen Brian Burns, Derrick Brown, and Yetur Gross-Matos. While Reddick may still be labeled as a linebacker with his new squad, expect him to rush the passer productively in 2021.
Verdict: BREAKOUT
Jessie Bates, S, Bengals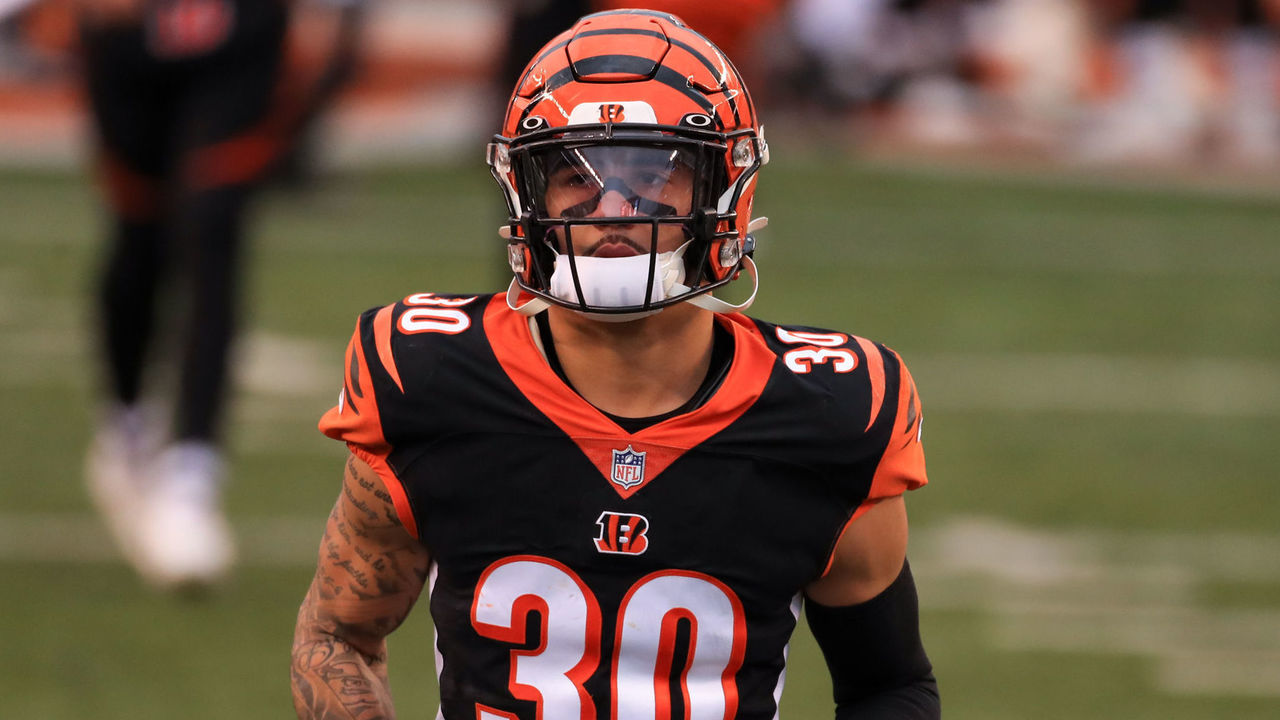 2020 stats: 109 tackles, 3 interceptions, 1 forced fumble, 15 passes defended
Bates enjoyed an excellent 2020 campaign roaming the back end of Cincinnati's defense. While staying stout against the run, he was even more productive in college, leading all safeties with 12 forced incompletions.
The 24-year-old can remain a quality defender in the immediate future, but a second straight All Pro-caliber season (he was voted a second-team member last year) isn't guaranteed. Safety play often fluctuates, and Bates is likely to take on more responsibilities after William Jackson departed for the Washington Football Team in free agency.
The Bengals' pass rush likely won't improve much either, if at all, with Geno Atkins and Carl Lawson no longer on the squad. This will surely impact the secondary and its overall production. Bates is a good player, but it's unlikely he'll replicate his incredible level of play moving forward.
Verdict: FAKEOUT
Devin White, LB, Buccaneers
2020 stats: 140 tackles, 15 tackles for loss, 9 sacks, 1 forced fumble, 1 fumble recovery, 4 passes defended
There wasn't a defender in football who stuffed the stat sheet like White did in 2020. Possessing elite speed in the middle of a talented Bucs defense, the former first-rounder was a highlight waiting to happen.
It's easy to see how talented White is and how his skill set is perfect for the modern game. No linebacker has made more tackles for a loss or no gain over the past two seasons. He was also a weapon in other phases, ranking in a tie for second at his position in pass breakups, first in sacks, and second with 31 quarterback pressures, according to PFF.
The scary part, at least for opponents, is White will only get better. The 23-year-old's biggest weakness is his propensity to miss tackles. Only four linebackers whiffed more often than White did last year, but his aggressive playing style is likely a factor here. The sky's the limit once he cleans up his technique.
Verdict: BREAKOUT
Darious Williams, CB, Rams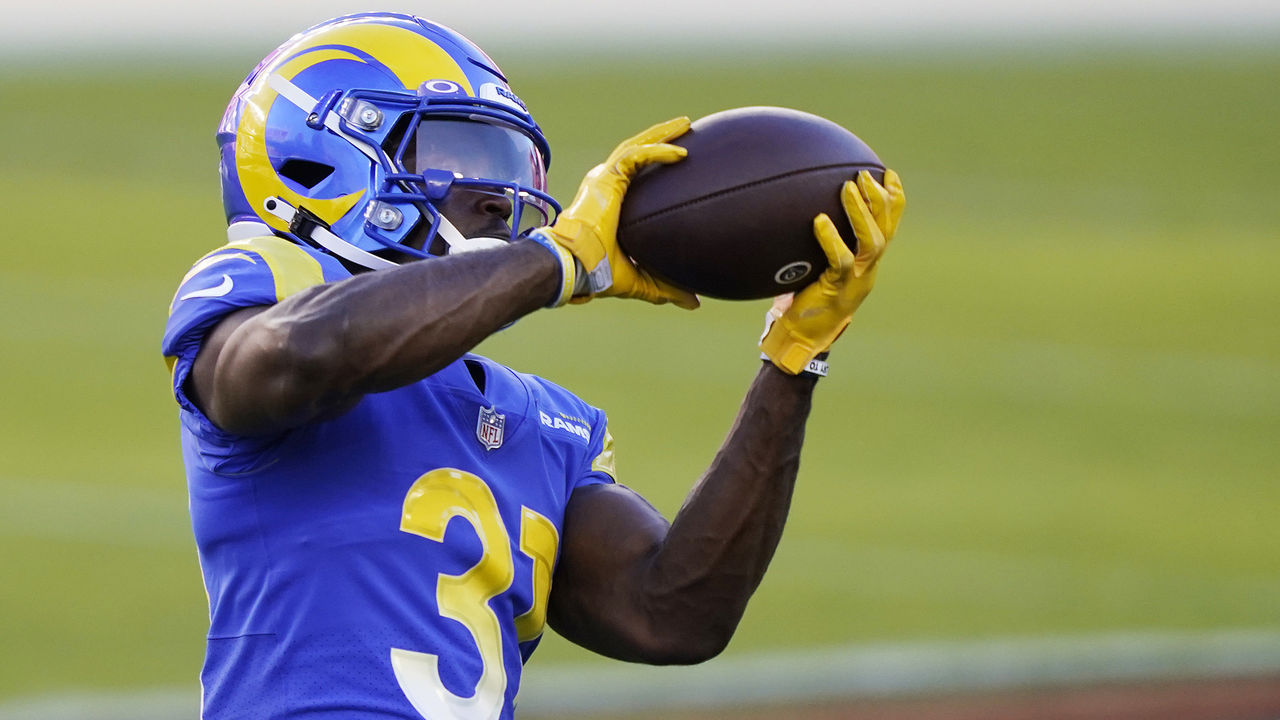 2020 stats: 44 tackles, 4 interceptions, 14 passes defended
Not many fans outside of Los Angeles knew who Williams was going into the 2020 campaign. After playing just 225 snaps in his first two seasons, the former undrafted free agent broke out as a boundary corner opposite Jalen Ramsey.
Williams was a difference-maker on a talented Rams unit, making numerous plays on the ball and only allowing 50% of his targets to be caught. Opposing quarterbacks earned a measly 59.9 passer rating when throwing into his coverage, fifth best at his position. L.A. played in zone more than any other club, and the feisty defender thrived coming off the line of scrimmage.
However, we're not entirely bullish on Williams moving forward, with the primary reason being a change in scheme. Defensive coordinator Brandon Staley left the Rams to lead the Los Angeles Chargers, and Raheem Morris replaced him. Morris didn't exactly get the most out of his defensive backs with the Atlanta Falcons running Dan Quinn's 4-3 defense, but he at least called a significant amount of zone coverage plays. With Staley gone and quarterbacks sure to target Williams often, fluctuating production should be expected in 2021.
Verdict: FAKEOUT
David Onyemata, DT, Saints
2020 stats: 44 tackles, 10 tackles for loss, 6.5 sacks, 1 interception
Lost in the "same old, same old" crop of elite defensive tackles was a breakout year from Onyemata. The Nigerian-born defender set career high's across the board after seeing his role increased on New Orleans' front four – only Cameron Jordan logged more snaps in 2020 – and he excelled in all phases.
As a pass-rusher, Onyemata is only beginning to bloom. He ranked sixth among interior defenders with a 17.3% win rate, per PFF, and placed 13th with 46 pressures despite playing fewer snaps than most players ahead of him. He also played his usual stout run defense and lowered his missed tackle rate in each of the last two seasons.
Onyemata is newer to football than most NFLers, which could explain why he broke out in his fifth campaign. It also means he'll only get better as he's still on the right side of 30. Due for an increased role on a strong line in 2021, the talented defender will be more of a household name in no time.
Verdict: BREAKOUT
Emmanuel Ogbah, DE, Dolphins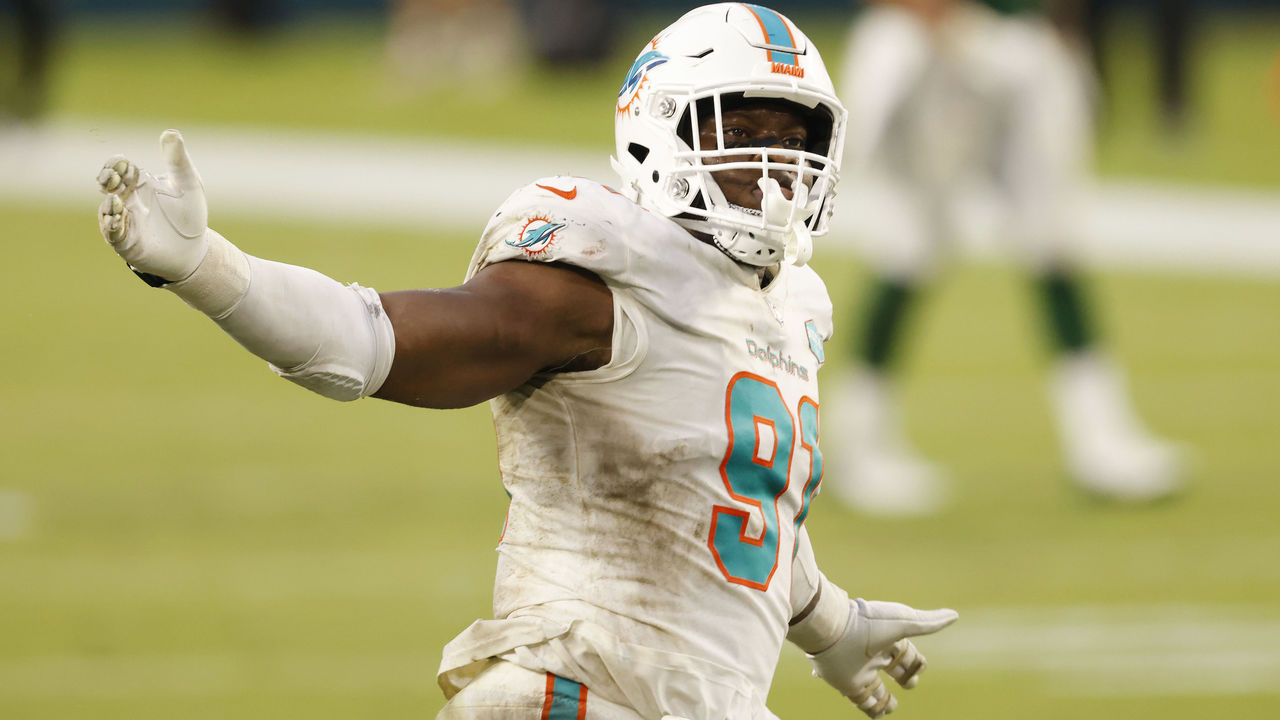 2020 stats: 42 tackles, 9 sacks, 6 tackles for loss, 3 forced fumbles, 1 fumble recovery
Playing on his third team in three years, Ogbah finally hit his stride under Brian Flores while setting career highs in nearly every major category. The former second-round pick led Miami with 66 total pressures and was a force against opposing quarterbacks.
However, Ogbah's raw stats may not tell the entire story. The towering edge defender only ranked 52nd at his position in PFF's pass-rush win rate, while 50% of his pressures were classified as unblocked or cleanup opportunities.
Unlikely to see as many similar opportunities in 2021, Ogbah's production could take a significant hit. We'd feel better about his long-term outlook if he displayed more consistency over his first five years in the league. He's a fine player, but don't expect him to approach double-digit sacks again.
Verdict: FAKEOUT