10 thoughts from this week's Champions League action
The field is now set for the quarterfinals of this season's Champions League after another batch of matches. Below, we dissect the biggest talking points from the week's last-16 action.
Benzema quietly making history
Karim Benzema is now one of five players to score at least 70 goals in the Champions League. None were penalties. That's an incredible achievement for someone who played second fiddle to Cristiano Ronaldo for so long.
But he still plays like a second striker, always working off the ball and setting up teammates. Benzema's a hybrid and his qualities as a footballer, not just as a forward, remain underappreciated.
He showed in Tuesday's second leg against Atalanta just what makes him special. In the first half, Benzema hustled back, won possession in the defensive third, and launched a counterattack while eluding three defenders. After quickly dribbling along the touchline, the 33-year-old found a teammate in open space and threaded a pass, giving Real Madrid control of the game.
Benzema has done stuff like that time and again. And yet, he continues to do his job as a scorer.
Atalanta missed Papu Gomez
Moving on from influential captain Alejandro "Papu" Gomez in January made sense for Atalanta to ensure continued growth and long-term squad development. His fallout with manager Gian Piero Gasperini facilitated the eventual switch to Sevilla, but even without that clash, there was a growing sense the Argentine's time in Bergamo was coming to an end. He helped lift the club to new heights, and now it was time to build on those foundations to deliver sustained success.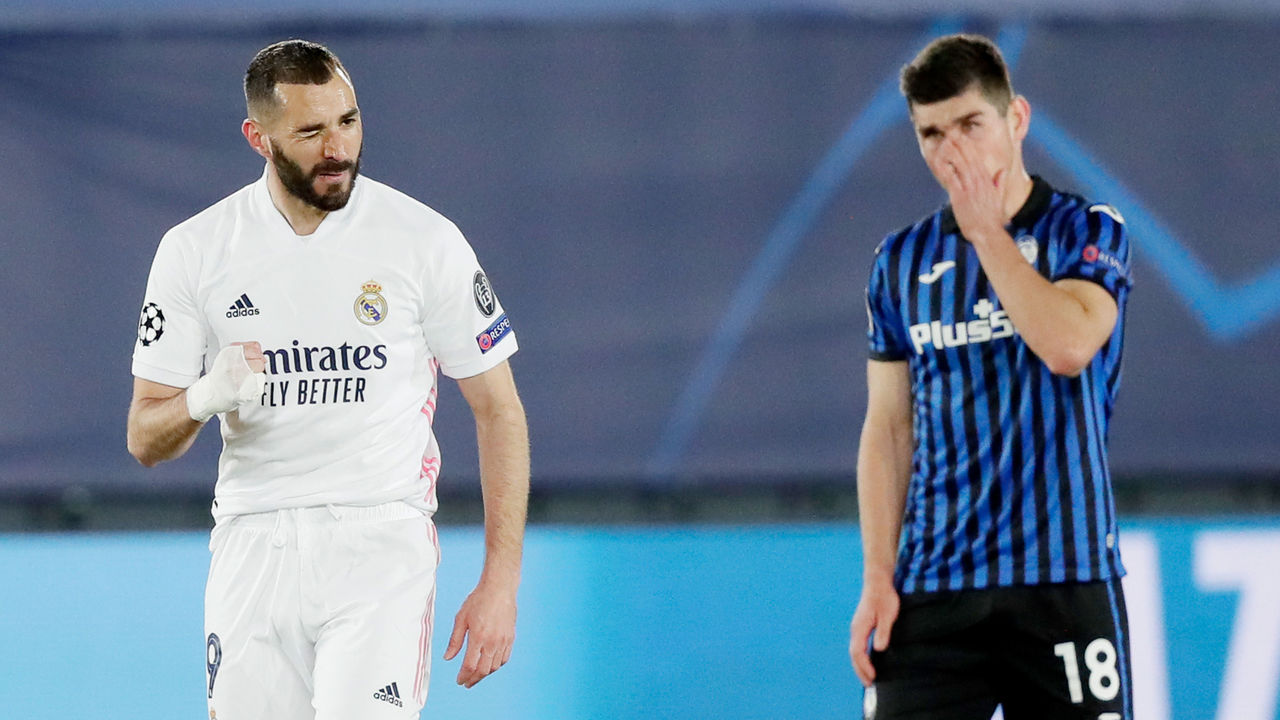 And while that all remains true, the 33-year-old midfielder was exactly the type of creative fulcrum the Italian side was missing against Real Madrid on Tuesday. Ruslan Malinovskyi, Matteo Pessina, and Mario Pasalic are all fine players with various qualities that are key to Gasperini's system, but none of them have the game-breaking ability of Gomez, who, at his best, is a dizzying dribbler and crafty passer that can unlock any backline.
Despite coming away with a comfortable aggregate win, Real Madrid still looked vulnerable. Atalanta just didn't have the ingenuity between the lines to take advantage.
Madrid rediscover Champions League DNA
After falling in the round of 16 in each of the last two seasons, Real Madrid are back in the Champions League quarterfinals. Something has been missing in this competition for the storied club since winning the last of three successive European titles in the 2017-18 campaign.
In last-16 defeats to Ajax and Manchester City, respectively, Real seemingly lost their vaunted ability to win games when they weren't playing particularly well. Maybe it was just a matter of some luck running out, but the sense that they would find a way in the Champions League, performance be damned, disappeared.
It returned Tuesday.
Zinedine Zidane's team took full advantage of every Atalanta mistake, wresting control of the tie despite not really blowing their Italian opposition away. If anything, Atalanta looked brighter of the two teams in the first half of Tuesday's contest, but Real Madrid eventually came out on top. That was a hallmark of the team's previous Champions League successes. Perhaps things are shifting back in that direction.
What the hell, ref?
It probably wouldn't have made a difference to the final result, but referee Danny Makkelie's decision to blow for halftime with Atalanta on the verge of a clear scoring opportunity was baffling.
The Dutch official ended the opening stanza right as Malinovskyi played a pass that sent Luis Muriel through on goal.
Calling the half right on the 45-minute mark isn't uncommon, but the fact there was a goal and (relatively brief) stoppage for an injury to Nacho earlier on makes it all the more strange that there wasn't any additional time.
Pep producing wonders (again)
While other teams barely scrape through the congested 2020-21 calendar, with an understandable lack of consideration for imagination and innovation, Pep Guardiola's squad rotation and Manchester City's positional fluidity have made them one of the most unpredictable and livelier ensembles in Europe.
Like a snooker player plotting his next five shots, Guardiola is constantly looking ahead and managing minutes while ensuring his side's sight of four pieces of silverware is never blocked off. His squad is obviously deep and stacked with talent, but it never seems like he has to change his tactics to suit the players who are match fit. His game plan is tweaked for each game, and the players suited to it are ready, and that's down to his meticulous preparation.
And the swapping and changing of his players during matches are unlike anything that's occurred previously during his City stint. Before, they were reassuringly predictable – a 4-3-3 formation and a riot of cutbacks and tap-ins. But in Tuesday's 2-0 second-leg win over Borussia Monchengladbach, Kevin De Bruyne appeared on the left wing and then in the right-back slot within a matter of minutes. The players' on-pitch communication and grasp of their own and each other's roles have made them near-impossible to track as they move around in a shape that can drastically change in and out of possession.
Once again, Guardiola could be masterminding something very, very special.
A mess of their own making
Borussia Monchengladbach aren't going to get relegated from the Bundesliga, but they don't need to look too far – just an hour's drive to Gelsenkirchen-based Schalke, in fact – to realize that once you're in a slump, it can be extremely difficult to get out.
Gladbach sporting director Max Eberl invited the descent when he announced that manager Marco Rose would be leaving for Borussia Dortmund at the end of the season. The club took one point from the two matches preceding that announcement and has since gone on a run of seven straight defeats across all competitions for the first time since 1989.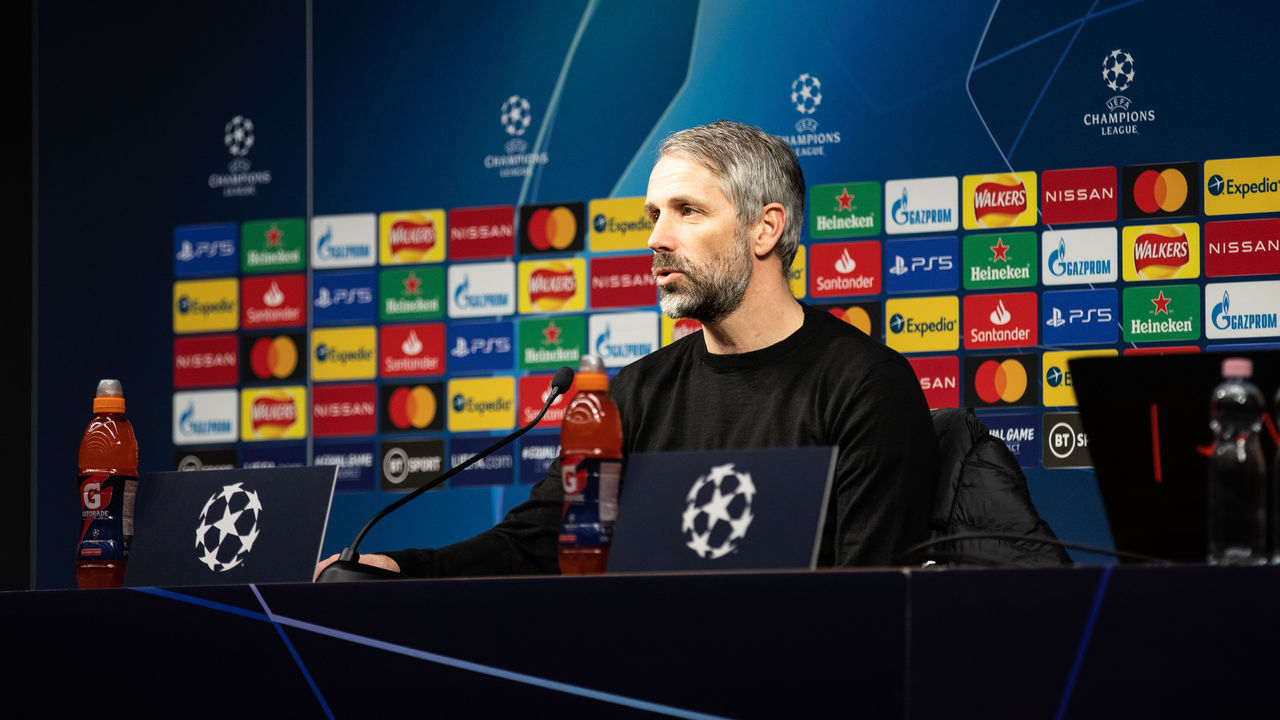 Rose isn't invested in the players, and they aren't invested in the remainder of this campaign while there are no winners' medals at stake. Gladbach have dropped 11 points behind the top four in the Bundesliga and, although their elimination was expected against Guardiola's City, the manner of their exit was disappointingly tame after the team's impressive group-stage performance alongside Real Madrid, Inter Milan, and Shakhtar Donetsk.
What a waste of a season.
Werner looking much better under Tuchel
Timo Werner would've loved a goal against Atletico Madrid. He's only scored once since Thomas Tuchel replaced Frank Lampard as Chelsea manager in January.
But his performance in Wednesday's second leg was arguably his best in months.
After setting up Hakim Ziyech's opening goal on a well-executed counterattack, Werner went to work in all areas of the pitch. His runs stretched Atletico's defense and his intensity lasted the majority of the match. Werner has always been more than a goalscorer, and Tuchel is giving the 25-year-old the license to move around the pitch as he sees fit.
The statistics prove just how valuable he is.
His biggest strength is that, no matter how wide he drifts or how deep he drops, Werner still makes important runs into the penalty area. He never neglects his primary role as a striker. But if he's not scoring, it's not a huge deal. He finds a way to make an impact. Kind of like Benzema.
Simeone too conservative for his own good
Atletico Madrid managed just four shots on target in 180 minutes of football against Chelsea. Two of those shots came from outside the penalty area. And with a half hour remaining in a match Atletico had to win, manager Diego Simeone subbed off the club's leading scorer, Luis Suarez, whose wry smile said it all.
Simeone changed formations four times in the space of 25 second-half minutes, his overthinking only seeming to confuse the players on the pitch. Saul, a dominant midfielder, found himself playing at left wing-back, and Joao Felix, Atletico's prodigious talent, never seemed to know where he stood in Simeone's game plan. That's to say nothing of the decision to switch to a back three when Atletico needed at least two goals to advance.
Tuchel didn't have to outcoach Simeone. Simeone outsmarted himself. If his team isn't in the driver's seat, the Argentine struggles to turn the tide or come up with a Plan B. If Atletico had kept Chelsea off the scoresheet in the first leg, they would've looked a lot more sure of themselves in the second. Atletico have never been comfortable taking the initiative.
But that's also an indictment on the manager. Atletico have struggled in big games this season because of Simeone's one-dimensional approach.
Bigger tests coming for Bayern
Bayern Munich's resounding 6-2 aggregate win over Lazio didn't teach us a whole lot about the Bavarian club's chances of retaining the title it won in such impressive fashion last season. Given the nature of the tie – namely, that it was all but over after the first leg – there are more questions than answers heading into the quarterfinals.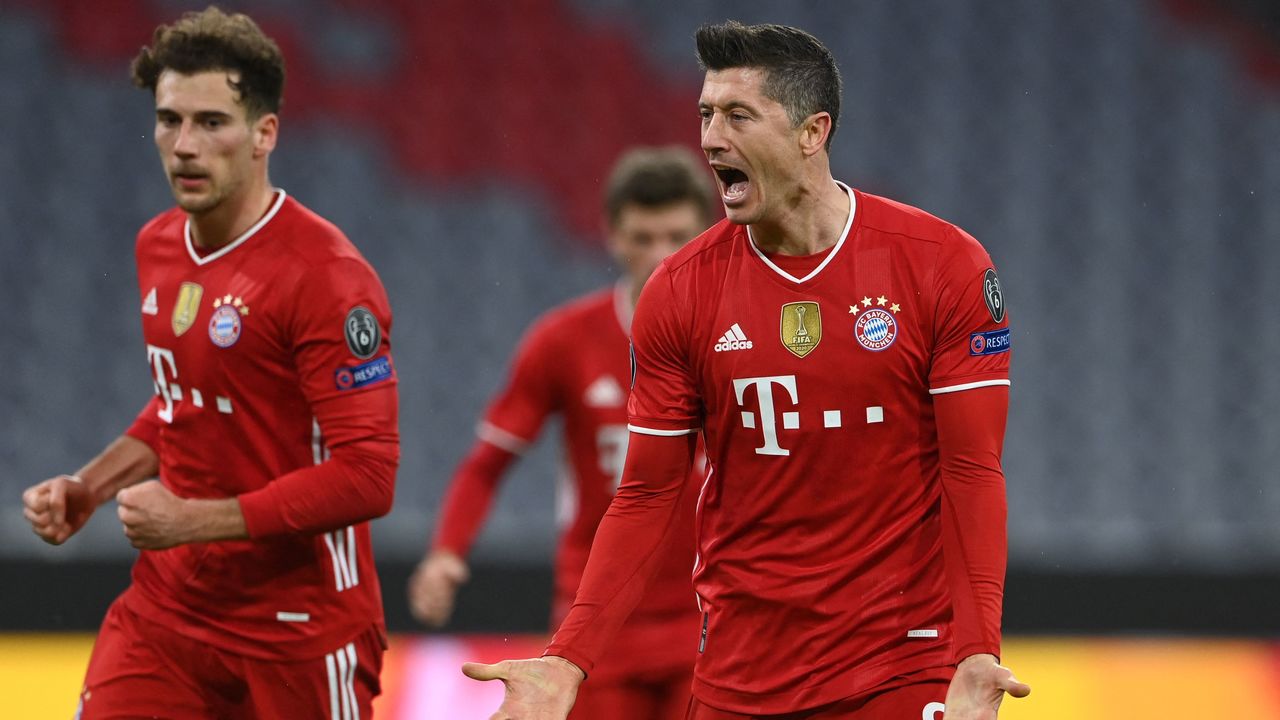 Bayern have, rather quietly, been suspect defensively this season by their lofty standards. By all available metrics, they've declined in that area; Hansi Flick's men are conceding more shots, more shots on target, and more quality chances per game than in 2019-20.
And that's without having to face any of the competition's true attacking juggernauts yet. The insatiable Robert Lewandowski is capable of outscoring defensive frailties, but if Bayern don't tighten things up as the quality of opposition stiffens, going back-to-back will be exceedingly difficult.
Friday's draw promises fireworks
And then there were eight.
With the field now set for the quarterfinals, all eyes turn to Friday's draw, which will reveal the potential paths to the final for every remaining Champions League hopeful.
Heading into the last eight, all restrictions on the draw are removed, meaning teams from the same country are eligible to meet one another. Seeding is also withdrawn, opening up the possibility for perennial heavyweights to clash.
Bayern Munich vs. Real Madrid? Liverpool against Manchester City? It's all on the table when the festivities get underway at 7:00 a.m. ET on Friday.