Welcome back, baseball: Takeaways from Opening Day
Baseball is back, at long last. On Thursday, the long-awaited and unprecedented 2020 campaign began with a couple marquee matchups, and the league's 26 others teams started their seasons Friday to round out the Opening Day slate. Below are a few takeaways from the first couple days of a season unlike any other in baseball history.
The two superteams are really, really good
Owing to the considerable room for craziness in a 60-game season, projection models spat out largely conservative win totals for baseball's consensus two top teams, the New York Yankees and Los Angeles Dodgers, despite those juggernauts being markedly more talented than every other team. The algorithms at FanGraphs and Baseball Prospectus projected both clubs for lower winning percentages in 2020 than they managed last season, even though the Yankees signed Gerrit Cole and the Dodgers traded for Mookie Betts. Less than 48 hours into the season, it already feels safe to say that those models were far too pessimistic. These teams, which both won more than 100 games in 2019, look unstoppable.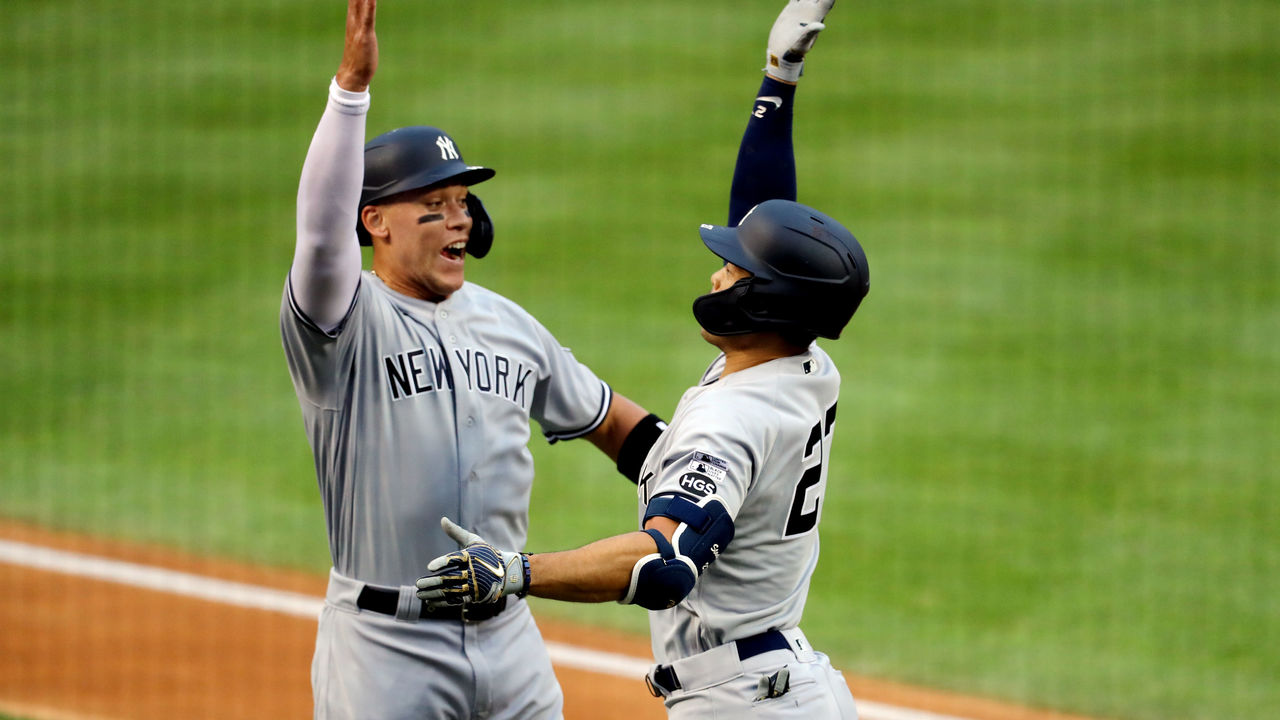 The Yankees' lineup wasn't even at full strength for Thursday's rain-shortened opener in Washington – DJ LeMahieu, the club's most valuable player a year ago, remained sidelined – and it still put the hurt on Max Scherzer, touching up the three-time Cy Young winner for four runs over 5 1/3 innings before the skies opened up and expedited a 4-1 victory for New York. With Aaron Judge and Giancarlo Stanton both finally healthy at the same time (the latter hit the season's first home run), the Yankees' offense is nightmare fodder for opposing pitchers, a veritable parade of good-to-elite hitters that could easily make last year's collective 117 wRC+, the second-best mark in the majors, look quaint. And with their revamped rotation, anchored by Cole, who allowed only one hit – a solo homer to Adam Eaton – in his stellar debut, as well as a lights-out bullpen, the Yankees are going to excel at preventing runs, as well. They're unfair.
Meanwhile, the Dodgers had to scratch their scheduled starter, titular ace Clayton Kershaw, hours before their opener due to a wonky back, and still walloped the Giants, flexing their practically unrivaled pitching depth in a 8-1 win. Most teams can't turn to their emergency starter on a moment's notice and have confidence that he'll deliver a serviceable outing. The Dodgers aren't like most teams, though.
In Kershaw's stead, the Dodgers handed the ball to Dustin May, an electrifying 22-year-old right-hander who hit triple-digits multiple times while limiting San Francisco to one run over 4 1/3 innings. May, a consensus top-25 prospect, would be the best or second-best starter on many teams. With the Dodgers, he was almost superfluous prior to Kershaw's injury. Their staff is an embarrassment of riches – they'll be fine even if Kershaw's back problems linger – and their lineup is no less superb, comprising essentially the same group that led the National League in runs last year, plus Betts. They didn't even have a great night offensively against the Giants on Thursday, according to manager Dave Roberts, and they still put up eight runs. The following night, they put up nine runs in another lopsided victory. They're also unfair.
Expect regular disappearances
The Nationals took the field Thursday without their best hitter, Juan Soto, who was rendered unavailable hours before first pitch after testing positive for COVID-19. A day later, the Atlanta Braves unexpectedly started Alex Jackson behind the plate for their season opener because their top two catchers, Travis d'Arnaud and Tyler Flowers, recently exhibited symptoms of COVID-19. At some point this season, all 30 teams will undoubtedly contend with a similar situation, in which a player is unexpectedly indisposed – even if that player's asymptomatic, like Soto – in accordance with the league's health-and-safety protocol. And they'll all just have to deal with it.
DeGrom getting better?!
Somehow, Jacob deGrom, the vaunted New York Mets ace who's won the National League Cy Young Award the last two seasons, looked even nastier in his 2020 debut than he has in the past. His fastball, which averaged 97.24 mph a year ago, was markedly steamier against the Braves on Friday (98.2 mph), according to Baseball Savant, making deGrom even more untouchable and helping him rack up 17 swings-and-misses in his 72 pitches (23.6%); last year, when he led the NL in strikeouts, deGrom's whiff rate was 15.4%.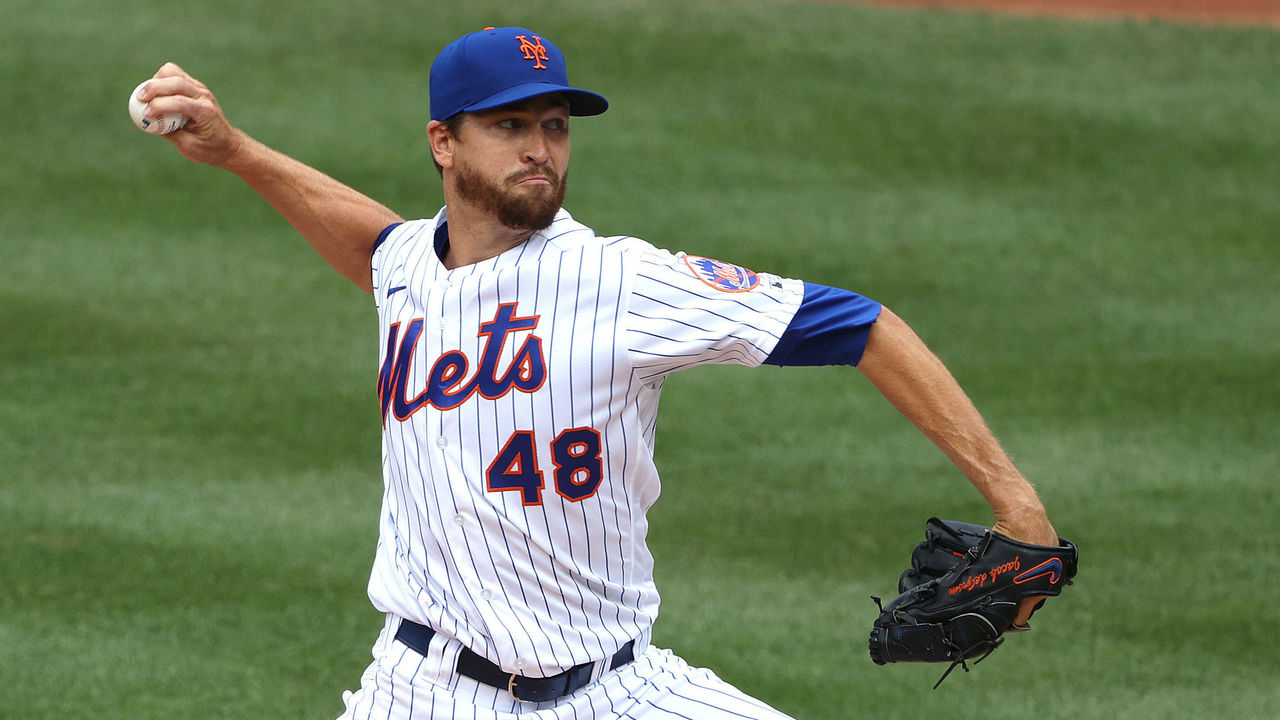 All told, deGrom struck out eight while allowing one hit over five scoreless innings, and was lifted only because he was on a pitch count after dealing with some back tightness during summer camp. Was the extra oomph just Opening Day adrenaline? Maybe. But if deGrom's stuff's genuinely improved, he might not give up a run all year.
Social justice at the forefront
The ongoing global reckoning over racial inequality appears to have resonated throughout baseball, and the league made a notable effort to advance the cause of social justice as its season began, at both an institutional and individual level. Most every pitcher's mound was adorned with a "BLM" – Black Lives Matter – stencil on Opening Day, and many players had patches with either the same message or the phrase "United For Change" affixed to their jerseys.
Staged displays of solidarity with the movement unfolded during pregame introductions in virtually every ballpark, too, while multiple teams had players kneel during the playing of the national anthem. Meanwhile, T-shirts reading "Black Lives Matter" seem to be the de facto batting practice uniform throughout the league.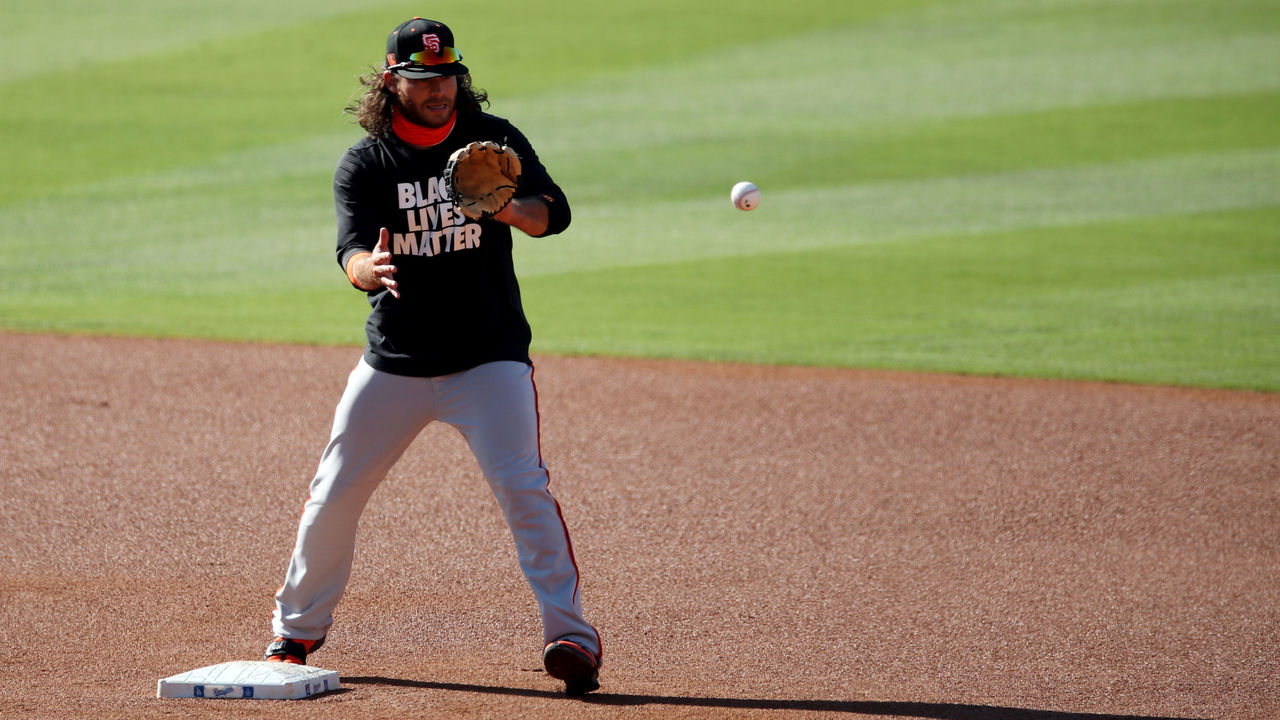 It remains to be seen if these gestures will continue as the season progresses, and fair-minded people can question the genuineness and intent of some of these displays, which have become increasingly prevalent – and, in some cases, performative – in recent months. Still, it's a welcome sight to see Major League Baseball, which has an ugly track record of institutional racism itself, and its players, who've largely been silent about social-justice issues in recent years, help amplify messages of equality and empathy.
Dingers aplenty
Two days' worth of data is hardly a meaningful sample, but given how much was made over last year's unprecedented spike in homers – and the juiced balls that helped facilitate it – it's worth pointing out that the league-wide home-run rate isn't significantly lower a minute into the 2020 season than it was in 2019. So far, roughly 1.25 home runs are being hit per game this season, a slight dip from last year's average of 1.39, and pretty much on par with what we saw in 2017 (1.26), the second-most dinger-tastic campaign in baseball history. It's too early to draw any conclusions, of course, but it's not too early to speculate that de-juicing the baseball wasn't a priority in the league office this offseason.
Yeesh, Baltimore
For anyone who dared to believe that the rebuilding Orioles could somehow defy the odds and put up even a tenuously respectable record over the course of 60 games, their season-opening, 13-2 shellacking at the hands of the Boston Red Sox offered a sobering reminder that this pitiable collection of scrubs will be lucky to reach double-digits in wins this year.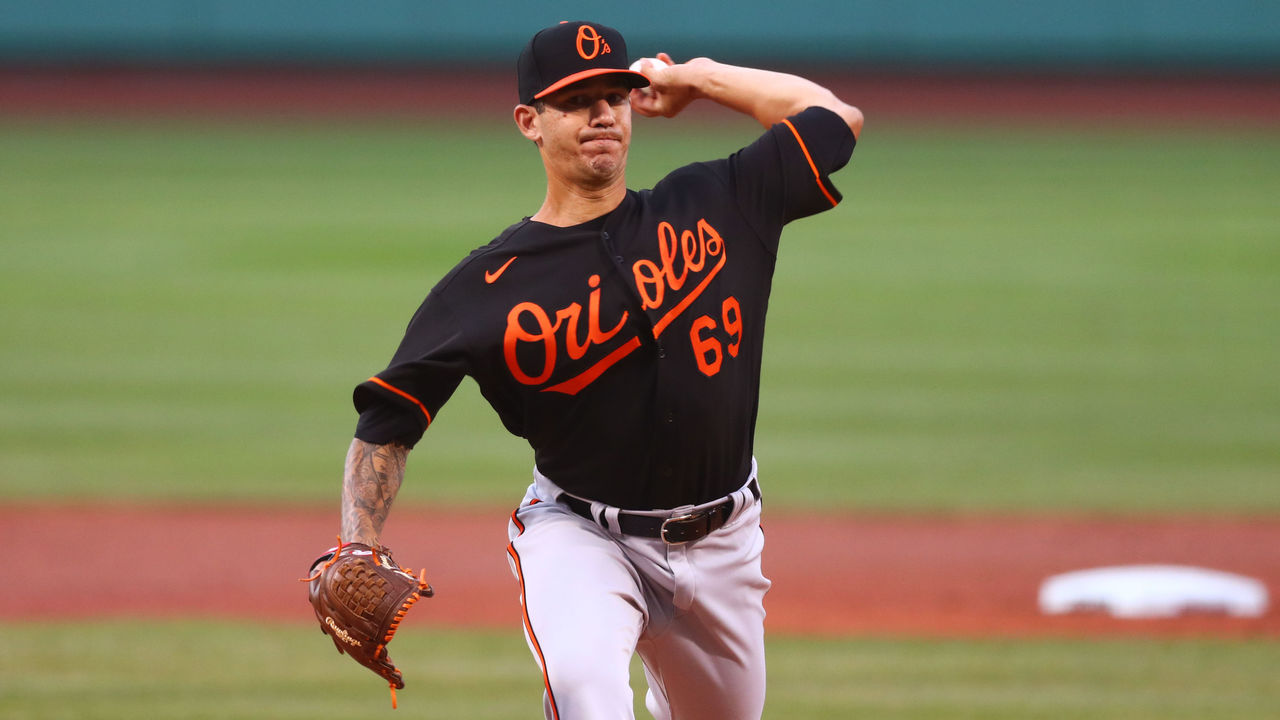 Jose Iglesias, who hit third for Baltimore on Friday, is so punchless that the Cincinnati Reds, one of baseball's worst offensive teams last year, decided to cut him loose this past winter. Tommy Milone, who lasted just three innings in his improbable Opening Day start, owns a 5.67 ERA at the big-league level since 2016 and sits at 86 mph with his fastball. The lack of bona fide major-league talent on their roster is total, and they're still early enough in their rebuild that there isn't much upside to point to, either.
Extra-innings rule shows promise
You're free to despise the new extra-innings rule as much as you want, but its effectiveness was laid bare Friday. The rule – which places a runner on second base to start every inning after the ninth – was implemented to ensure against marathon games in such a compact season, and it worked like a charm in its first big-league trial, facilitating a prompt resolution to the Angels-A's opener, which ended on a Matt Olson walk-off grand slam in the bottom of the 10th inning.
Moreover, concern that the rule would lead to an anticlimactic series of sacrifice bunts and sacrifice flies may have been misplaced. The Angels, who began extra innings with Shohei Ohtani on second base, didn't try to move him to third with a sacrifice bunt, and the Athletics weren't thinking bunt with their leadoff hitter in the bottom of the 10th, either, even though they needed only a run to secure victory. Ultimately, those in favor of implementing this rule beyond 2020 couldn't have hoped for a more auspicious debut.
Strange times, these are
As awesome as it is to have baseball back, we can't not acknowledge how weird the game – in its current iteration – both looks and feels. It's unsettling to see managers wearing masks in the dugout and players whipping bottles of hand sanitizer out of their back pockets during breaks in the action. Empty stadiums make for a discomfiting backdrop. The stadiums with cardboard cutouts filling their seats in lieu of actual fans are perhaps even more unnerving.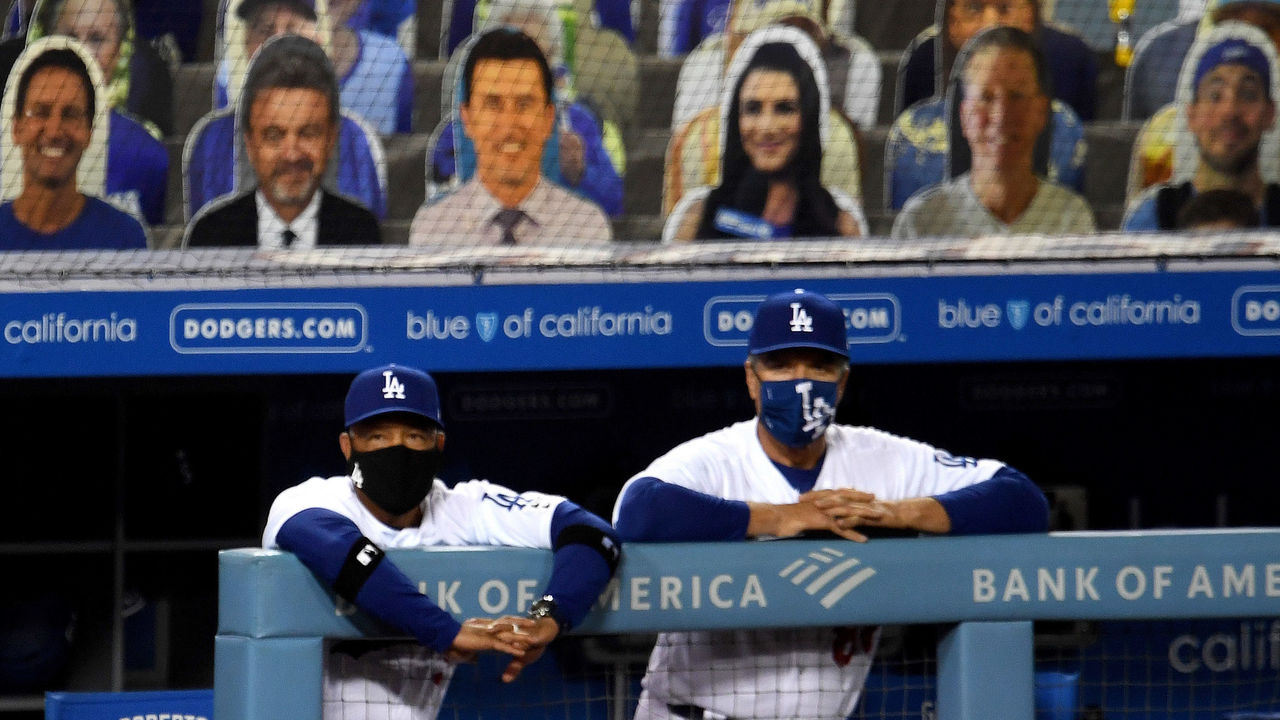 Moreover, the fake crowd noise being piped through each stadium's PA system – and enhanced on certain broadcasts – is occasionally delayed, with the celebratory roar coming a half-second after the strikeout or the home run. It's jarring. Remote broadcasts are invariably clunky, too, especially on those networks resolved to stick with a three-person booth, like ESPN. Some of these production kinks will hopefully be worked out in short order, but so long as baseball is played under the specter of the coronavirus, the game's going to feel slightly off.
Jonah Birenbaum is RunSportBet's senior MLB writer. He steams a good ham. You can find him on Twitter @birenball.