Week 3 Preview: So many good games to watch
A rundown of the best games and most interesting trends to watch for in Week 3 of the NFL. All times Eastern.
Choose your subplots
Kansas City (2-0) at Baltimore (2-0), 8:15 p.m. Monday
So many to pick from with this one. There's the obvious: The Chiefs and Ravens are two of the best teams in the league, which means that even though it's still September, the winner gets a leg up on playoff seeding and possible home-field advantage for the postseason. Assuming 2020 ever ends, that is. (It's going to end, right? Please tell me it ends. Please.)
Quarterbacks Patrick Mahomes and Lamar Jackson are two of the brightest young stars in the game, worthy representatives of the best the NFL has to offer both in the present and the future. Mahomes has won their only two meetings, but both games were decided by five points or fewer, and one went to overtime.
Coaches Andy Reid and John Harbaugh are likewise two of the best at their craft, and Harbaugh once spent nine seasons on Reid's staff with the Eagles. Both teams have playmakers galore. The Ravens lead the league in turnover differential (plus-5), while the Chiefs have yet to turn the ball over. Etc., etc.
But keep an eye on the kickers. Baltimore's Justin Tucker and Kansas City's Harrison Butker rank 1-2 in career field-goal percentage, and Butker is coming off a game in which he made three 58-yard goals: one in the third quarter and two in overtime, with the first of those two negated because the Los Angeles Chargers called timeout just before the snap. Are you ready for some drama in the kicking game?
Name your score
Dallas (1-1) at Seattle (2-0), 4:25 p.m.
Seahawks quarterback Russell Wilson is Everyone's MVP after two games, and rightfully so.
He leads the league in completion percentage (82.5), touchdown passes (nine), average yards per attempt (11.8), passer rating (140.0), and average net yards per attempt (10.4). Digging deeper, Wilson also leads the NFL in advanced stats like expected points added per play (0.544) and completion percentage over expected (18.8), which indicates he's both efficient and making lots of tough throws. His performance has been literally almost off the charts: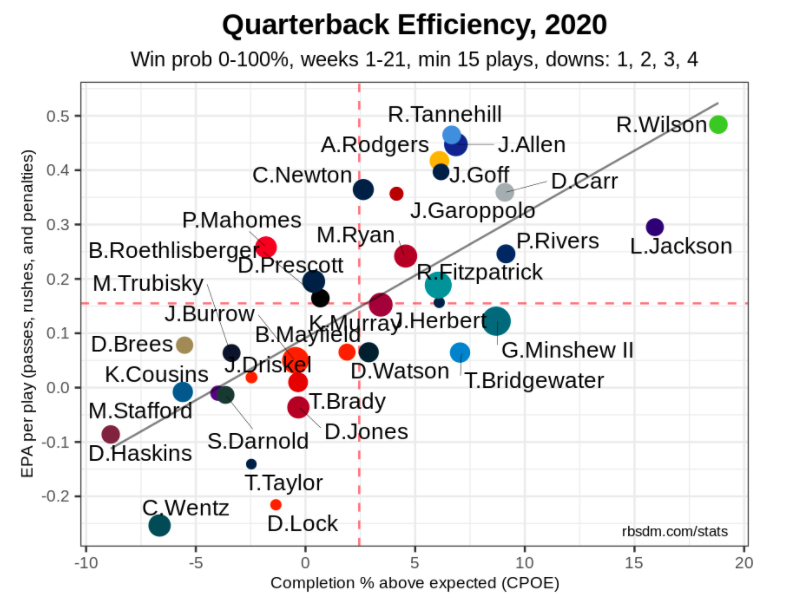 The Cowboys won in miraculous fashion last week against the Falcons, in part because Atlanta's hands team decided to play curling with a late onside kick. But Dallas still scored 40 points, and the Cowboys are playing quickly: Their pace is roughly four seconds faster than any other team in the NFL, per Football Outsiders. The Seahawks, meanwhile, have given up a league-high 649 air yards on completions.
What I'm saying is this one will probably end with a score of 9-6.
The battle of the aging stars
Green Bay (2-0) at New Orleans (1-1), 8:20 p.m.
The Packers' offense has been a wood chipper thus far. It leads the league in offensive DVOA and rushing DVOA, which is what happens when a team scores 85 points in two games, quarterback Aaron Rodgers posts a league-best Total QBR (91.7), and running back Aaron Jones rushes for a league-high 234 yards on 6.9 yards per carry. The Packers also haven't turned the ball over.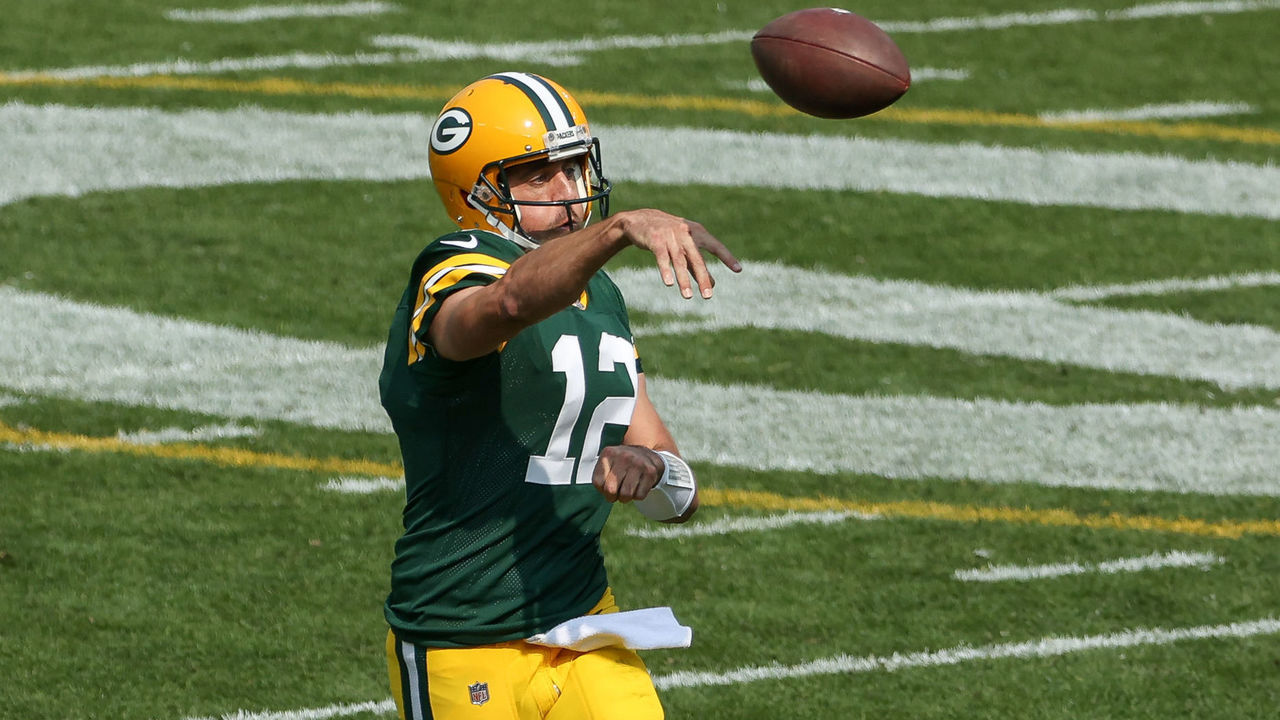 Rodgers, who turns 37 in December, hasn't been afraid to chuck it deep, either: He leads the league in deep pass attempts (14) and completions (seven), per PFF. His passer rating on those deep balls is 127.7. It helps that he's played the sad-sack Vikings and Lions, but still.
On the flip side, Drew Brees is now 41, and, uh … not chucking it deep. Per Sports Info Solutions, 50 of Brees' 68 pass attempts have been within 9 yards of the line of scrimmage, with 17 of those thrown behind the line. Brees has played the short, quick game for a few years now, but he still attempted 27 deep throws last season. So far this year, he's thrown just one. It won't help that he'll again be without wideout Michael Thomas (ankle).
Looks tough
Las Vegas (2-0) at New England (1-1), 1 p.m.
It's not possible to be reminded of this enough:
Meanwhile, the Raiders lead the league in third-down efficiency on offense while ranking last at stopping third downs on defense. The season's two weeks old. Make of that what you will.
Gratuitous plug alert
Los Angeles Rams (2-0) at Buffalo (2-0), 1 p.m.
It's early, but the Rams look like their old selves, and I wrote about that in greater detail this week. Josh Allen has been terrific as the Bills' QB, but FiveThirtyEight's Josh Hermsmeyer is here to warn you Allen's strong performance may not be sustainable.
Why so many injuries?
The staggering number of injuries that struck so many players during Week 2 prompted all sorts of theories about why they happened. The real answer might be the simplest of all.
Was it the lack of a preseason? This was the easy explanation, since the COVID-19 pandemic wiped out the chance for players to get into game shape with four weeks of games that don't count. But this theory overlooks the fact that Week 1 came and went without a whole lot of devastating injuries, not to mention that past injuries to stars like Jordy Nelson and Odell Beckham Jr. during the preseason prompted calls to reduce or eliminate it.
Drew Magary of Defector floated the possibility that the combination of no offseason program, limited training camps, and no preseason meant that players weren't prepared to adequately recover from the punishment they might have taken while playing in Week 1. That also sounds plausible.
But, to me, the likeliest reason for all the injuries is coincidence. Football injuries occur all the damn time because that's what happens when elite athletes constantly crash into one another at high speed. Nothing about the way Nick Bosa's leg got bent back, for example, would have prevented him from tearing his ACL had it happened at any other time, in any other game. It just happened.
Getting hurt is an unfortunate risk in a brutal sport like football. By chance, a lot of players got hurt on the same weekend. It's likely as straightforward as that.
Thursday night leftover
Miami 31, Jacksonville 13
Ryan Fitzpatrick completed 18 of 20 passes for 160 yards and two touchdowns in addition to rushing seven times for 38 yards and another TD, which was a Fitzmagic special:
Fitzmagic turns 39 in November. Enjoy it while it lasts.
Dom Cosentino is a senior features writer at RunSportBet.