Timeline of Liverpool's title-winning season
RunSportBet looks back on Liverpool's memorable season and the unprecedented journey this record-breaking team took toward clinching its first Premier League title on Thursday:
Aug. 9 – Bittersweet opening day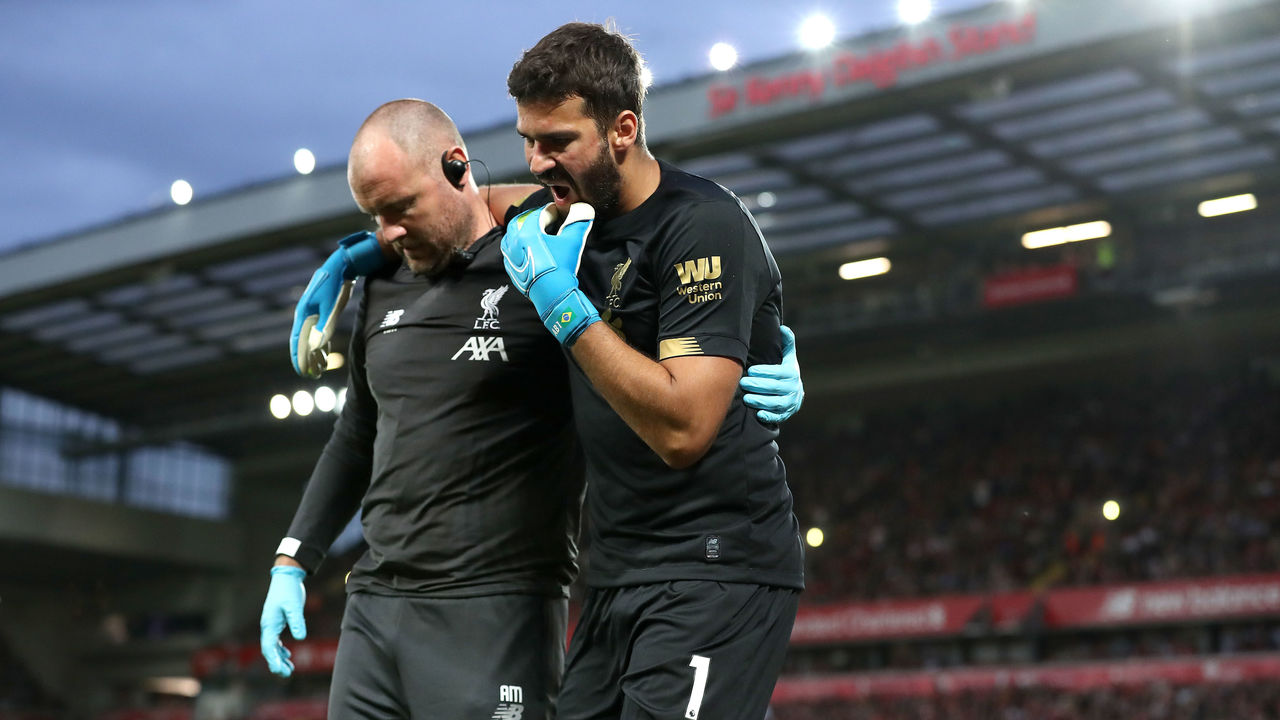 Just months after the heartbreak of coming up short on the final day of the prior season, Liverpool looked to be on a mission when they kicked off the new campaign against Norwich City. Jurgen Klopp's men put on a masterclass performance – cruising to a 4-1 victory – but there was a dark cloud over the win when goalkeeper Alisson suffered an injury. The Brazilian would go on to miss over two months with a calf ailment.
Aug. 31 – Reds make history
Liverpool's superb form to end the previous campaign carried over well into the new season, as the Reds beat Burnley 3-0 to establish a new club record with their 13th consecutive league win.
Oct. 5 – Milner to the rescue
On the heels of a seven-goal thriller in the Champions League, Liverpool continued their winning ways domestically when James Milner scored a stoppage-time penalty against Leicester City to extend his side's streak to 15 consecutive league victories. The next day, Wolves stunned Manchester City with a 2-0 win, leaving Pep Guardiola's men eight points back of the Reds.
Oct. 22 – First blemish
Liverpool's perfect start ended at Old Trafford with a draw against bitter rivals Manchester United in a match that could have very well resulted in Klopp's side losing. With the Reds on the brink of defeat, substitute Adam Lallana scored in the 85th minute to earn his team a crucial point in hostile territory.
Nov. 2 – Another dramatic winner
Aston Villa's hopes of pulling off the biggest upset of the season came to an end when Sadio Mane followed up Andy Robertson's 87th-minute equalizer with a goal to decide the match for the visitors. The 94th-minute winner maintained Liverpool's six-point edge over City after 11 matches.
Nov. 10 – Clash of the titans
The most anticipated match of the season got off to a blistering start, as Liverpool rocked Manchester City early by jumping out to a 2-0 lead after just 13 minutes. Liverpool added another to beat their biggest title challengers, sending City sliding down to fourth place and increasing their lead to eight points atop the table.
Dec. 4 – Merseyside beatdown
With Mohamed Salah and Roberto Firmino omitted from the starting XI, Liverpool showed just how wide the gap is with Everton by crushing their crosstown rivals 5-2 in the Merseyside derby. The victory put Liverpool 29 points clear of the Toffees after 14 games, and Klopp's unstoppable side established a new club record with its 32nd consecutive Premier League match without a loss.
Dec. 26 – Reds crush Leicester's title hopes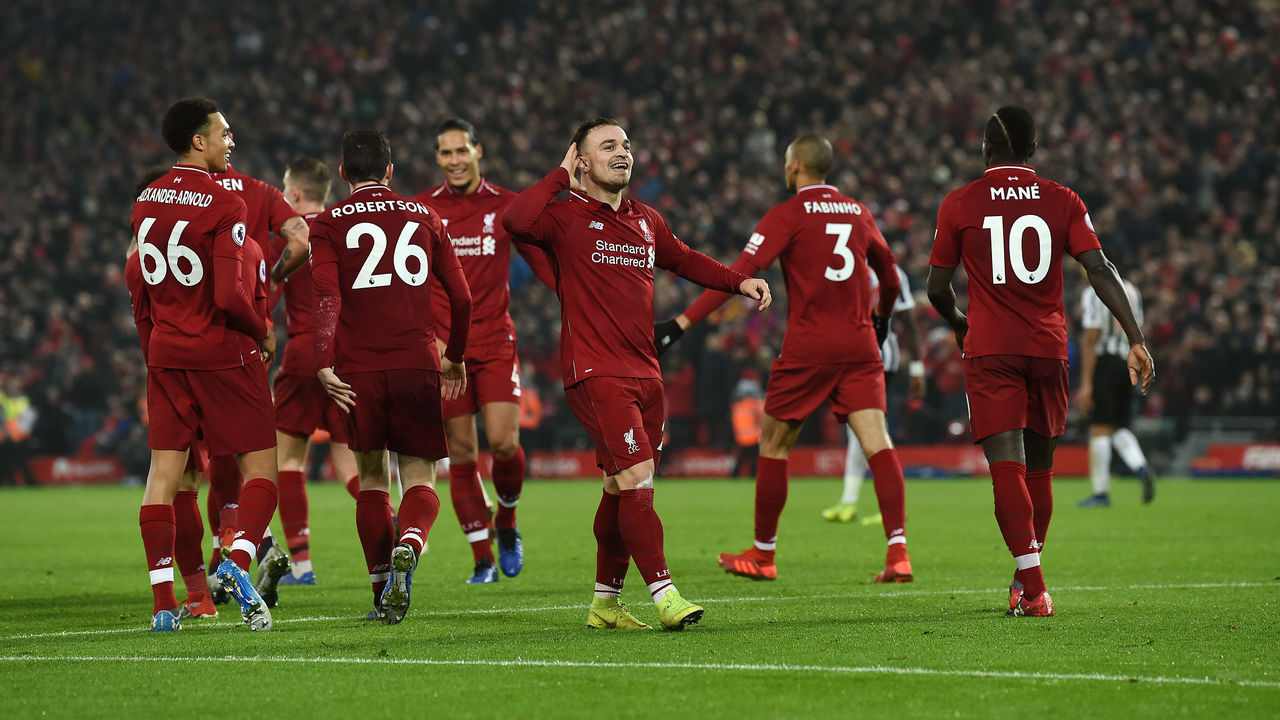 Leicester's attempt to deliver a Christmas miracle and solidify their place as legitimate title contenders ended with an embarrassing 4-0 defeat on Boxing Day against the mighty Reds. Liverpool were firing on all cylinders, as former Reds boss Brendan Rodgers was forced to watch the visitors dismantle his second-place Foxes en route to opening up a 13-point lead atop the table.
Jan. 19 – Statement victory over United
Life was already pretty sweet for the Reds heading into another big match against United. Klopp – who was fresh off signing an extension – and his men were in total control and had just celebrated their one-year anniversary without a defeat in the league. Things continued to go in Liverpool's favor, as Salah and Virgil van Dijk scored to lead the way and strengthen belief within the squad and fan base that this was their year.
Feb. 24 – Can anyone beat Liverpool?
Liverpool went on an absolute tear after their first blemish of the season against United, winning match after match to equal the English top-flight record of 18 successive wins. It was a less than convincing performance to reach the milestone, though, as the Reds struggled to put away a poor West Ham United side at Anfield in a match that, in hindsight, offered a clue about what was to come.
Feb. 29 – Bid for invincibility ends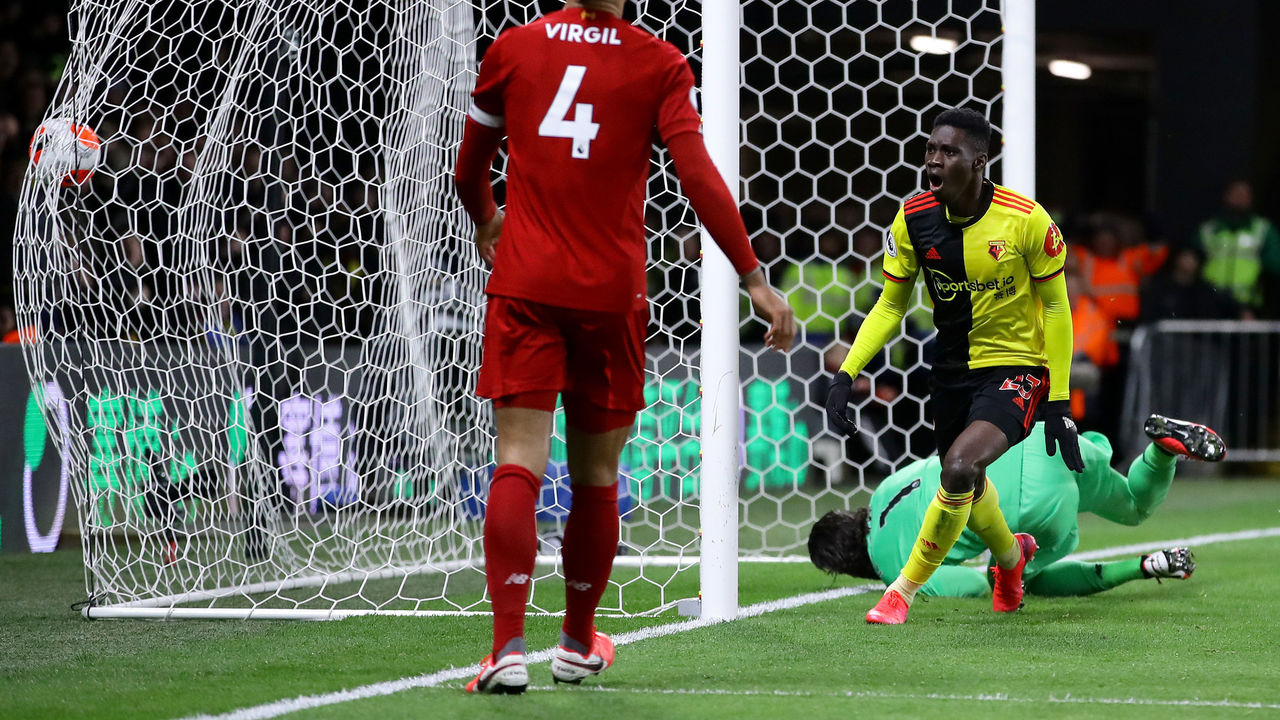 Just as nobody predicted, it was 17th-placed Watford who handed Liverpool their first Premier League loss of the season. The Hornets thumped Klopp's side 3-0, as Watford put on an inspiring performance in the biggest upset of the season. In the end, the defeat did little to dampen spirits on Merseyside, with Liverpool still enjoying a 22-point edge over Manchester City after 28 matches.
March 7 – No place like home
It was another historic performance for Liverpool thanks to goals from Salah and Mane in a 2-1 win over Bournemouth, as the club set a new record with its 22nd consecutive league win at Anfield. However, it would be Liverpool's last Premier League contest until June.
March 13 – Football world comes to a stop
Excitement quickly fizzled just when Liverpool were on the verge of clinching the league for the first time in 30 years. The Premier League announced the season was suspended indefinitely due to the coronavirus pandemic. For months, it was unclear whether the campaign would even resume, or if Liverpool's hopes of ending their drought would go down the drain with a void season.
May 28 – Football's back
Liverpool's charge toward the title was back on when the Premier League confirmed plans to resume the season and complete the remaining 92 fixtures behind closed doors. Liverpool – ahead of City by 25 points – required just six points to win the league for the first time since 1990.
June 24 – On the verge of glory
Liverpool dropped points for just the third time this season in their first game back, a goalless draw in the Merseyside derby against Everton. But Klopp's side rebounded and destroyed Crystal Palace with an all-around dominant performance to win 4-0. All they needed now to win it all was for Manchester City to drop points the next day against Chelsea.
June 25 – Let the celebrations begin
Reds supporters were happy to switch allegiances for only one day in support of Chelsea. And it paid off, as Liverpool won their first Premier League trophy thanks to City's loss at Stamford Bridge. Unsurprisingly, the result triggered wild celebrations across Merseyside and any other corner of the earth that Liverpool fans call home.