theScore's 2020 NFL All-Pro team
The 2020 NFL season, played during a global pandemic, was the most unique ever witnessed. Though there were bumps in the road, the year was also full of excitement, with several players establishing themselves as bona fide stars amid the madness.
Here are RunSportBet's All-Pro selections for 2020:
* = unanimous selection
Quarterback
Aaron Rodgers, Packers
Rodgers laughed at those who called time on his standing as an elite player entering 2020, producing perhaps his finest season to date. The future Hall of Famer set career highs in touchdown passes (48) and completion percentage (70.7%) as he mastered head coach Matt LaFleur's system.
It's remarkable that at age 37, Rodgers essentially replicated his 2011 MVP season, when he was at his physical peak. The Packers star is likely to secure his third MVP award, holding off two of the new generation of quarterbacks in Patrick Mahomes and Josh Allen.
Jordan Love: You might want to get comfortable on the bench.
2nd-team selection: Mahomes (Chiefs)
Running back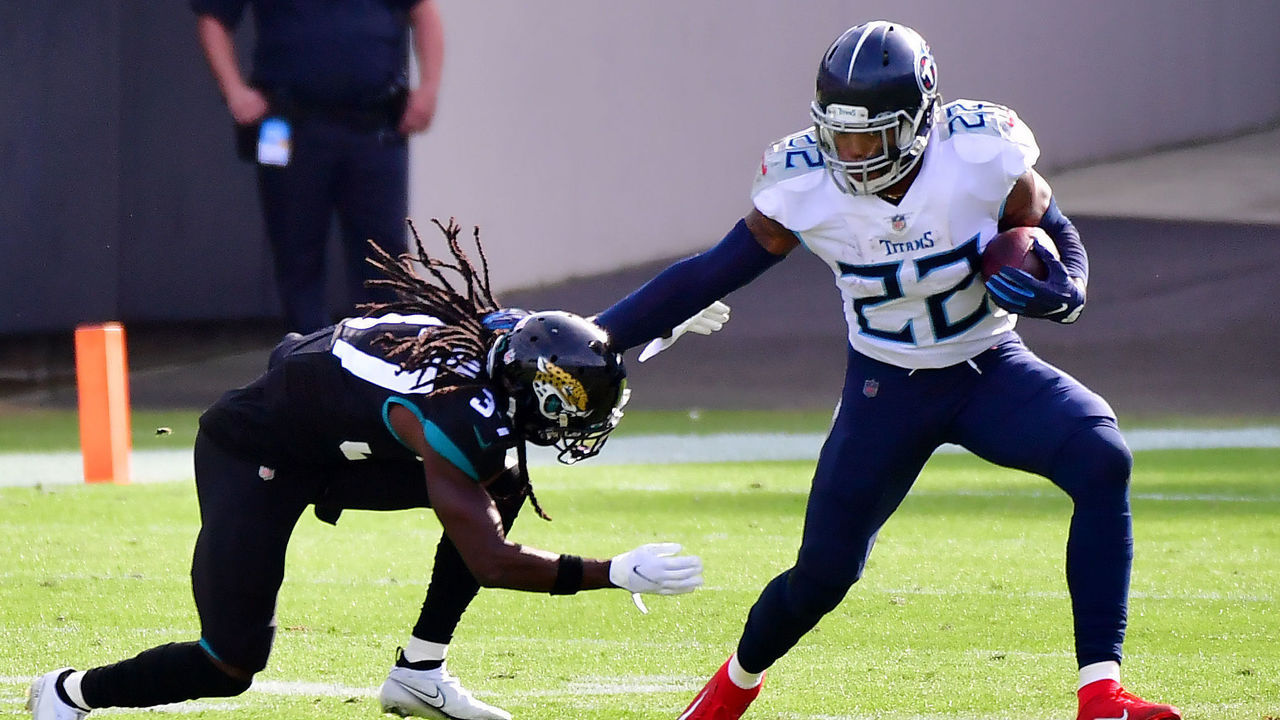 Derrick Henry, Titans*
A unanimous selection is well deserved for the two-time rushing champ. Henry became the eighth tailback in NFL history to run for 2,000 yards in a season, appearing virtually unstoppable in nearly every game he played.
Henry was dominant across the board, leading all running backs in yards (2,027), touchdowns on the ground (17), yards after contact (1,490), first downs (97), 10-plus yard runs (48), and forced missed tackles (75). The Titans star truly is inevitable and is well on his way to his first All-Pro selection.
2nd-team selection: Dalvin Cook (Vikings)
Wide receiver
Davante Adams, Packers*
Stefon Diggs, Bills
Wide receiver continues to arguably be the NFL's most talented position – the amount of game-changers around the league is frankly absurd. But it was Adams and Diggs who undoubtedly reached the highest peaks in 2020, both making their case as the most dominant pass-catcher in football.
Adams was the main beneficiary of Rodgers' renaissance, finding the end zone through the air an NFL-high 18 times. The Packers wideout has truly blossomed into one of the league's most well-rounded players and dominates despite the fact Green Bay lacks other top-tier receiving threats.
Meanwhile, Diggs hit the elite level that always seemed possible during his time in Minnesota. The Bills star instantaneously formed a lucrative partnership with Allen and ended the year leading the NFL with 127 catches and 1,535 yards.
2nd-team selections: Tyreek Hill (Chiefs), DeAndre Hopkins (Cardinals)
Tight end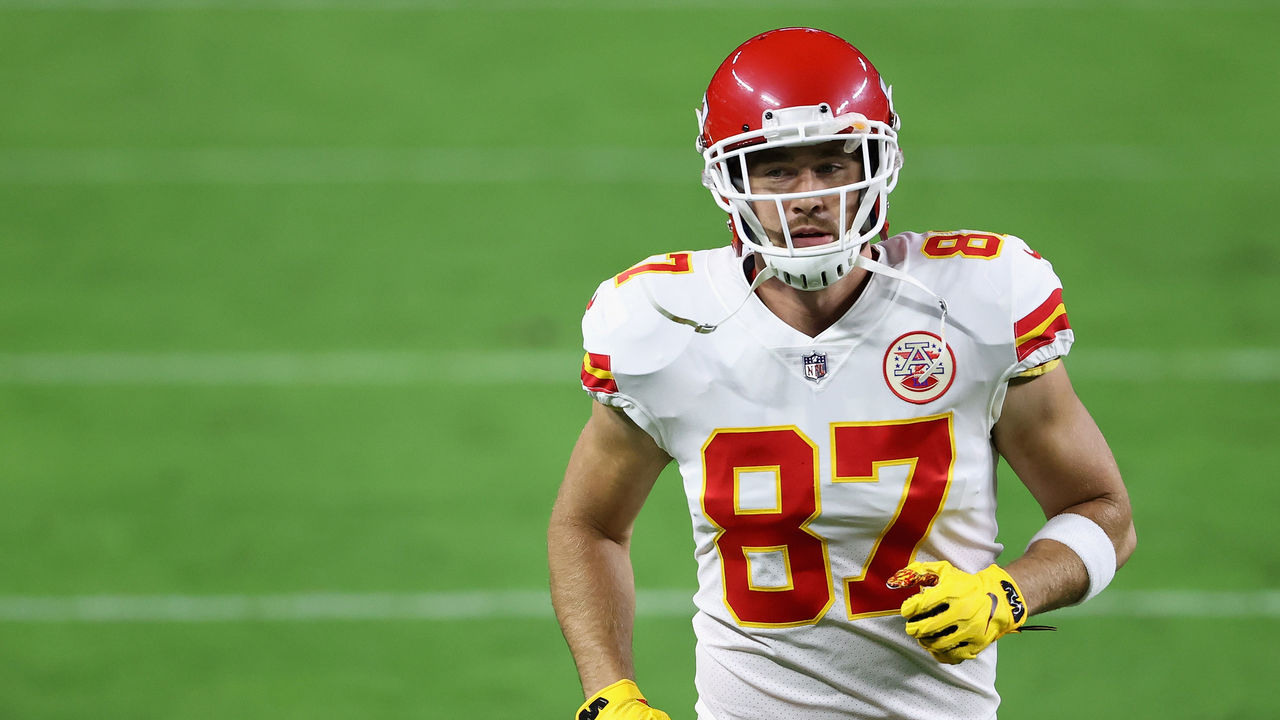 Travis Kelce, Chiefs*
It may be time to mention Kelce in the "greatest tight end of all time" conversation. Modern-day football and playing with Mahomes are obviously factors in the debate, but the six-time Pro Bowler's production speaks volumes.
Kelce broke a number of tight end records this season, including the single-season receiving mark. He also became the first tight end in NFL history with multiple 100-catch seasons and the first to surpass 1,000 receiving yards in five straight campaigns. Kelce's the unquestioned top player at his position.
2nd-team selection: Darren Waller (Raiders)
Flex
Alvin Kamara, Saints
Kamara was on pace for a historic season before Drew Brees got hurt. The running back's production dipped while Taysom Hill was under center, but the Saints star still deserves his place on the All-Pro team after racking up a career-high 1,668 yards from scrimmage (932 rushing and 756 receiving).
He also led the NFL with 21 combined touchdowns (16 on the ground and five through the air). Six of those rushing scores came in an otherworldly Christmas Day performance against the Vikings, which tied an NFL record. New Orleans will likely go as far in the playoffs as Kamara can take it.
2nd-team selection: Justin Jefferson (Vikings)
Offensive tackle
David Bakhtiari, Packers
Ryan Ramczyk, Saints
Bakhtiari's done for the playoffs with a torn ACL, but the injury doesn't take away from an incredible year. The game's premier left tackle allowed nine total pressures – including only one sack – across 12 starts, an incredible mark for any lineman. Bakhtiari also had the best run-blocking season of his career.
On the right side, Ramczyk held off a few quality players to earn his spot. The former first-round pick wasn't as clean in pass protection as we're used to, but that's more a testament to how successful he's been over the years. Ramczyk's a key player in New Orleans' offense.
2nd-team selections: Trent Williams (49ers), Tristan Wirfs (Buccaneers)
Guard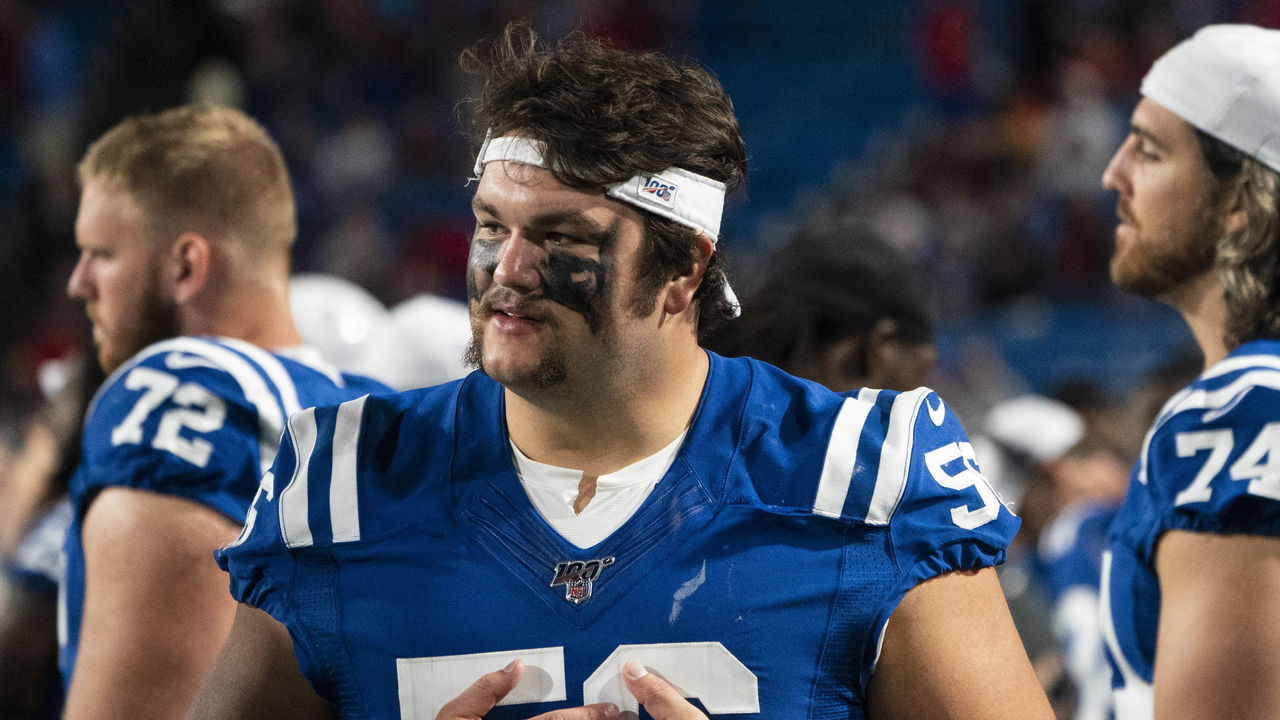 Quenton Nelson, Colts
Wyatt Teller, Browns
Nelson's established such a standard in his short career that he still deserves an All-Pro nod despite arguably being slightly less dominant in 2020 than he was in his first two seasons. Working with Philip Rivers – a major upgrade on Jacoby Brissett, but still the most statuesque QB in the NFL – Nelson allowed only one sack and nine hurries while starting all 16 games.
When Teller's in the lineup for the Browns, they boast one of the NFL's most intimidating ground attacks. When he's out – he missed five games this season – the Browns' running game looks distinctly average. The mauling right guard might not be the most refined pass-blocker, but he's perfect for the Browns' smack-you-in-the-face-over-and-over offensive style.
2nd-team selections: Joel Bitonio (Browns), Zack Martin (Cowboys)
Center
Corey Linsley, Packers
Linsley was one of the easiest selections on offense after enjoying a dominant season in the middle of Green Bay's highly productive scoring attack. Thriving as a run-blocker and pass-protector, the veteran surrendered only four total pressures and one sack. Even more amazing: Linsley wasn't penalized during a single snap.
2nd-team selection: JC Tretter (Browns)
Edge rusher
T.J. Watt, Steelers*
Myles Garrett, Browns
The younger Watt put together the kind of spectacular pass-rushing season in 2020 that his big brother usually does. The Steelers linebacker led the league with 15 sacks and 26 tackles for a loss, adding an interception and two forced fumbles. The Watt family trophy case continues to grow.
Garrett could have pushed Watt and Aaron Donald for Defensive Player of the Year if not for a midseason case of COVID-19 that he admitted affected his stamina the rest of the way. The pass-rusher had 9.5 sacks in nine games before being sidelined for two contests, ultimately finishing sixth with 12 QB takedowns.
2nd-team selections: Za'Darius Smith (Packers), Khalil Mack (Bears)
Interior defensive linemen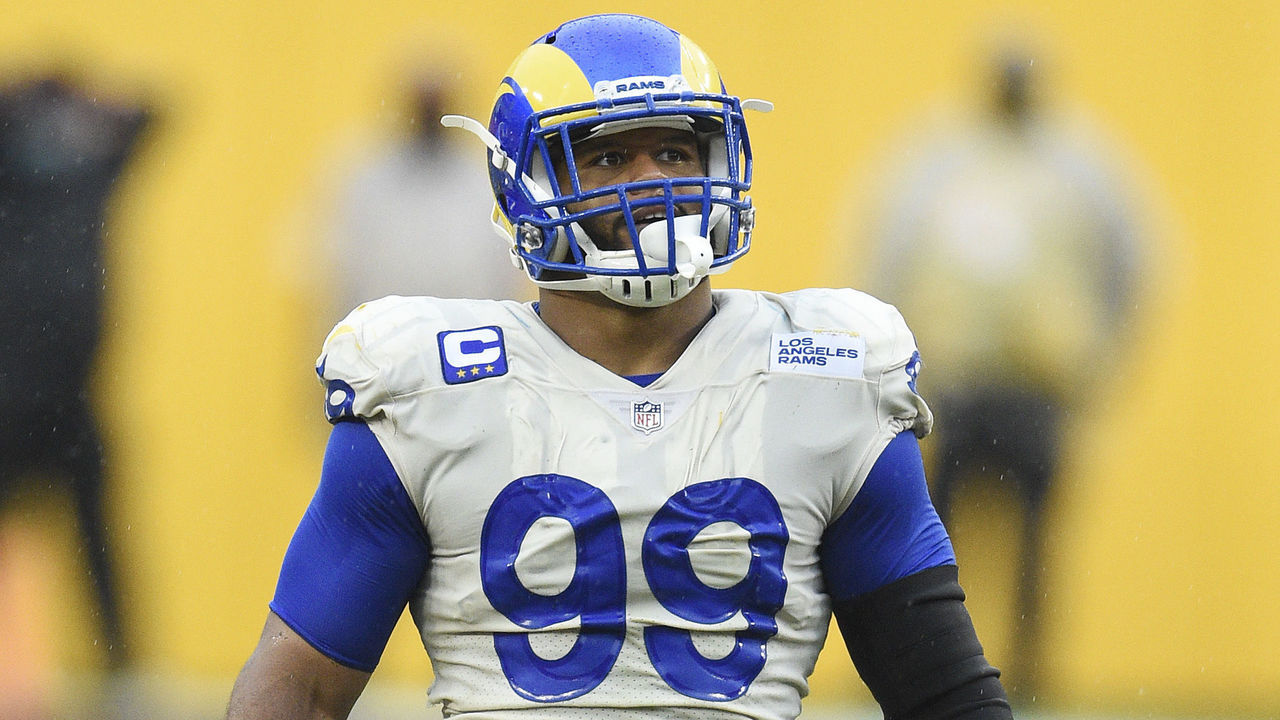 Aaron Donald, Rams*
DeForest Buckner, Colts
Donald continues to be the NFL's most uniquely dominant force – no other defensive tackle makes close to his impact, and certainly not as consistently. While his sack numbers have dropped from near-impossible to simply mind-boggling of late (13.5 this year and 12.5 in 2019 compared to 20.5 in 2018), don't be fooled for a second: Donald is a game-wrecker without comparison.
The Colts were bold in giving up the 13th pick for Buckner and then immediately paying the former 49ers standout $21 million a season. Buckner needed to jump into the top five of his position while playing with inferior pass-rushing talent in Indy to make good on the investment – and he did exactly that. Buckner finished with 9.5 sacks in 15 games and helped elevate the Colts' defense into a top-10 unit.
2nd-team selections: Stephon Tuitt (Steelers), Chris Jones (Chiefs)
Linebacker
Fred Warner, 49ers
Bobby Wagner, Seahawks
Lavonte David, Buccaneers
Despite the wild number of injuries the 49ers suffered this season, they could always rely on outstanding play from Warner. The linebacker produced a breakout season in his third year, excelling in coverage and racking up 79 solo tackles.
Wagner's a perennial All-Pro candidate. The star linebacker does it all for the Seahawks, producing 138 total tackles, three sacks, and eight pass breakups despite underwhelming support around him.
David, one of the most productive linebackers of his era, has only one career Pro Bowl nod and one first-team All-Pro appearance. But with the Bucs finally in the spotlight thanks to Tom Brady, David's finally getting the national praise he deserves after racking up 82 solo tackles on the season.
2nd-team selections: Roquan Smith (Bears), Demario Davis (Saints), Devin White (Buccaneers)
Cornerback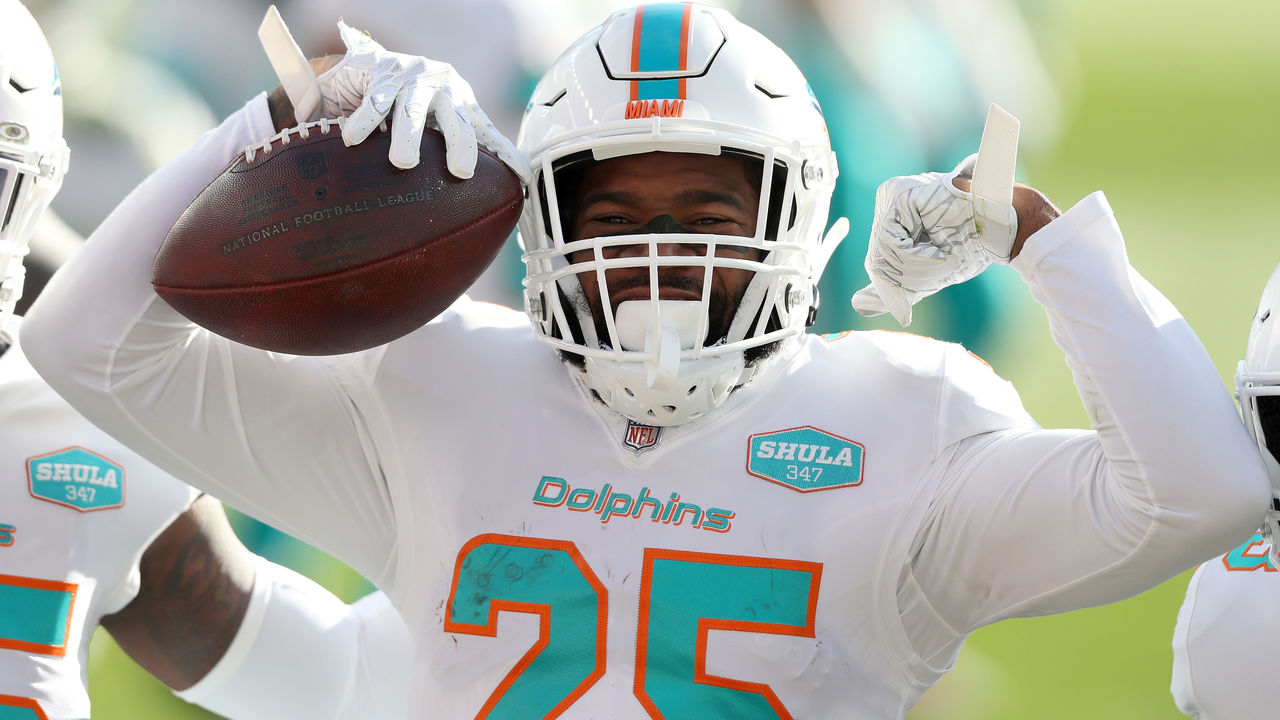 Xavien Howard, Dolphins*
Jaire Alexander, Packers
Howard's nose for the football was incredible this season, as evidenced by the Dolphins cornerback's NFL-high 10 interceptions (only one other player, J.C. Jackson, had more than six). Howard allowed a few too many big plays, but still provided above-average coverage and more than made up for any missteps with his ridiculous turnover rate.
Alexander might not have Howard's interceptions numbers, snagging only one all season, but the Packers cornerback took a huge leap this season in coverage. He allowed only 9.6 yards per reception and two touchdowns all season.
2nd-team selections: James Bradberry (Giants), Marlon Humphrey (Ravens)
Safety
Minkah Fitzpatrick, Steelers
Jessie Bates III, Bengals
The Steelers' defensive line is the driving force behind the team's success on that side of the ball, but the pass rush wouldn't be nearly as intimidating if it weren't for Fitzpatrick. A rangy ball hawk, the former Dolphins standout had four interceptions and seven pass breakups.
The Bengals didn't have a lot to be excited about in 2020, especially after Joe Burrow was lost to a season-ending knee injury midway through the season. But the emergence of Bates as a top-tier safety was a huge boost for Cincinnati, after he allowed a passer rating of only 42.3 and racked up three interceptions. A Pro Bowl snub if there ever was one.
2nd-team selections: John Johnson (Rams), Harrison Smith (Vikings)
Defensive back
Jalen Ramsey, Rams
Every week, it's Ramsey's job to face the opposition's most imposing wideout, and every week, he's up to the task. The Rams defender is the NFL's purest shutdown corner today. He allowed 11 yards or fewer in eight games this season, and didn't allow a single catch in three games. While everyone knows Ramsey's an elite player, he deserves more credit for excelling with the difficulty level turned up to max.
2nd-team selection: Budda Baker (Cardinals)
Kicker
Younghoe Koo, Falcons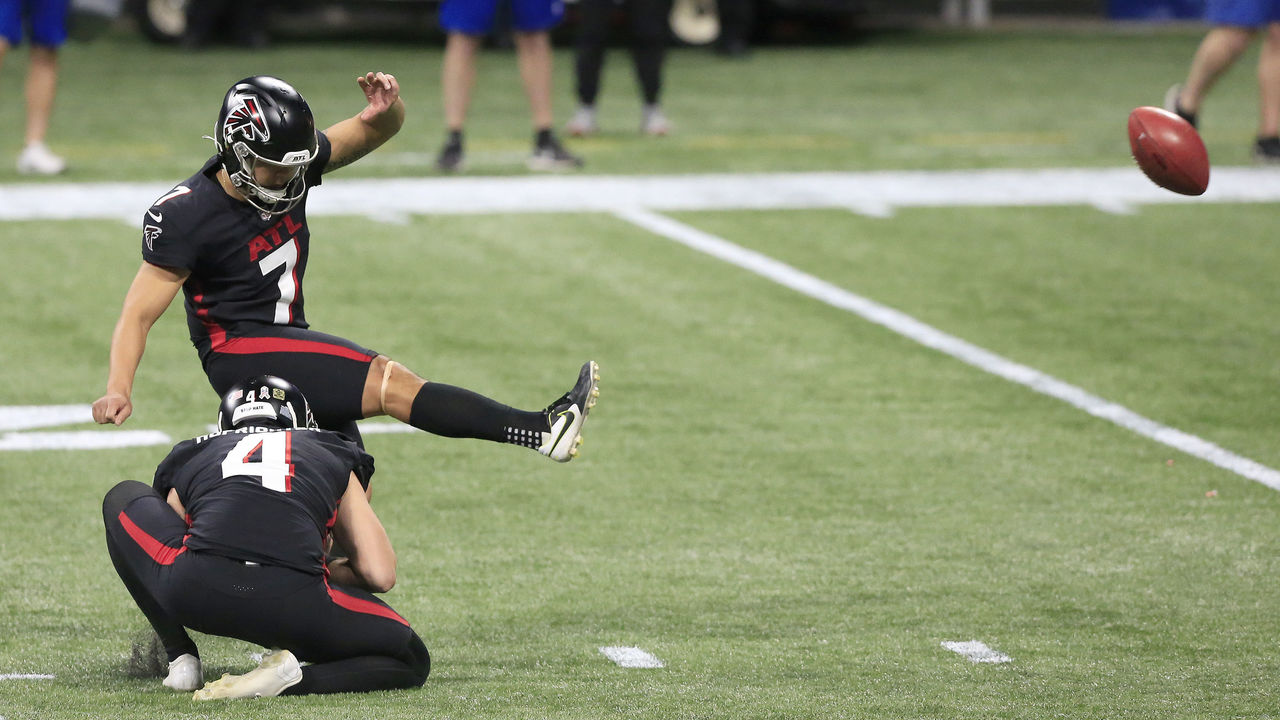 A handful of kickers shined during a unique NFL campaign, but Koo stood out. While the former AAF standout would surely like to have a kick or two back, his 144 points tied for the league lead. Koo was also a perfect 8-for-8 on 50-plus yard attempts.
2nd-team selection: Jason Sanders (Dolphins)
Punter
Michael Dickson, Seahawks
Dickson's been a legitimate weapon for the Seahawks since entering the league in 2018, and should bank his second All-Pro selection. He ranked second with an average of 49.6 yards per punt, and pinned his opponents inside the 20 a league-best 32 times.
2nd-team selection: Johnny Hekker (Rams)
Return specialist
Cordarrelle Patterson, Bears
Few players were more consistent on special teams this year than Patterson. The Bears' Swiss Army Knife led the league with 1,017 kickoff return yards, averaged nearly 30 yards per touch, and added a 104-yard touchdown.
2nd-team selection: Andre Roberts (Bills)
Special teams
George Odum, Colts
Odum was a standout on both kick and punt coverages, leading the league with 20 special teams tackles while making a handful of game-changing plays in the game's third phase.
2nd-team selection: Cody Barton (Seahawks)
Stats source: Pro Football Reference, PFF