Ranking the 25 best players in the NFL playoffs
With the NFL postseason upon us, RunSportBet ranks the top 25 players who are set to compete for the Lombardi Trophy. This list isn't a ranking of their historical accomplishments but an assessment of their playing form right now.
25. Minkah Fitzpatrick, S, Steelers
Arguably the premier playmaking safety in the league, Fitzpatrick continues to make good on the Pittsburgh Steelers' trade investment of a first-round pick. The safety allowed just 38.9% of passes thrown his way to be completed, and he made quarterbacks pay for challenging him with four interceptions and seven pass breakups.
24. Chris Jones, DT, Chiefs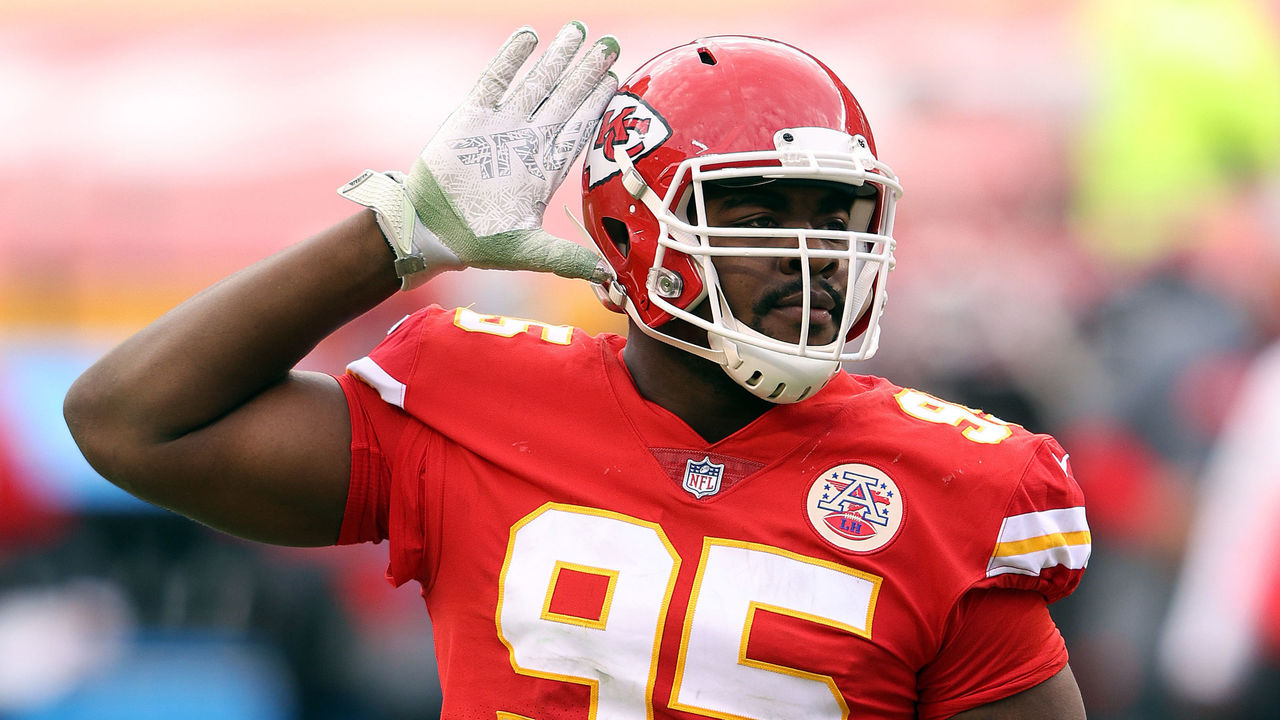 Jones doesn't always get the credit he deserves on a team with so much offensive prowess, but he's the heart and soul of the Kansas City Chiefs' defense. Though he can be pushed around in the running game from time to time, Jones more than makes up for it with elite pass-rushing skills. He had 7.5 sacks this season en route to his second straight Pro Bowl selection and is looking for another memorable playoff run after putting forth an MVP-caliber performance in Super Bowl LIV.
23. Jaire Alexander, CB, Packers
After two years of teasing Green Bay Packers fans with his potential, Alexander finally put together a full season of dominance in 2020. The former Louisville star held the likes of Calvin Ridley, Will Fuller, and Mike Evans without a catch while he was in coverage and gave up only 337 yards over 15 games. The 23-year-old could be on track for his first career All-Pro selection.
22. A.J. Brown, WR, Titans
Brown made his mark as a spectacular downfield threat as a rookie, and though that's still the strongest part of his game, the wideout has developed into a true No. 1 option. The Tennessee Titans star showcased his talents in Week 17 with a 52-yard catch in the dying seconds against the Houston Texans to help set up a game-winning field goal. Tennessee sealed the division, and the rest of the AFC saw how quickly Brown could take over a game.
21. Quenton Nelson, G, Colts
Nelson didn't have his best campaign, but he's still one of the top offensive linemen in football. His athleticism allows the Indianapolis Colts to get creative with their run-blocking schemes, which was a major factor in Jonathan Taylor's late-season explosion. In pass protection, Nelson surrendered only one sack, helping Philip Rivers get through the season without absorbing the type of battering he grew accustomed to with the Los Angeles Chargers.
20. DK Metcalf, WR, Seahawks
With blazing speed at 6-foot-4 and 235 pounds, Metcalf presents a physical mismatch against almost every defensive back in the game. After flashing immense promise as a rookie, Metcalf turned up the dial several notches in 2020, finishing with 83 catches for 1,303 yards and 10 touchdowns. His numbers tapered off a bit down the stretch, but he's still a big play waiting to happen.
19. DeForest Buckner, DT, Colts
One of the most overlooked stars of the game, Buckner made the Colts look like geniuses after trading the 13th overall pick to the San Francisco 49ers to get him. In the one game Buckner missed this season, Derrick Henry rushed for 1.2 more yards per carry than he did in his first meeting with the Colts. And though Buckner's 9.5 sacks came against bad offensive lines, his total broke the single-season franchise record for sacks by a defensive tackle.
18. Tom Brady, QB, Buccaneers
After a cold start to his 21st season, Brady turned on the jets over the second half and really caught fire during the last four weeks with a more accurate deep ball. The 43-year-old went 14 of 26 with seven touchdowns and no interceptions on passes 20-plus yards downfield from Weeks 14 to 17, a stark turnaround from earlier in the season. Among full-time starters, only Deshaun Watson had a better passer rating on deep balls over that span.
17. Russell Wilson, QB, Seahawks
It was a bit of a strange season for Wilson, who set career highs in completion percentage and touchdown passes – and nearly did the same in passing yards – but also had some uncharacteristic turnovers. Perhaps an uptick in interceptions was inevitable when the Seattle Seahawks decided to open up their offense and "let Russ cook," but the issues stemmed from abnormally poor decisions rather than inaccurate throws. That being said, Wilson is absolutely capable of leading the Seahawks to the Super Bowl.
16. Nick Chubb, RB, Browns
One of the best at collecting yards after contact, Chubb will finally get a chance to shine on the grand stage of the playoffs after three stellar seasons to begin his career. He averaged a career-best 5.6 yards per carry this season, serving as the catalyst for an offense that Kevin Stefanski revived in his first year as head coach. The Cleveland Browns like to feature Chubb early in games, using his productivity to set up play-action later on.
15. Khalil Mack, LB, Bears
Mack might not have had as many splash plays in 2020 as he did in some other years, but he's still one of the best defensive players in the game. In fact, the six-time Pro Bowler ranked third in the league in quarterback hurries despite a relatively tame nine sacks, and he was a force against the run. Mack is easily the most important player on the defensive-minded Chicago Bears.
14. Alvin Kamara, RB, Saints
Far and away, the NFL's most versatile running back, Kamara racked up 1,732 all-purpose yards this year, trailing only Derrick Henry and Dalvin Cook. The Tennessee product tied the NFL record with six rushing touchdowns his last time out in a Christmas Day win over the Minnesota Vikings, reminding everyone just how dangerous he is with the ball in his hands.
13. Tyreek Hill, WR, Chiefs
After putting together one of the best games of the season with a 269-yard, three-touchdown performance in Week 12, Hill had a relatively quiet final month of the campaign before sitting out the regular-season finale. The two-week break should help Hill shake off any lingering hamstring issues, allowing him to enter the playoffs at his game-breaking best.
12. Lamar Jackson QB, Ravens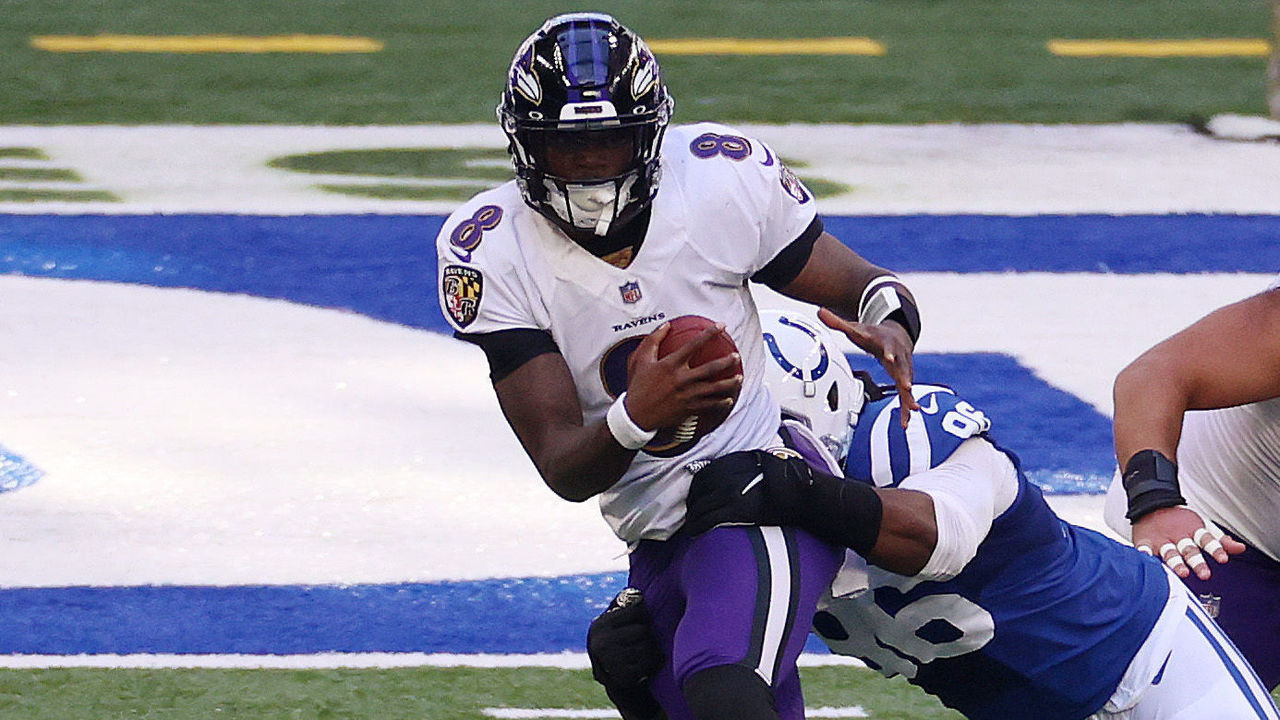 Jackson fell short of his hyper-efficient passing numbers from his MVP year in 2019, but the Baltimore Ravens star still finished the campaign with 2,757 yards and 26 touchdowns against nine interceptions. He also became the only QB in NFL history with two 1,000-yard rushing seasons. Jackson should be highly motivated to prove his doubters wrong coming off last season's playoff disappointment.
11. Myles Garrett, DE, Browns
If not for an unfortunate midseason battle with COVID-19 that he's still recovering from, Garrett could've pushed for a top-five spot considering the red-hot form he was in to start the campaign. The 25-year-old seems to have put everything together in Year 4, now boasting one of the game's most diverse set of pass-rushing skills. The Browns star finished sixth in the league with 12 sacks.
10. Stefon Diggs, WR, Bills
After solidifying himself as an upper-echelon wideout with the Minnesota Vikings, Diggs exploded for a career year with the Buffalo Bills. He was effective in every area of the field and efficient against any type of coverage, and he took home the receiving crown with 1,535 yards. Three of his four largest receiving outputs came in the last quarter of the schedule, meaning he – like the rest of the Bills – is peaking at the perfect time.
9. Jalen Ramsey, CB, Rams
With passing attacks reaching new heights in 2020, many established cornerbacks struggled to maintain their high levels of play. Ramsey was one of the few exceptions. The Los Angeles Rams defender allowed a mind-boggling 20 yards per game despite routinely facing some of the best wideouts the NFL has to offer. If L.A. is going to make noise in the postseason, Ramsey and fellow star Aaron Donald will have to keep up their ridiculous levels of play.
8. Josh Allen, QB, Bills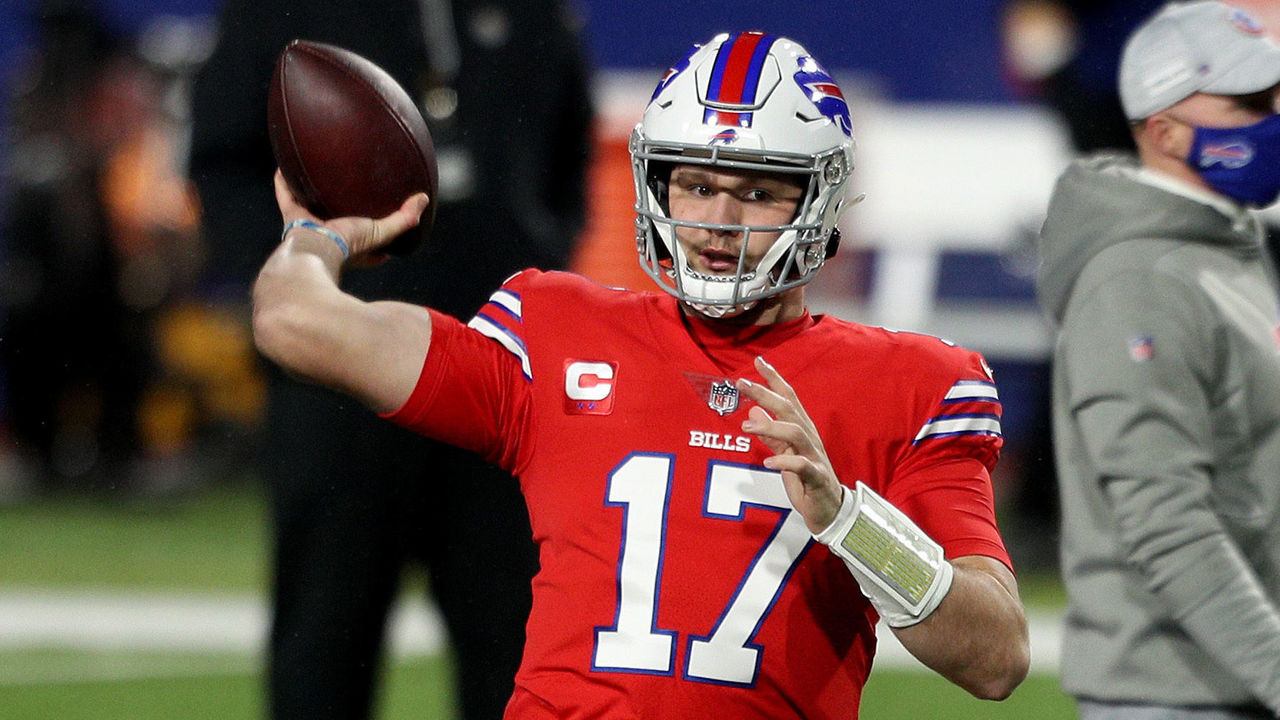 Many believed Allen could take a big leap in 2020 despite inconsistent play prior to the campaign. However, very few could have expected the Buffalo quarterback to make one of the most dramatic improvements in recent memory, challenging for MVP honors while setting franchise records for passing yards (4,544), touchdowns (37), passer rating (107.2), and completion percentage (69.2).
7. Davante Adams, WR, Packers
Diggs earned the receiving yards crown but only because Adams missed two games due to injury. The Green Bay Packers wideout led the league in yards per game (98.1) while catching an absurd 77.2% of his targets. Adams was also unmatched as a red-zone threat, finishing with an NFL-high 18 receiving scores. Only six other players caught more than 10.
6. Travis Kelce, TE, Chiefs
Kelce will one day be donned in a gold jacket, and his 2020 campaign might be held up as his masterpiece. The Chiefs star topped the NFL in first-down receptions with 79, finished second in receiving yards with 1,416 despite sitting out Week 17, and led all tight ends with 11 scores. Kelce is among the few unstoppable offensive forces in football.
5. Derrick Henry, RB, Titans
As if there was any doubt about who the best running back in the NFL is, Henry ended that conversation by becoming the eighth player in league history to rush for 2,000 yards in a season. The bruising bell cow is the hardest player in football to get on the ground and tends to get better as games continue and opponents wear down. It should surprise no one if the two-time rushing king spearheads another deep playoff run for the Titans.
4. T.J. Watt, LB, Steelers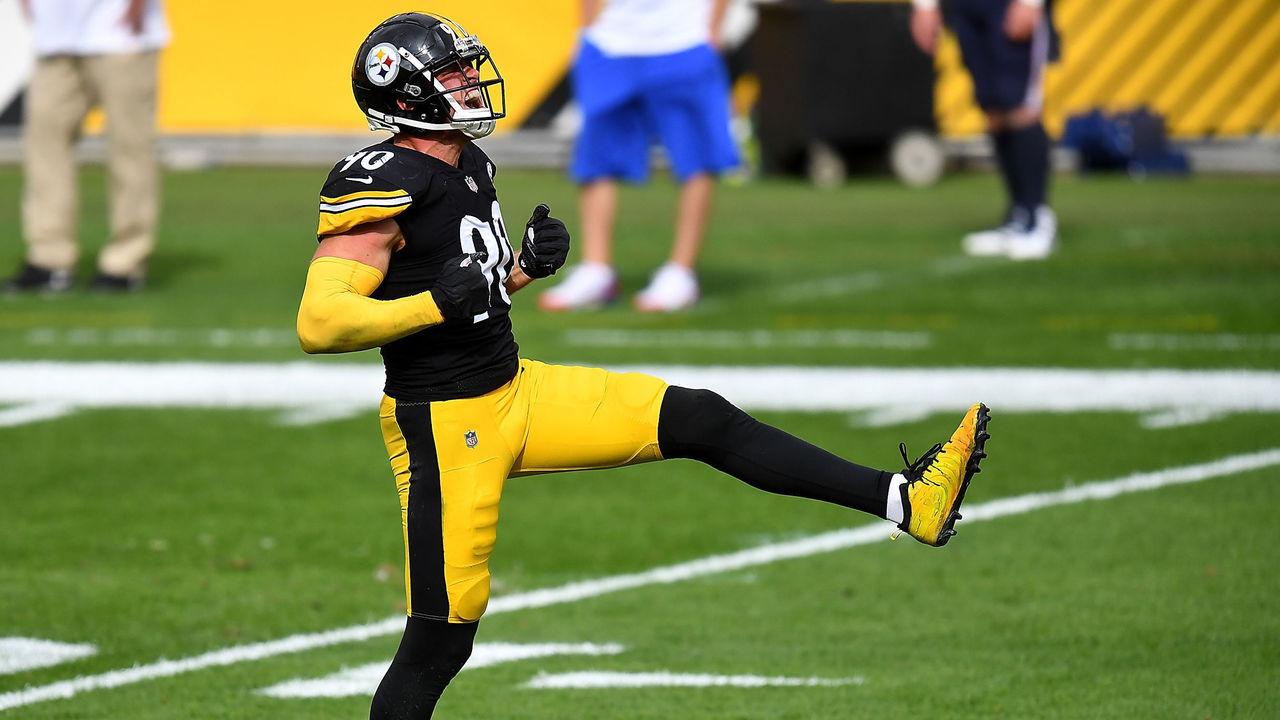 Watt was great in 2019, but with the Steelers producing a mediocre season, some didn't acknowledge that the pass-rusher ascended into the elite group of all players. No one can deny Watt now after he put together another truly dominant campaign. The 26-year-old improved his totals from last year in sacks (15 up from 14.5), tackles for loss (23 up from 14), and QB hits (23 up from 14), despite sitting out Week 17.
3. Aaron Donald, DT, Rams
It's easy to become numb to Donald's ridiculous dominance at this point. He makes game-breaking plays look routine and top-tier offensive linemen seem like helpless rookies. The Rams star tied for second in sacks (13.5) and sixth in tackles for loss (14) in 2020. He also smoked the competition in pass-rush win rate at 24% – no other defensive tackle got above 20% and only seven others exceeded 13%. Watt would be a deserving Defensive Player of the Year, but let's not pretend voter fatigue for Donald wouldn't play a major factor.
2. Patrick Mahomes, QB, Chiefs
Mahomes isn't No. 1 on this list, but he's still arguably the scariest player to face in the playoffs. The Chiefs quarterback can catch fire at a moment's notice (just ask the Texans about last year's divisional-round game). He isn't entering the playoffs in his usual game-destroying form, but the rest of the AFC would be foolish to hope for a dud from the 2018 MVP. Mahomes has an absurd five career games with a passer rating below 80 in 51 starts.
1. Aaron Rodgers, QB, Packers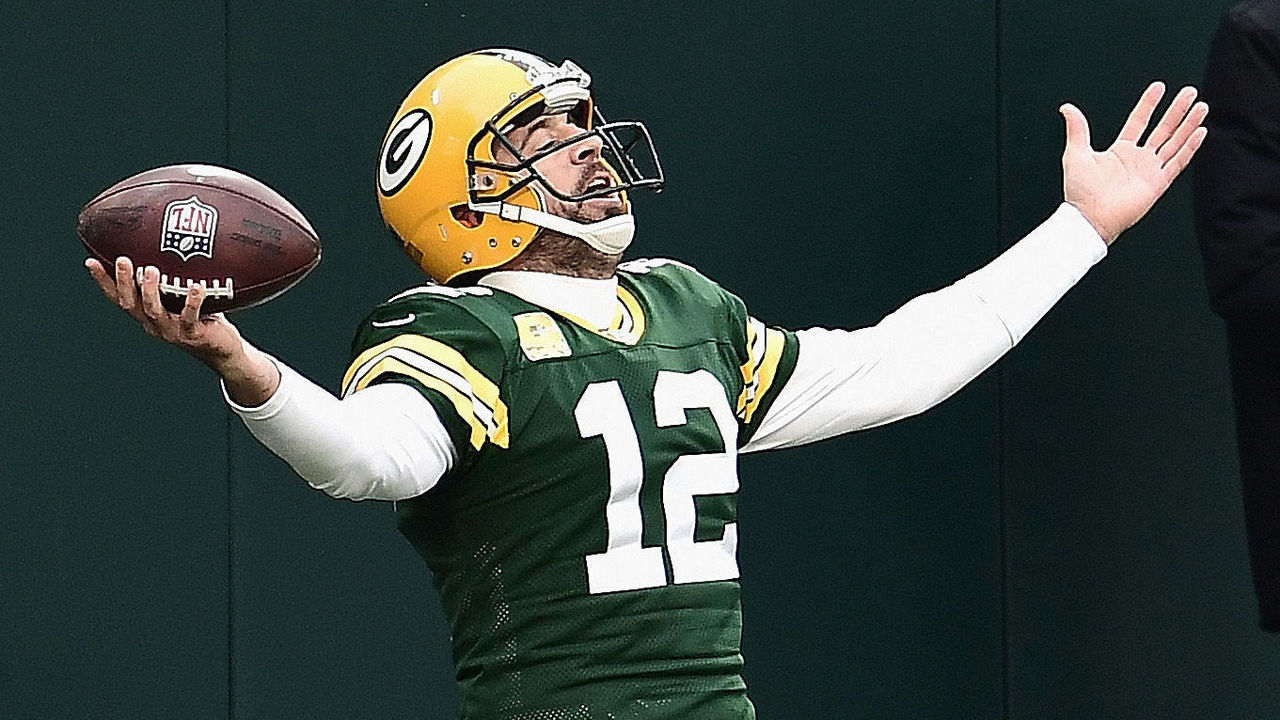 Rodgers, who turned 37 in December, might have just put together the best season of his illustrious career. His mastery of Matt LaFleur's scheme was evident in Year 2, as he used his pre-snap IQ and post-snap adjustments to accentuate the system's strengths. After a couple of down seasons (by his standards), Rodgers led the NFL with 48 touchdown passes this year, tied for the fewest interceptions with five, and completed a ridiculous 70.7% of his throws. He would love nothing more than to finish the campaign with his paws on the Lombardi Trophy.
(Stats source: Pro Football Reference and PFF)