Ranking MLB's perfect games: 5-1
Over the last week, RunSportBet has been ranking the 23 official perfect games in MLB history based on opposing lineup strength, the importance of the game, and the pitcher's performance. We conclude with the top five perfect games of all time.
23-21 | 20-16 | 15-11 | 10-6 | 5-1
5. David Cone, 1999
Date: July 18, 1999
Score: New York Yankees 6, Montreal Expos 0
Site: Yankee Stadium
Pitches: 88 (68 strikes)
Game Score: 97
Cone was coming off his worst start of the year to that point. After a string of impressive outings in an otherwise solid season, it appeared the bubble was on the verge of bursting.
Instead, Cone threw the 16th perfect game in MLB history, doing so in the most efficient manner while still managing double-digit strikeouts (a season-high 10). The only other perfect-game hurler to come in with a pitch count lower than 90 – before or since – was Addie Joss in 1908.
A 33-minute rain delay halted proceedings during the bottom of the third inning, but it hardly mattered in the first perfect game during interleague play. Cone carved through the Expos, who were an unimpressive 33-55 but featured a fearsome trio of Rondell White, Vladimir Guerrero, and Jose Vidro in the heart of the lineup.
The whole thing was nearly undone in the first inning. Terry Jones smacked a fly ball to right-center field that was ultimately caught by a hustling, tumbling Paul O'Neill. Cone thought it was a triple off the bat, according to an oral history told to Bryan Hoch of MLB.com in 2019.
From the "baseball is magic" department, both Don Larsen and Yogi Berra were on hand for Cone's dominance. It was Berra's long-awaited return to Yankee Stadium after he and George Steinbrenner ended their long feud. Larsen, meanwhile, threw out the ceremonial first pitch to his former batterymate, replicating their own famous moment from 1956, which we'll get to shortly.
4. Cy Young, 1904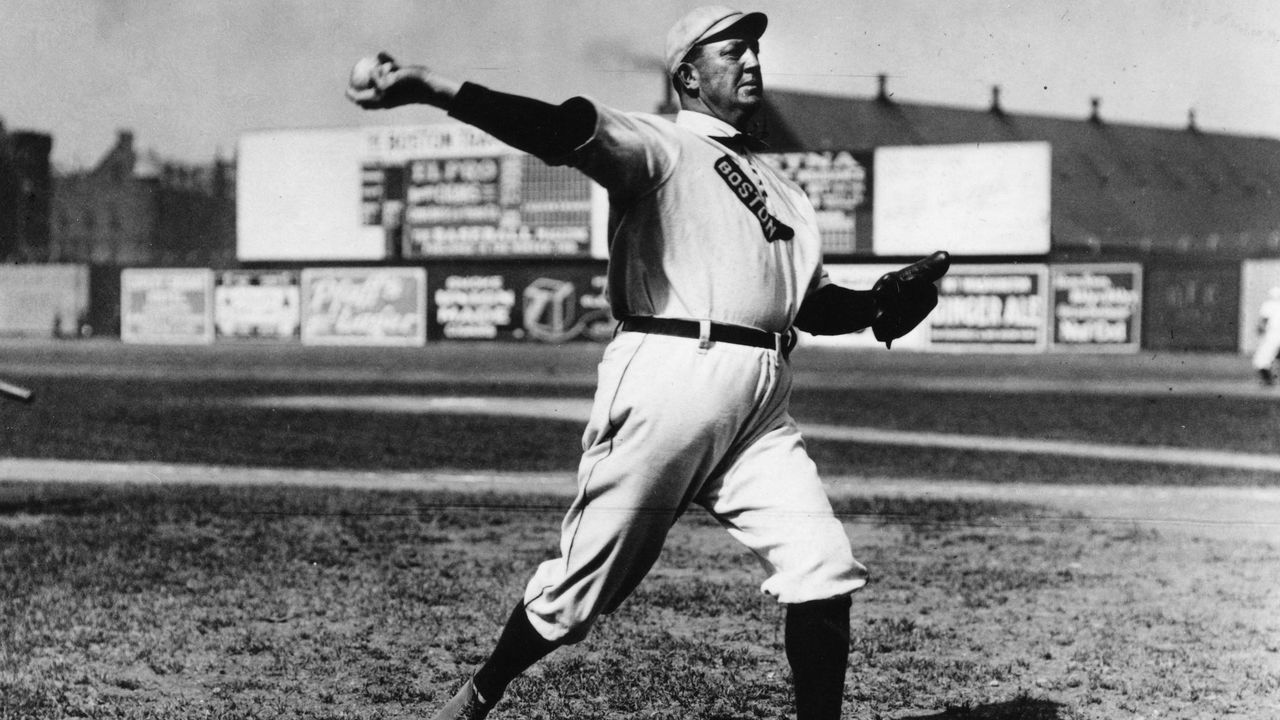 Date: May 5, 1904
Score: Boston Americans 3, Philadelphia Athletics 0
Site: Huntington Avenue Grounds
Pitches: Not available
Game Score: 95
The lead-up to this game featured plenty of drama between two bitter rivals. Star A's left-hander Rube Waddell, who had beaten Young in Philadelphia in April, one-hit Boston in the series opener and immediately challenged Young to a rematch through the press. Three days later, baseball's winningest pitcher outdueled Waddell by throwing the first modern-era perfect game.
Perhaps Waddell picked the wrong time to poke the bear. Young's perfect game came during his streak of 25 1/3 consecutive no-hit innings – still the MLB record – as well as a 45-inning shutout streak. He struck out eight and faced little resistance from Philly's hitters; a little looper caught by charging right fielder Buck Freeman in the third was the closest the A's came to a baserunner. After Young got Waddell – who, for reasons unknown, was not replaced by a pinch hitter in the ninth – to fly out to end the perfect game, Young immediately started screaming at his opponent. "How do you like that, you hayseed," he yelled at Waddell, according to Michael Clair of MLB.com.
Young's second of three career no-hitters was the first perfecto in both the modern era and the American League, and he became the first to throw a no-no in each league. The 37-year-old's record as the oldest pitcher to throw a perfect game would stand for a century.
3. Randy Johnson, 2004
Date: May 18, 2004
Score: Arizona Diamondbacks 2, Atlanta Braves 0
Site: Turner Field
Pitches: 117 (87 strikes)
Game Score: 100
It's not surprising The Big Unit threw a perfect game in his Hall of Fame career, but it's notable that he didn't do so until his waning years. At 40 years old in what was his final All-Star season, Johnson passed the aforementioned Young to become the oldest pitcher in MLB history to twirl a perfecto.
With 13 strikeouts, he trails only Matt Cain and the next entrant in this countdown for most punchouts in a perfect game. His vaunted pitch count, meanwhile, wouldn't have been so high if not for Johnny Estrada's first at-bat: Estrada saw 10 pitches and was the only Braves batter in the game to reach a three-ball count.
Though Atlanta endured a slow start in 2004 (17-20), the lineup featured a dangerous set of sluggers including Chipper Jones, Andruw Jones, J.D. Drew, and Estrada. But it was Mike Hampton – the Braves starter who allowed two runs over nine innings of work – who nearly spoiled Johnson's day, as his weak grounder just off second base forced Alex Cintron to make a spectacular play to preserve the perfect game in the sixth inning. Chipper, meanwhile, struck out three times.
By the end of the affair, Johnson wasn't exactly showing fatigue. He recorded his 13th strikeout against pinch hitter Eddie Perez with a 98-mph fastball to end the game. It was the first perfect game since Cone's in 1999 and the first by a National League pitcher since Dennis Martinez in 1991.
2. Sandy Koufax, 1965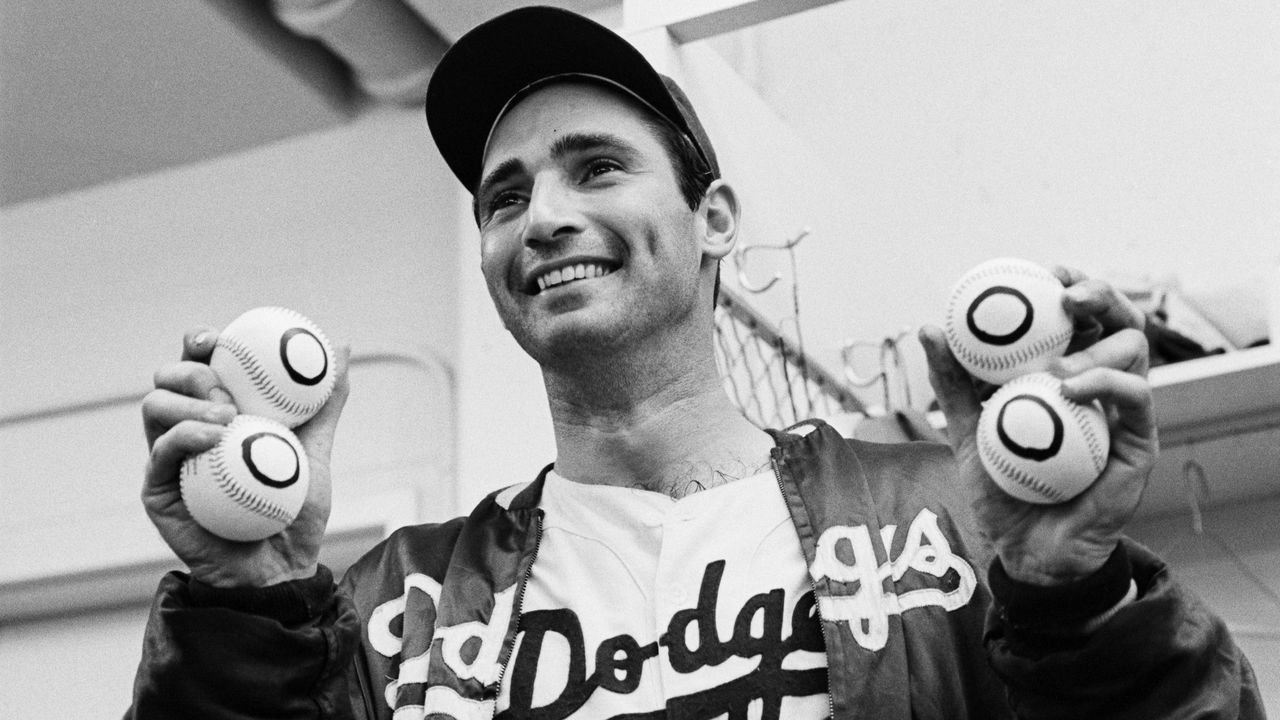 Date: Sept. 9, 1965
Score: Los Angeles Dodgers 1, Chicago Cubs 0
Site: Dodger Stadium
Pitches: 113 (79 strikes)
Game Score: 101
Koufax threw four career no-hitters, but his perfect game – thrown during his otherworldly 1965 season – has taken on a life of its own.
He entered this start after going 0-3 with a 3.10 ERA over the previous three weeks, while the eventual NL champion Dodgers had slipped to second place. The Cubs were out of contention and had the NL's second-worst offense, but they still boasted three future Hall of Fame hitters in Ron Santo, Ernie Banks, and Billy Williams.
Koufax was utterly untouchable, setting a perfect-game record by striking out 14 batters (a total since matched by Cain). He registered at least one punchout every inning, the only man to do so in a perfect game. Koufax K'd every Cubs starter once except Don Kessinger; Joey Amalfitano struck out while pinch-hitting for him in the ninth. Banks went down swinging three times, and only three Cubs hitters reached a three-ball count. A long foul ball in the first and two consecutive tough plays in the sixth – first baseman Wes Parker dug shortstop Maury Wills' low throw out of the dirt, and third baseman Jim Gilliam threw Kessinger out by a half step – were as close as Chicago got.
Koufax struck out the final six batters and seven of the last nine. The game wasn't televised, but Vin Scully provided a poetic radio soundtrack that has held up as a perfect call.
Cubs starter Bob Hendley nearly matched Koufax but lost his no-hitter in the seventh. Hendley threw a one-hitter and allowed just one unearned run in the fifth via a walk, sacrifice bunt, stolen base, and throwing error. The teams' combined one hit and two baserunners both remain major-league records.
By Game Score, only three other nine-inning outings were better than Koufax's perfect game (it's tied with Cain's, as well as Nolan Ryan's seventh no-hitter). It's still cited as one of the best pitching performances of all time, if not the greatest, and while circumstance may knock it to No. 2 here there's a case to be made for ranking it at the top. Either way, Koufax pitched the greatest regular-season perfect game by a wide margin, and it will take a lot to equal his performance.
1. Don Larsen, 1956
Date: Oct. 8, 1956 (Game 5 of the World Series)
Score: New York Yankees 2, Brooklyn Dodgers 0
Site: Yankee Stadium
Pitches: 97
Game Score: 94
The Dodgers roughed up Larsen in Game 2 of the 1956 World Series. He surrendered four runs – all unearned – in 1 2/3 innings, so it was a bit of a surprise when Yankees manager Casey Stengel gave him the ball in Game 5. To everyone's shock, Larsen was perfect against a Dodgers lineup that featured four Hall of Famers and powerful slugger Gil Hodges.
Larsen threw just 97 pitches, struck out seven, and was taken to a three-ball count just once. Brooklyn only threatened to break it up twice: Jackie Robinson hit a grounder off third baseman Andy Carey's glove that bounced straight to shortstop Gil McDougald, and Hodges hit a deep fly ball in the fifth that Mickey Mantle corralled with a stellar running catch. Mantle homered for the only run Larsen would need, while Hank Bauer added an RBI single. Dodgers pinch hitter Dale Mitchell, who struck out just 119 times over 11 major-league seasons, went down swinging for the final out, and catcher Yogi Berra leaped into Larsen's arms to create one of the sport's most iconic images.
Larsen would pitch until 1967, retiring with an 81-91 record and no All-Star appearances. His only other claim to fame was being the last active former member of the hapless St. Louis Browns. But he threw the ultimate perfect game on the biggest of stages, a tremendous feat for which game scores and WAR can't account and legends of the sport have never matched. The whole thing makes no sense at all – Larsen's perfect in the World Series, but Roger Clemens, Greg Maddux, and Curt Schilling combined to throw zero no-hitters? – but that's exactly why it represents all that we love about baseball.
Anyone can be perfect in any ballgame, and for one day during the World Series, it was Don Larsen. The greatest perfect game of all is likely to be his forever.