Police investigating 'White Lives Matter' banner amid reported hooligan links
Lancashire Police are investigating after an aircraft towed a "White Lives Matter Burnley" banner above the Etihad Stadium during a Premier League match in Manchester on Monday.
"We are making (inquiries) to establish the full circumstances surrounding this incident and we will then be in a position to make an assessment as to whether any criminal offenses have taken place," Lancashire chief superintendent Russ Procter said in a statement Tuesday.
The plane that circled over the match between Manchester City and Burnley shortly after players and staff took a knee in support of the Black Lives Matter movement is believed to have links to a football hooligan firm, according to The Guardian's Ben Quinn and Jim Waterson.
One Burnley supporter who has connections with Tommy Robinson, the former leader of the far-right English Defence League organization, claimed responsibility for the stunt online before removing himself from social media, report Quinn and Waterson.
Another person with convictions for football-related violence has reportedly been linked to a WhatsApp group in which money was apparently collected to cover a payment to Air Ads, the company that supplied the plane.
Blackpool Airport has suspended banner-towing operations and called for an emergency review after the plane was found to have taken off and landed back at its base on the Fylde coast. Airport manager Stephen Smith said the incident was reported to police and the Civil Aviation Authority has been notified.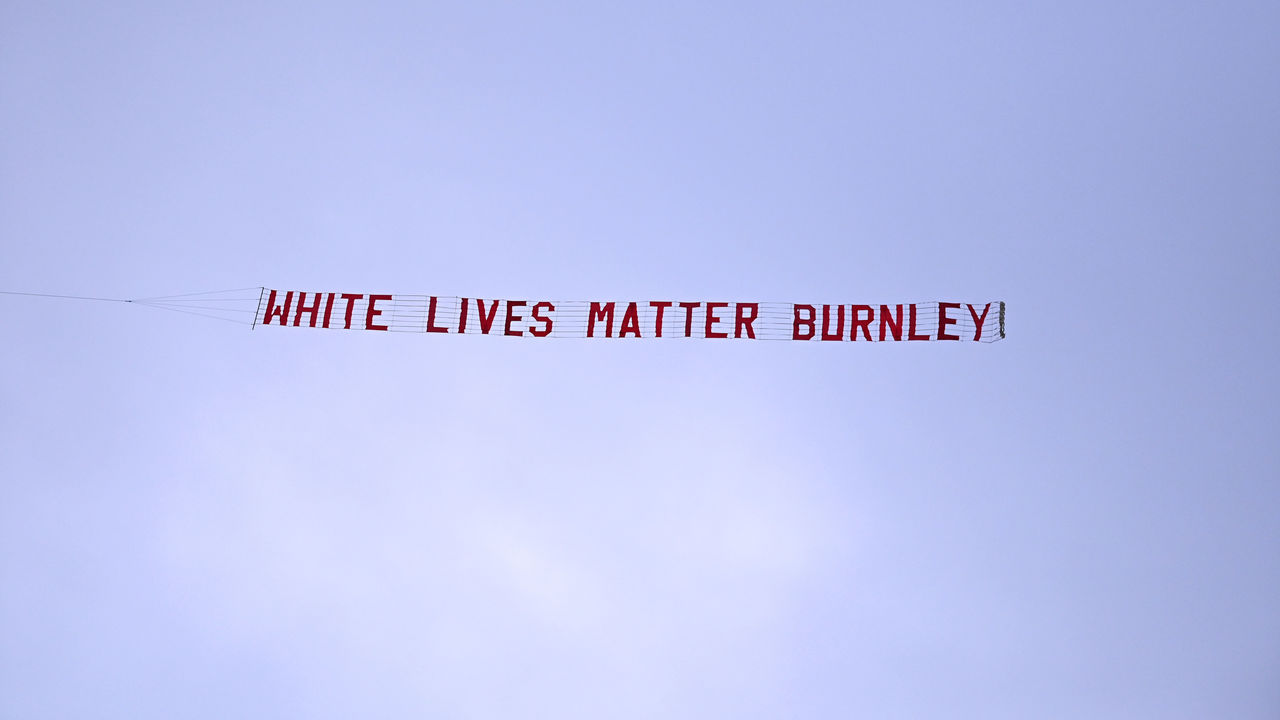 "Blackpool Airport and Blackpool council are outraged by this incident," Smith said in a statement. "We stand against racism of any kind and absolutely do not condone the activity, the message was offensive and the action reprehensible.
"The decision to fly the banner was taken entirely by the banner-flying company without the knowledge or approval of the airport or Blackpool council. Due to the nature of the activity, banners are not checked before take-off and the content is at the operator's discretion."
Burnley strongly condemned the banner less than an hour after the plane was sighted, vowing to "work fully with the authorities to identify those responsible and issue lifetime bans."
Burnley chairman Mike Garlick told ESPN's Mark Ogden on Tuesday that the incident had "absolutely nothing to do" with the club and promised to "root out these racists."
The chairman added: "I think Black people and all minorities have had a hard time and faced prejudice and inequality since they arrived in this country in the 1950s and 1960s. All they want is to be treated equally and to have a chance in life, but there are clearly elements of our white population who see that as a threat to them and they behave in this appalling way.
"It is my job to do our best to deal with it and make it go away, which is not easy. It takes time and patience and understanding, working with the community to make these issues fully understood and deal with them."
Ben Mee, Burnley's captain, was widely praised for his post-match response after he expressed embarrassment and urged people to "come into the 21st century." Former Clarets skipper Frank Sinclair, a London-born defender who played for Jamaica, also voiced his dismay.
"As an ex-Burnley captain, I feel I need to show my disappointment when I saw that sign above the stadium at a club many Black players have represented," he tweeted on Monday. "Please understand the message #BlackLivesMatters is for the good of humanity, not just Black lives."