Grading every 1st-round rookie's debut performance
Rookies don't get a second chance to make a first impression in the NFL. Here, we evaluate the debut performances of every 2020 first-round pick.
1. Joe Burrow, QB, Bengals
Grade: B-
Burrow didn't become the first No. 1 pick to win their debut since David Carr in 2002, but he came very close and he looked good doing it. The former LSU star did have a perplexing late interception and will likely be thinking about missing a wide-open A.J. Green in the end zone for a while. However, he looked calm and collected outside of those errors, ran in an impressive touchdown, and showed enough resilience to keep Cincinnati in it. Bengals fans should have no doubt that Burrow is the guy, especially after he gave himself the harsh grade of D for Week 1.
2. Chase Young, Washington, DE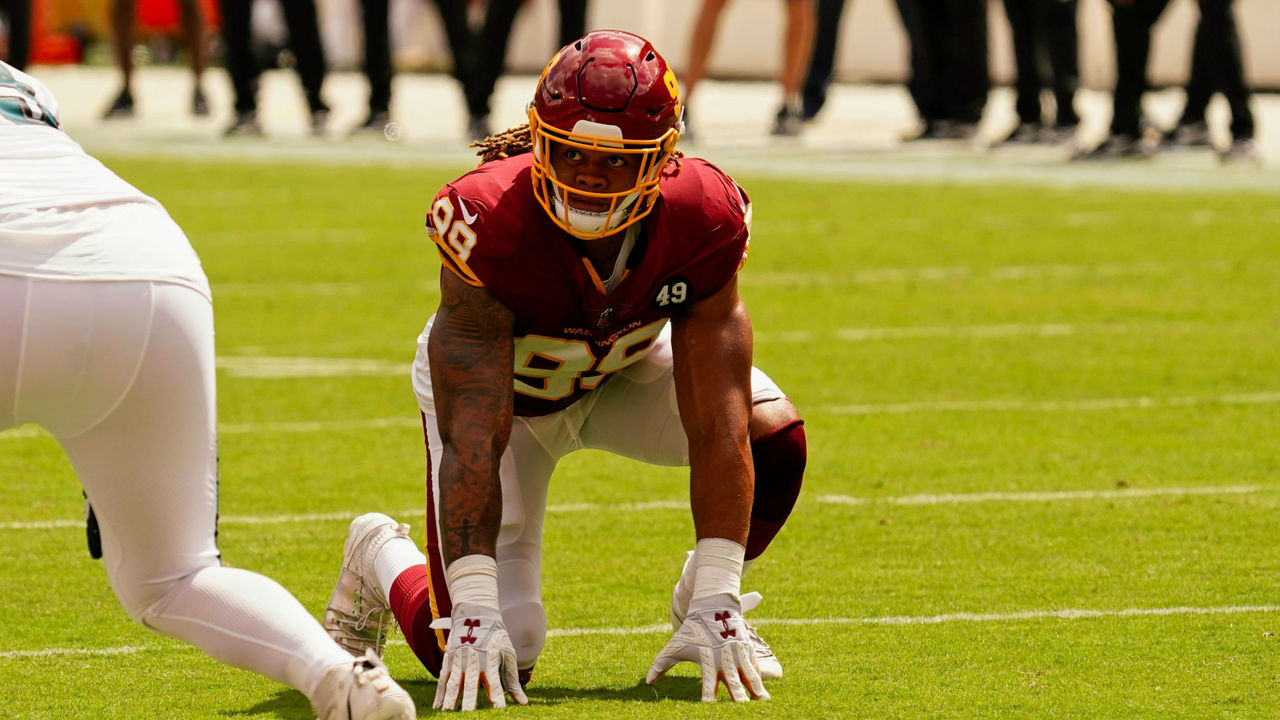 Grade: A
No team likely exits Week 1 happier with its first-round decision than Washington, which came back to earn a shocking victory over the Eagles on the back of its dominant defensive line. Young was at the heart of Washington's win, consistently wreaking havoc on Carson Wentz and Co. The pass-rusher finished with 1.5 sacks – including a crucial strip sack – and four tackles. Just like Nick Bosa last year, Young looks like an instant star.
3. Jeff Okudah, CB, Lions
Grade: Incomplete
Okudah was inactive for Week 1 due to a hamstring injury.
4. Andrew Thomas, OT, Giants
Grade: C+
New York's entire offensive line struggled to protect quarterback Daniel Jones against Pittsburgh. Thomas actually held up better than his teammates at times, finishing the game with four pressures allowed. The left tackle was more impressive as a run-blocker, but his efforts didn't lead to a lot of production from Saquon Barkley.
5. Tua Tagovailoa, QB, Dolphins
Grade: Incomplete
Tagovailoa acted as Ryan Fitzpatrick's backup in Miami's loss to New England.
6. Justin Herbert, QB, Chargers
Grade: Incomplete
Herbert acted as Tyrod Taylor's backup in Los Angeles' win over Cincinnati.
7. Derrick Brown, DT, Panthers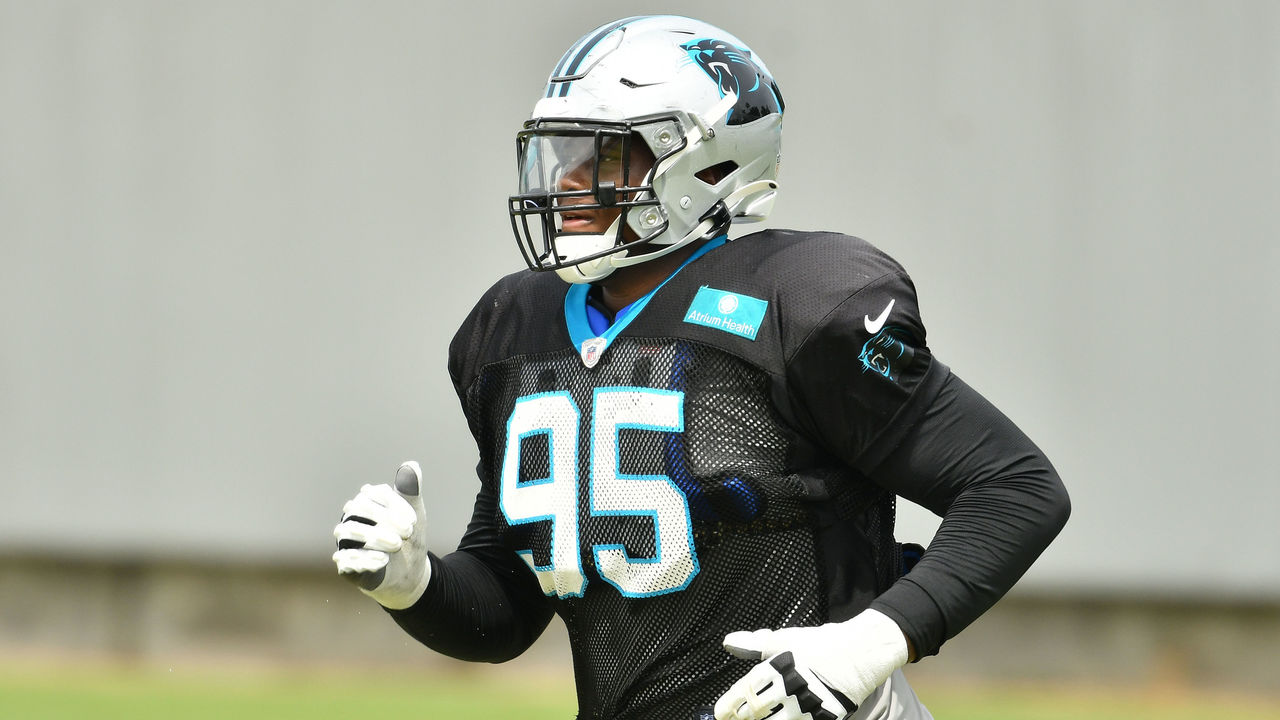 Grade: C-
The Panthers fell just short of the perfect start to the Matt Rhule era, losing to the Raiders in a closely fought game. The mammoth Brown couldn't stop Josh Jacobs from racking up 93 yards and three touchdowns, but that failure was on the whole unit. The 6-foot-5, 318-pounder produced three total tackles and batted two passes. Brown will need to make more of a pass-rushing impact.
8. Isaiah Simmons, LB, Cardinals
Grade: D
The supposed most versatile defender in the draft got benched against the 49ers, playing only 18 of 61 snaps. The Clemson product was called for a horse-collar tackle on George Kittle early, then got beat by Raheem Mostert on a 76-yard catch-and-run touchdown. Simmons may have a bright future but the debut was dull.
9. CJ Henderson, CB, Jaguars
Grade: A
Jalen who? The Jaguars needed some of their young defensive players to step up following massive offseason turnover, and rookie Henderson answered the call spectacularly. He not only made a great read to pick off Philip Rivers early in Jacksonville's upset win, but he also made the game-sealing play, leaping to break up a fourth-down pass intended for T.Y Hilton.
10. Jedrick Wills, OT, Browns
Grade: B
Wills held up well against a strong Ravens front, which was a pleasant surprise given the underwhelming reports on him in training camp. While he conceded a sack, Wills was strong overall at left tackle, where the Browns struggled so mightily a year ago. However, he left the contest in the second half with a leg injury.
11. Mekhi Becton, OT, Jets
Grade: B
There were plenty of reasons for the Jets' offensive futility in Week 1, but Becton wasn't one of them. While Bills pass-rusher Jerry Hughes got the better of him at times, Becton looked like the starting-caliber left tackle the Jets sorely needed when they selected him on draft night. He was solid in both pass protection and run blocking, and came out of the loss as one of the few bright spots for the Jets.
12. Henry Ruggs III, WR, Raiders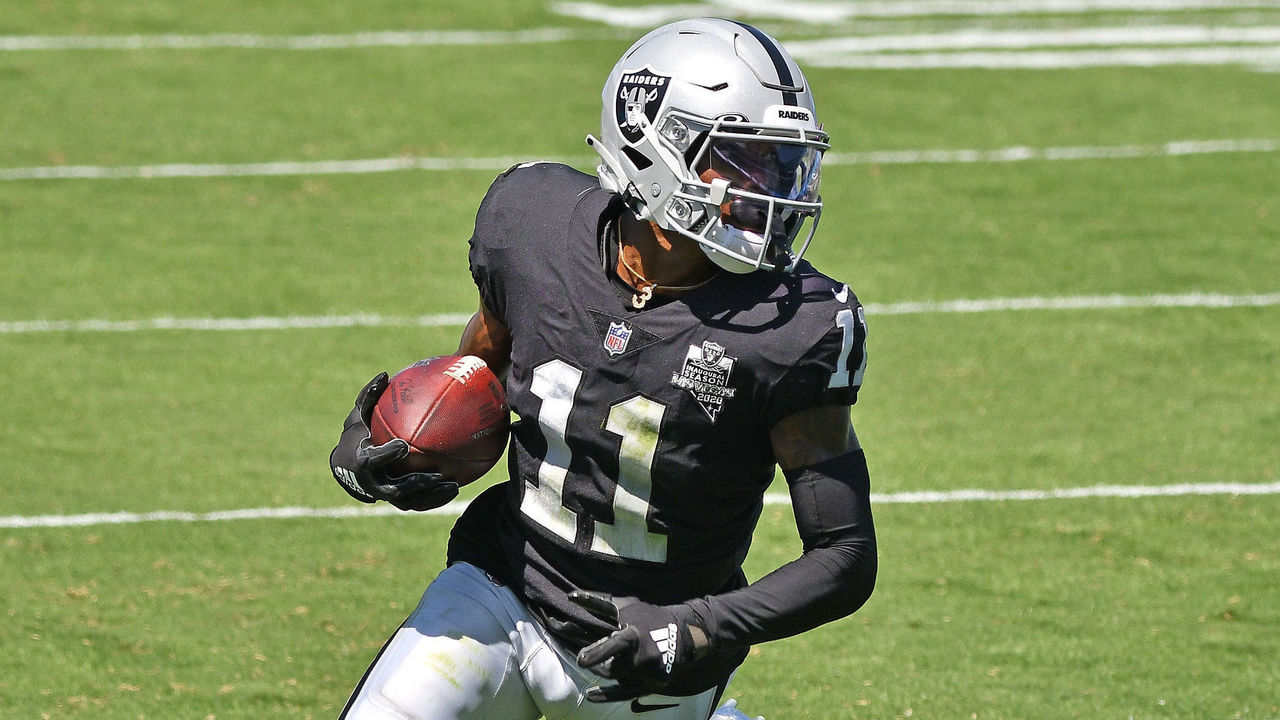 Grade: B-
Ruggs flashed the electrifying speed that led the Raiders to make him the first receiver picked in the draft by corralling a 45-yard pass that set up a touchdown. Other than that, the 21-year-old was quiet, collecting only two more receptions for 10 yards. Las Vegas will need more from Ruggs, who's leading a young stable of Raiders receivers.
13. Tristan Wirfs, OT, Buccaneers
Grade: B
Wirfs had his struggles at times with Cameron Jordan – but who doesn't? Truth be told, Jordan did more of his damage against left tackle Donovan Smith and was less effective against Wirfs, who debuted on the opposite side. It's only one game, but Wirfs may already be the Bucs' best tackle.
14. Javon Kinlaw, DT, 49ers
Grade: B
Kinlaw generated a pair of quarterback pressures and helped keep the Cardinals' inside running game at bay, but he didn't deliver the splash plays San Francisco used to get from DeForest Buckner. Overall, the 49ers failed to dominate up front, with Bosa the only lineman who really caused chaos in the backfield.
15. Jerry Jeudy, WR, Broncos
Grade: B-
Jeudy looked every bit as electric during his Broncos debut as he did in college with Alabama, but his voltage clearly got too high at times. While the wideout had four catches for 56 yards, he also had two drops – including a major one late in the game that would've extended Denver's drive and put the team into field-goal range. Hopefully, the return of Courtland Sutton will help ease the pressure on Jeudy.
16. A.J. Terrell, CB, Falcons
Grade: C
Terrell looked good early but struggled in the second half. His most egregious infraction was biting on a double move from DK Metcalf that allowed the Seahawks receiver to get deep for a big play. Whether it's fair or not, the Falcons need Terrell to play better for this secondary to hold up over the course of the season.
17. CeeDee Lamb, WR, Cowboys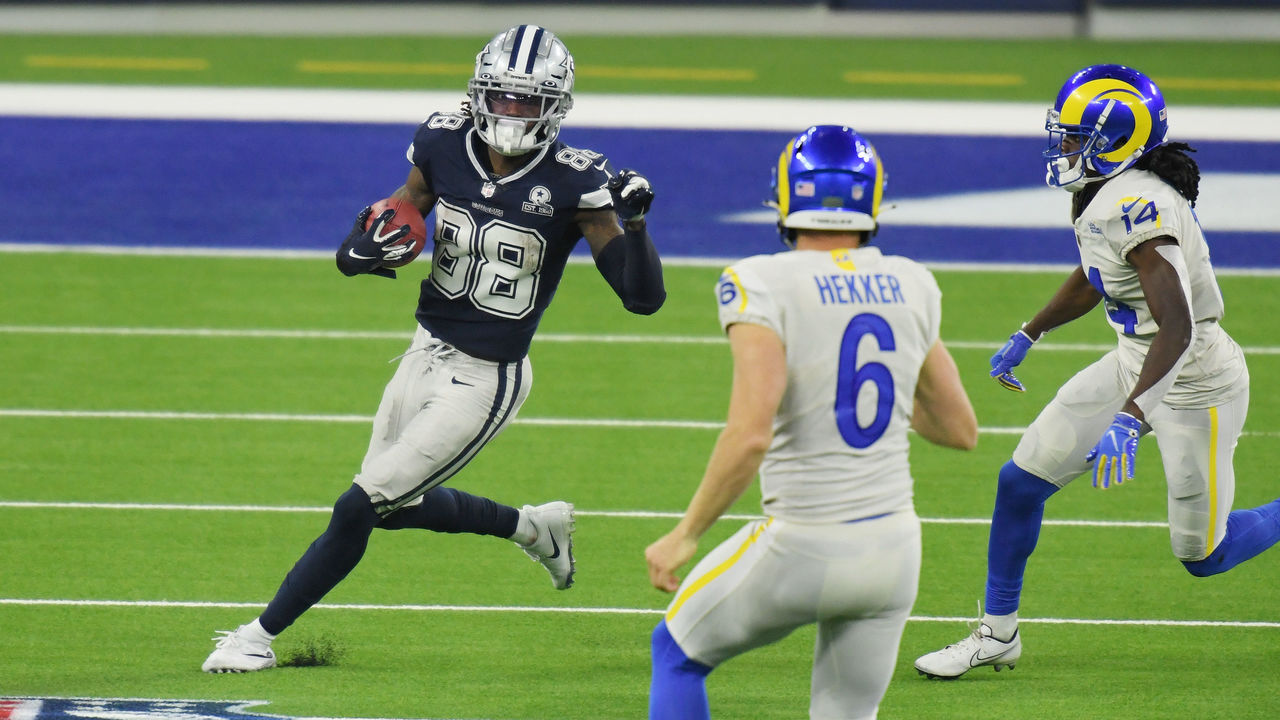 Grade: B
Even in defeat, it was easy to see why the Cowboys were so high on Lamb. Working out of the slot, Lamb posted five receptions for 59 yards and seemed to have natural chemistry with quarterback Dak Prescott. He made one glaring mistake on a pivotal fourth-and-3 when he ran a 2-yard crossing pattern that resulted in a turnover on downs for Dallas.
18. Austin Jackson, OT, Dolphins
Grade: C-
Widely viewed as one of the rawest first-round prospects, Jackson was inconsistent in his first taste of NFL speed. He didn't give up a sack of Ryan Fitzpatrick but was beaten multiple times in pass protection. On a less lucky day, the rookie could've been responsible for multiple QB takedowns. Still, Miami likely knows it must be patient with Jackson's development.
19. Damon Arnette, CB, Raiders
Grade: C
While he broke up a pass and had some other positive plays in coverage, Arnette got torched by Robby Anderson on a 75-yard touchdown reception. The Ohio State product also bounced off Christian McCaffrey at one point, reviving concerns about the number of missed tackles he had in college. In fairness, Arnette was playing with a broken thumb.
20. K'Lavon Chaisson, DE, Jaguars
Grade: C-
Chaisson was overshadowed by Henderson's dominant debut and had his best play against the Colts – an interception of Rivers – negated due to a penalty. He also made little impact as a pass-rusher, though he was facing what's arguably the league's best offensive line.
21. Jalen Reagor, WR, Eagles
Grade: C+
Reagor's debut was a mixed bag: He caught a 55-yard bomb, but it was his lone catch of the day. The Eagles knew they needed more speed out wide when they drafted Reagor, and in that regard, he came through. His numbers would have been more impressive had Carson Wentz not gone cold in the second half. Still, finishing a game with one catch is disappointing, no matter the circumstances.
22. Justin Jefferson, WR, Vikings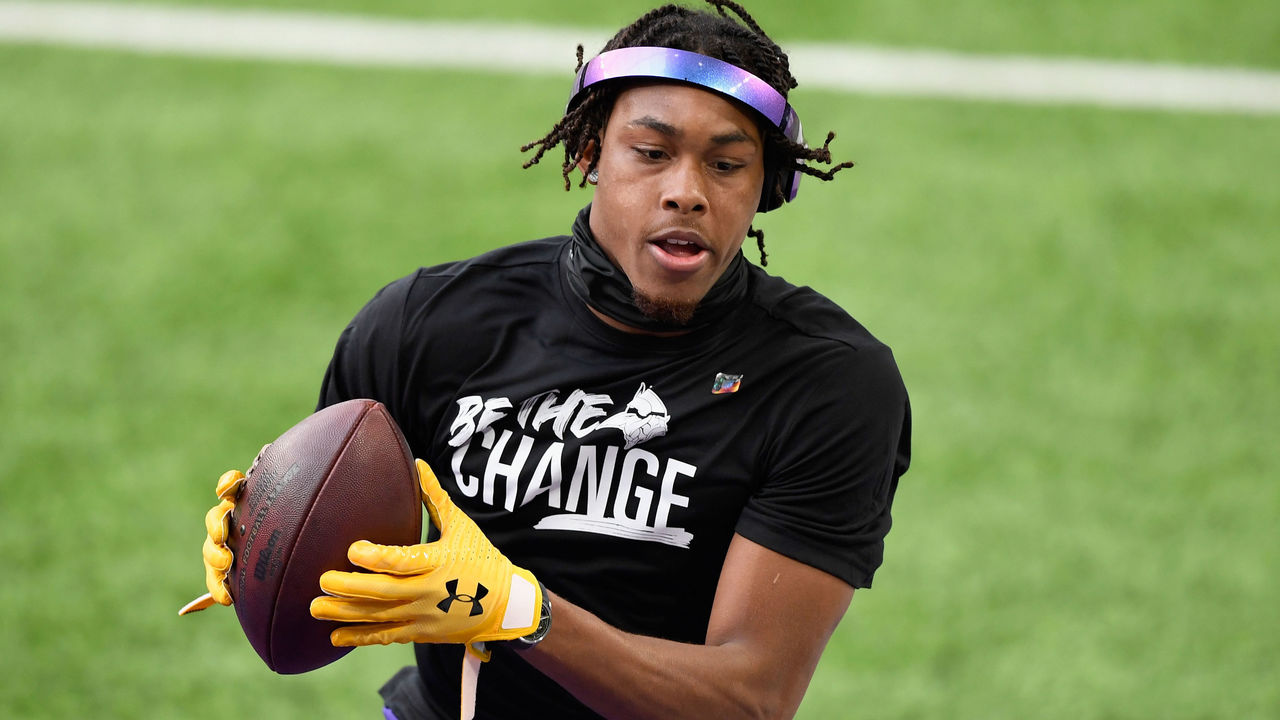 Grade: C-
The starting job opposite Adam Thielen is there for the taking, but Jefferson did little to seize it against the Packers. Despite receiving the second-most snaps among Vikings wideouts, Jefferson caught only two passes on three targets for 26 yards. He was outperformed by unheralded sophomore Bisi Johnson, who had three grabs for 56 yards and will probably remain the official starter in Week 2.
23. Kenneth Murray, LB, Chargers
Grade: D
Murray is a project for the Chargers, and the linebacker looked just that in a subpar game against the Bengals. He didn't appear comfortable in coverage and was often washed away in run defense. Picking Murray over Patrick Queen raised eyebrows at the time, and the early returns on both players highlight that questionable decision.
24. Cesar Ruiz, C, Saints
Grade: Incomplete
Ruiz missed Week 1 with an ankle injury.
25. Brandon Aiyuk, WR, 49ers
Grade: Incomplete
Aiyuk missed Week 1 with a hamstring injury.
26. Jordan Love, QB, Packers
Grade: Incomplete
Love acted as Aaron Rodgers' backup in Green Bay's win against Minnesota.
27. Jordyn Brooks, LB, Seahawks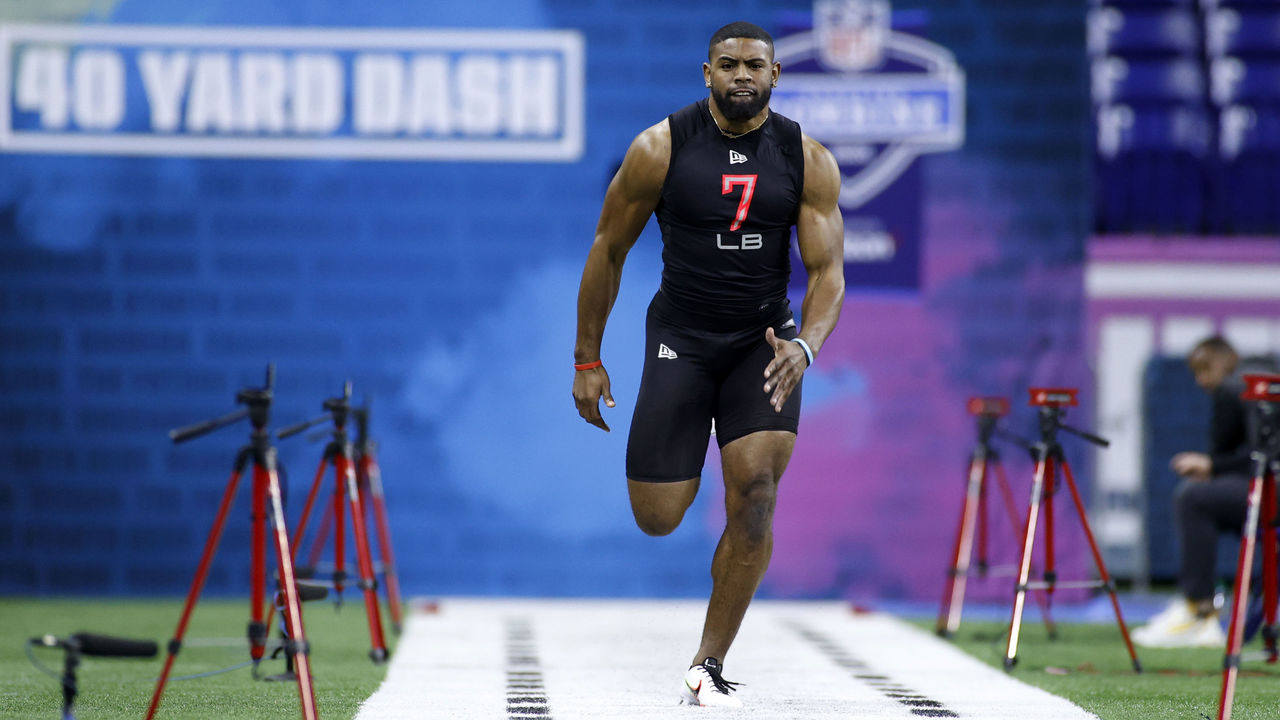 Grade: Incomplete
Brooks played seven snaps in Seattle's win over Atlanta.
28. Patrick Queen, LB, Ravens
Grade: A
How do eight tackles, a sack, and a forced fumble sound for a debut? It was difficult to understand why Queen slid to the bottom of the first round during the draft, and it's even harder to fathom now. Granted, his production came against a Browns squad that looked completely unprepared, but there is reason to believe Baltimore has found its next great inside linebacker.
29. Isaiah Wilson, OT, Titans
Grade: Incomplete
Wilson missed Week 1 after being arrested for a DUI.
30. Noah Igbinoghene, CB, Dolphins
Grade: C-
Igbinoghene didn't make many rookie errors against the Patriots, but he also did little to stand out. While he allowed a catch on the two times he was targeted, he did put in some solid effort on special teams.
31. Jeff Gladney, CB, Vikings
Grade: Incomplete
Gladney played nine snaps late in Minnesota's loss to Green Bay.
32. Clyde Edwards-Helaire, RB, Chiefs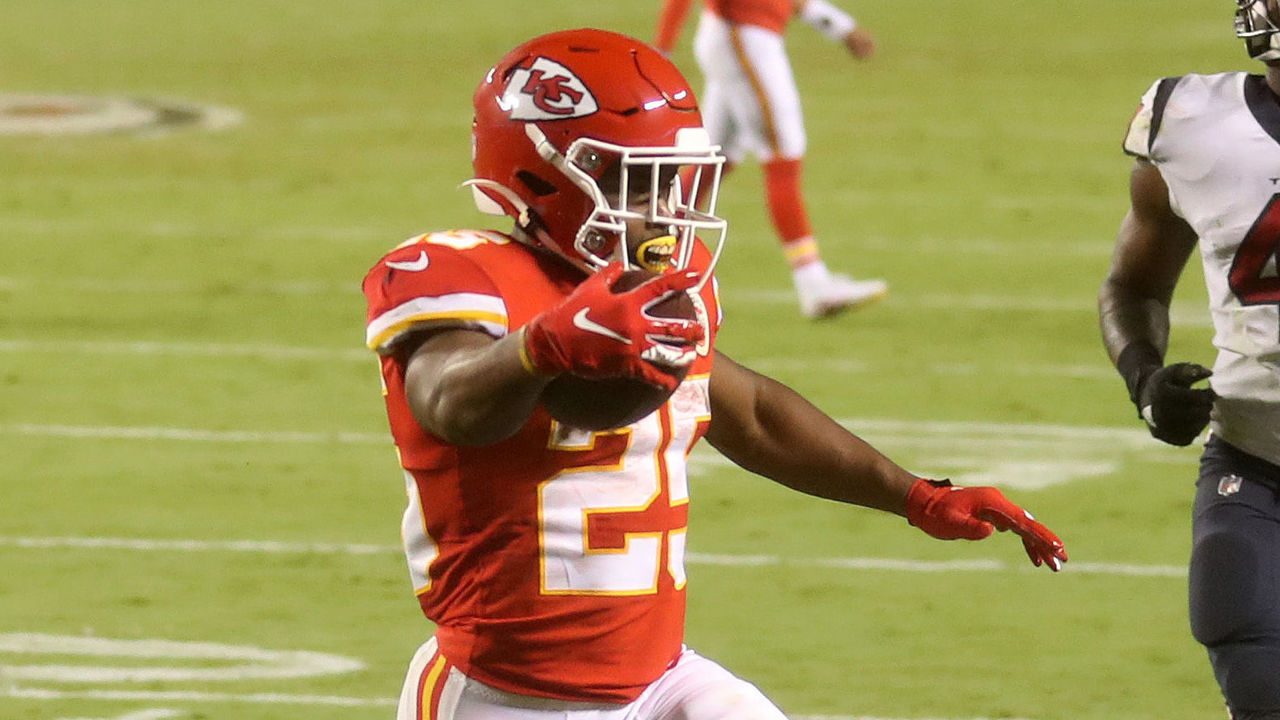 Grade: A
Who knew an uber-talented running back could thrive in a Patrick Mahomes/Andy Reid-led offense?! In the NFL's season opener, Edwards-Helaire looked the piece that will turn the Chiefs' offense from a terrifying monster into an unstoppable juggernaut. The former LSU standout looked like he couldn't be tackled while racking up 138 yards and one touchdown against Houston. And Edwards-Helaire didn't even get to show off his best skill, as he failed to catch a pass from Mahomes.