Full Count: Remembering the transformative Tom Seaver
Full Count is RunSportBet's weekly baseball notebook.
The New York Mets weren't a joke so much as an abomination until Tom Seaver, the legendary right-hander who died Monday at age 75, came around.
For the first half-decade of their existence, the Mets – one of two expansion clubs added for the 1962 campaign – were downright abysmal, averaging a whopping 109 losses per year and only once avoiding last place in the National League. In their inaugural season, even with the great Casey Stengel at the helm, the Mets set a Major League Baseball record for losses, with 120. In 1966, their most prosperous year of that woeful stretch, the Mets finished second-last in the league, 28 1/2 games back of the pennant. Their struggles redefined the term growing pains.
Then, in 1967, Seaver – a promising young hurler who had practically fallen into New York's lap after then-commissioner William Eckert voided his contract with the Atlanta Braves – arrived. By 1969, the Mets were champions, having parlayed a miraculous 100-win season into an even more improbable World Series title that would've been inexplicable were it not for one key factor: they had Tom Seaver.
Seaver, a highly cerebral pitcher who happened to be blessed with both tremendous stuff and impeccable command, fell one vote shy of unanimously winning the National League Rookie of the Year award in 1967 after authoring a 2.76 ERA in 251 innings. He distinguished himself in a league already replete with both established aces, like Bob Gibson and Juan Marichal, and burgeoning ones, like Steve Carlton and Ferguson Jenkins.
As a sophomore, during the so-called "Year of the Pitcher," Seaver was even more dominant, whittling his ERA down to 2.20 – only seventh-best among qualified starters – while managing a 0.98 WHIP and the fourth-lowest FIP (2.21) in the majors.
MLB lowered the pitcher's mound the following year in an effort to inject more offense into the game. Seaver hardly noticed. He crafted a 2.21 ERA in 1969 and won 25 games for the Miracle Mets, who had a losing record at the beginning of June yet claimed the pennant after they effectively won two out of every three games during an unforgettable four-month stretch.
Seaver won his first of three NL Cy Young awards while New York went on to sweep the Braves in the National League Championship Series and top the Baltimore Orioles in five games during the Fall Classic. Seaver, naturally, played a pivotal role in the World Series. He famously surrendered just one run over 10 sublime innings in a Game 4 dogfight, which ended when Pete Richert gifted the Mets a 2-1 victory by throwing away J.C. Martin's bunt attempt in the bottom of the 10th.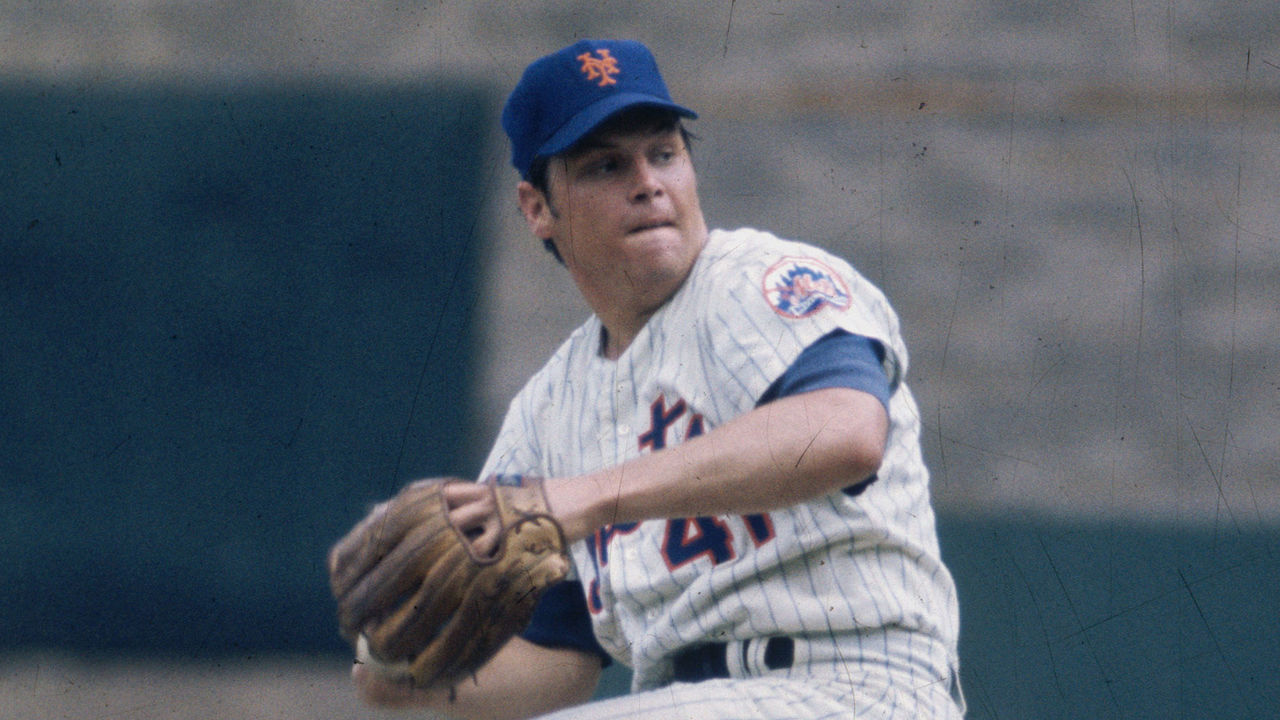 That season was an anomaly in the greatest sense, coming in the wake of a 73-89 finish the year prior, but the Mets' unlikely championship in 1969 nevertheless marked the beginning of an era of respectability for the previously moribund club. Seaver was largely responsible for that. For the remainder of his Mets tenure, which ended unceremoniously midway through the 1977 campaign with a trade to Cincinnati, Seaver was far and away the best pitcher in the game, capturing two more Cy Young awards while posting a 2.51 ERA over an average of 274 innings per year between 1970 and 1976.
Meanwhile, the Mets posted a losing record just once over that seven-year span and captured a second pennant in 1973, although they were bested by the Oakland Athletics – specifically, Bert Campaneris and Reggie Jackson – in Game 7 of the Fall Classic. Seaver, it should be noted, bears no responsibility for that World Series defeat: He allowed just two runs over eight masterful innings in a Game 3 loss before New York's offense let him down again in Game 6, squandering a seven-inning, two-run performance in a 3-1 defeat.
To this day, Seaver holds virtually every one of the Mets' all-time pitching records and remains the most transformative and indelible player in franchise history, so much so that he was literally nicknamed "The Franchise." How irreplaceable was he? Consider this: In 1976, their final full season with Seaver anchoring their rotation, the Mets finished 86-76. Their next winning season didn't come until 1984.
Although the Mets floundered without him, Seaver continued to dominate, even as age started to zap him of his stuff and forced him to rely increasingly on his considerable guile.
"Watching him pitch is like a struggling artist watching Michelangelo pitch," Jerry Reuss, an All-Star left-hander and Seaver contemporary, once said.
Seaver continued to burnish his legacy with the Reds – spending six mostly brilliant years there – the Chicago White Sox, with whom he won his 300th game, and, briefly, the Boston Red Sox. He earned virtually every accolade imaginable throughout his singular 20-year career, including 12 All-Star nominations and a no-hitter on top of his three Cy Young awards and World Series ring. The Baseball Writers' Association of America has yet to encounter a starting pitcher more deserving of election to Cooperstown: Seaver received 98.8% of the vote in his first year on the ballot, the fourth-highest mark ever, behind only Ken Griffey Jr. (99.3%), Derek Jeter (99.7%), and Mariano Rivera (100%).
Seaver was, quite simply, one of the best pitchers who ever lived. His loss will be felt profoundly throughout baseball, and particularly in Queens, where the local club was a source of embarrassment until Seaver showed up more than a half-century ago.
Wash(ed)ington Nationals
Some regression was to be expected in the wake of their magical 2019 season, especially following the free-agent departure of Anthony Rendon, but the Washington Nationals have truly been among the worst teams in baseball this year. It's increasingly fair to wonder if this team is built for future success.
Starting pitching has long been the Nationals' prime weapon, but their rotation has been uncharacteristically lousy this year amid Max Scherzer's decline and Stephen Strasburg's absence, two developments that paint a disconcerting picture. Scherzer turned 36 in July, and Strasburg, who made only two starts this year, won't pitch again in 2020 because of carpal tunnel syndrome.
Maybe it's just a blip, a byproduct of an especially taxing 2019 season, but banking on both of them to be dominant and healthy next year seems somewhat dubious given Scherzer's age and Strasburg's injury history. That doesn't bode well for the Nationals considering their lackluster offense.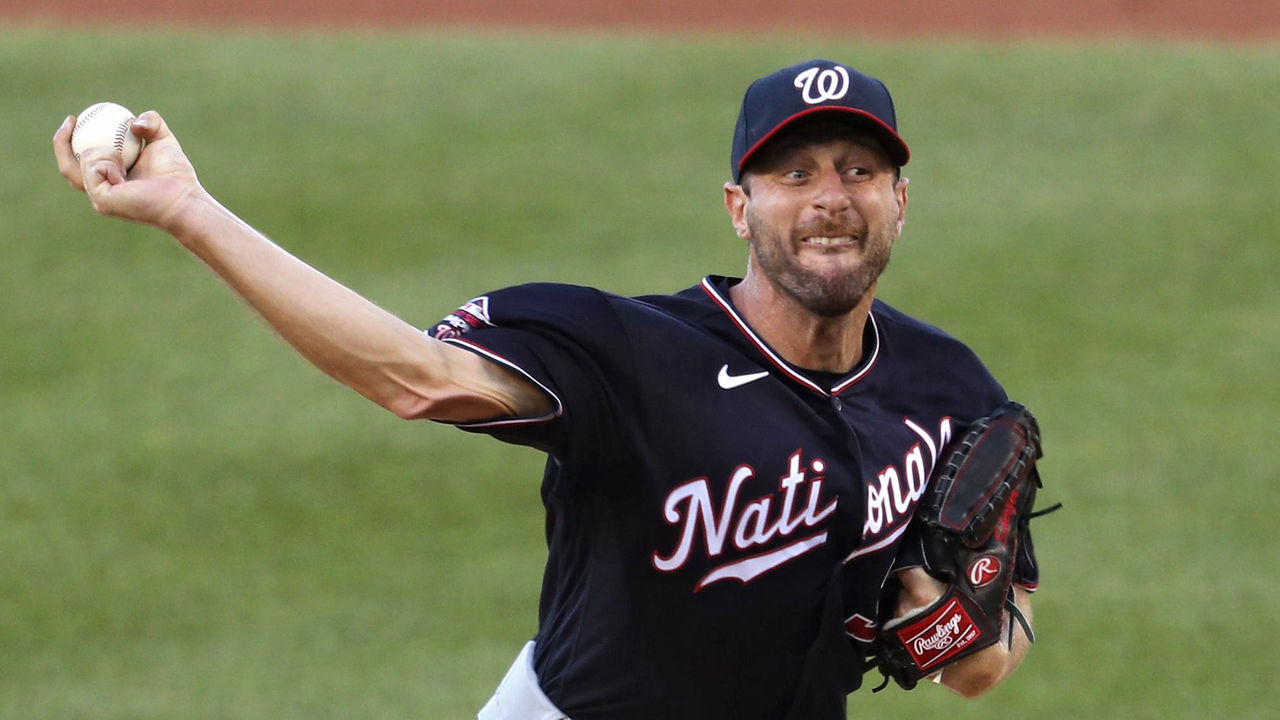 Besides two exceptional young players in Juan Soto and Trea Turner, none of Washington's regulars – many of them veterans on the wrong side of 30 – have hit a lick this year. Adam Eaton, Victor Robles, Asdrubal Cabrera, Howie Kendrick, and Eric Thames have all been well below average by wRC+, while top prospect Carter Kieboom – a popular preseason NL Rookie of the Year pick – was so bad through his first 17 games that he got optioned to the club's alternate training site last week.
Despite Soto's and Turner's Herculean efforts, the rotation's struggles have exposed just how thin this lineup really is. The especially troubling part is that, outside of Kieboom – who has hit .169 in his brief big-league career – the Nationals have no high-ceiling position players waiting in the wings.
Washington is ultimately a pitching-centric team that will need more from its top two starters if it's going to compete in 2021, Scherzer's final year before free agency. But while regression and decline are non-linear – Scherzer and Strasburg could be genuinely great next year – it's hard to shake the feeling that the Nationals won't be a powerhouse again for a while.
Happ-y Days
The Chicago Cubs' position-player nucleus has long comprised of six names: Kris Bryant, Javier Baez, Anthony Rizzo, Kyle Schwarber, Willson Contreras, and Jason Heyward. All six played a pivotal role in the club's long-awaited 2016 World Series championship, and all six have remained integral pieces in the years since.
For four seasons now, however, another player has quietly been just as instrumental to the Cubs' success, and though he's typically been regarded more as complementary than essential, his outsized contributions in 2020 have established him unequivocally as a core piece. In fact, no Cubs player has been more valuable this year than Ian Happ, who leads the club in WAR, OBP, slugging percentage, and wRC+, and has settled in as the club's primary center fielder after spending the last three seasons in a utility role.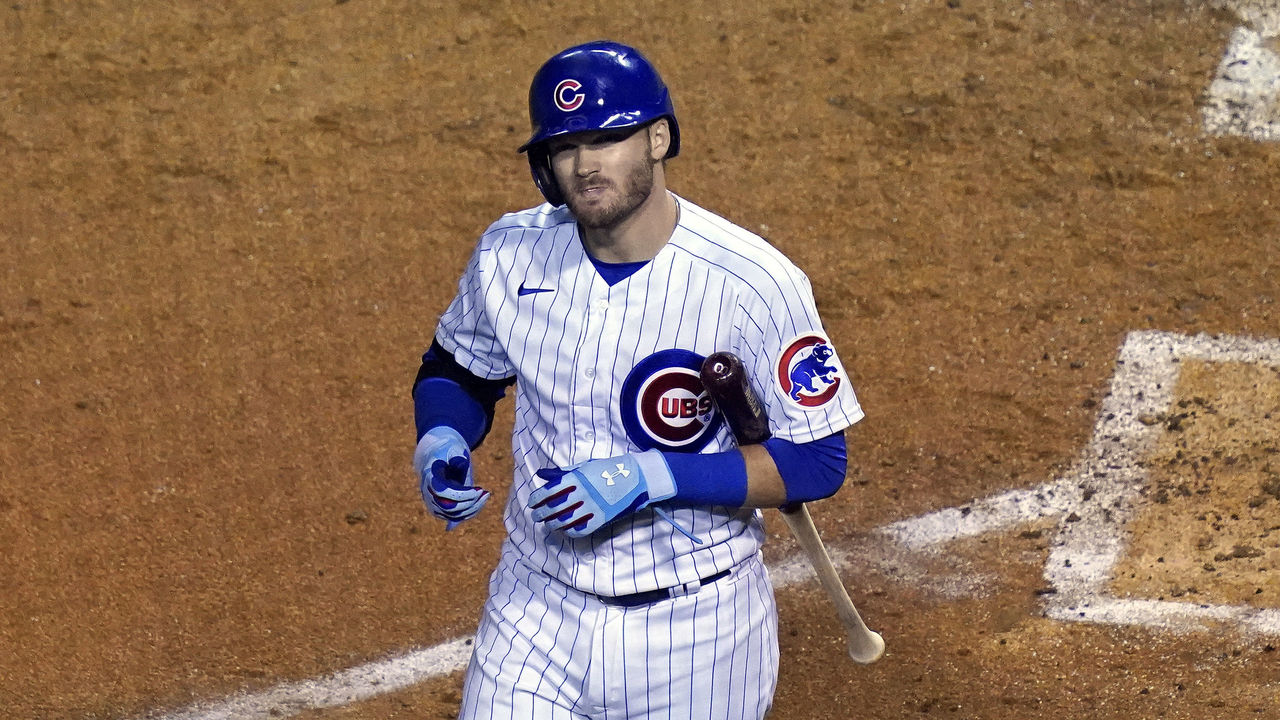 Happ, who managed a solid, if unspectacular, .801 OPS in his first two seasons with the Cubs, hinted at a potential breakout last year. The 26-year-old was a new hitter upon rejoining the club in late July following four months in Triple-A and a miserable spring, with a more aggressive approach fueling a massive power surge.
That surge, it turns out, was telling. Happ has slashed .286/.375/.603 with 21 home runs over his last 95 games stretching back to last summer, outhitting the likes of Bryce Harper, DJ LeMahieu, and Jose Ramirez over that span. Simply put, Happ has been one of the game's best hitters for more than a calendar year now, and he's suddenly an indispensable part of a resurgent Cubs team headed for its first division title since 2017.
Jonah Birenbaum is RunSportBet's senior MLB writer. He steams a good ham. You can find him on Twitter @birenball.