Flavia Pennetta won her 1st Grand Slam and then rode off into the sunset
Following our recent series on the best teams never to win a championship, we're flipping the concept. This series will examine a selection of the most unlikely teams to reach the mountaintop. These teams can be ones that got hot at the right time, or those who belong to franchises that have not often tasted the Champagne of champions.
It's impossible to talk about Flavia Pennetta's 2015 US Open title without also talking about her Italian compatriot, Roberta Vinci. No retelling of that wildly improbable event would be complete without both of them. Or, for that matter, without Serena Williams.
The US Open that year was all about Serena's pursuit of a calendar Grand Slam. She won the first three Slams of the year, and won the US Open the year prior, so as it was she held all four major titles at once. She'd done that before, 13 years earlier, but had never won all four in the same year.
Another Slam crown would give her 22 for her career, tying Steffi Graf for the most in the Open era. Williams arrived in Flushing Meadows with a 45-2 match record in 2015.
On the other side of the bracket, a 33-year-old Pennetta, ranked 26th in the world and in the midst of an up-and-down season, was playing in her final Grand Slam tournament. She knew it, but the rest of the world did not. What the rest of the world knew was that Pennetta had been struggling. She had a modest 16-15 record on the season and was bounced in the first round at seven of the 15 events she'd played, including two of the year's first three majors. She'd won just two matches in the five events she played since the French Open.
Pennetta had, to that point, enjoyed a successful career that included 10 singles titles, six Slam quarterfinal appearances, and a US Open semifinal berth in 2013. She ranked as high as 10th in the world. She won the biggest title of her career at Indian Wells 18 months earlier. She had a steady, balanced, intermittently powerful game, with a particularly strong backhand.
But she never broke through to become a reliable contender at the biggest events. Her serve and forehand were solid but unspectacular, and she lacked a dominant weapon. She underwent major wrist surgery in 2012 that threatened to derail her career, and she later admitted that she pondered retirement every year thereafter. By the fall of 2015, she was seemingly past her peak.
She also struggled at times to manage her emotions. Perhaps her most memorable match that season was during her Indian Wells title defense, when she was suddenly and swiftly overwhelmed by a tidal wave of angst in the middle of a fourth-round faceoff against Maria Sharapova, crying openly on court before recovering her composure and coming from behind to win.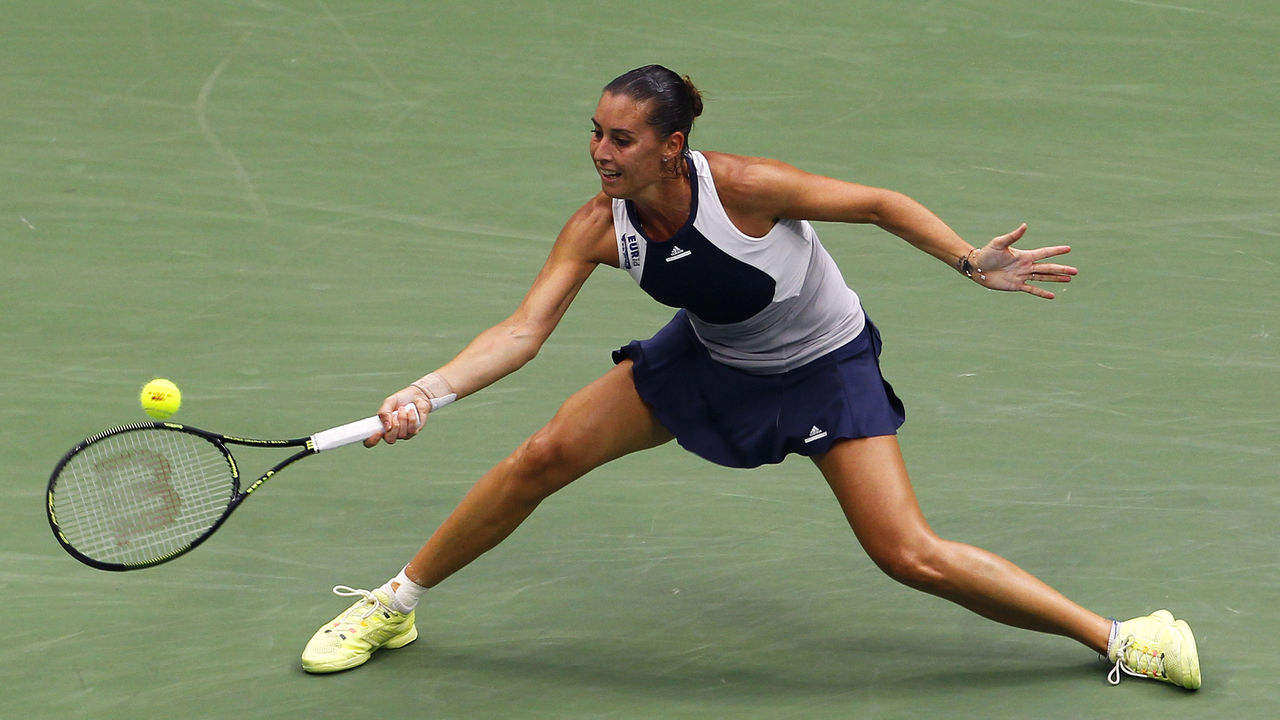 Pennetta played well, if unevenly, through the first week of the US Open. In the third round, she dropped the opening set 6-1 to journeywoman Petra Cetkovska, before bouncing back to win the second in equally lopsided fashion and holding on to win a tense third.
After cruising past 2011 champ Sam Stosur in the fourth round, she met world No. 4 Petra Kvitova in the quarterfinals, and gutted out a seesawing three-setter in which she was able to redirect Kvitova's immense power and use sly angles to move the big Czech around the court. Calmly, quietly, Pennetta was playing some of the best tennis of her career.
But, like everything else that happened during that fortnight in New York, her exploits were obscured by the shadow of Serena's historic chase, which consumed the tournament, the tennis world, and ultimately Serena herself.
On the day of the women's semis, Serena and Simona Halep appeared to be on a collision course. They were ranked No. 1 and 2 in the world, and had been playing epic matches in the latter stages of big tournaments all year. Halep had come up on the losing end of those matches, but showed she was plenty capable of pushing Serena to her limits. If anyone was going to derail the calendar Slam, it seemed like it would be Halep.
But in the first semifinal of the day, Pennetta played the match of her life, upending the fleet-footed Romanian in two dominant sets with a master class in smart, attacking tennis. Pennetta's best shot, her cross-court backhand, was never cleaner or more deadly than it was that day. Halep couldn't get so much as a toehold in the match. Pennetta kept her on the back foot, pinned behind the baseline, the entire time.
The defining stretch of the match came in the second set, after Halep secured a second straight break of serve and appeared to be turning the tide. Pennetta responded by winning the next 15 points, cracking winners off both wings.
The match was over in under an hour. Pennetta had beaten consecutive top-five opponents for just the second time in her career, and advanced to her first-ever major final in her 49th main-draw appearance.
A few hours later, Pennetta's countrywoman managed to one-up her with one of the most inconceivable upsets in tennis history.
Vinci was in her first career major singles semifinal, but nobody thought much of it. Her draw simply broke extremely favorably; she didn't face a top-30 player, and one of her wins was a walkover. She was a doubles specialist with a quirky, unconventional game that featured a backhand she almost exclusively sliced. She was 32, and ranked 43rd in the world in singles. She hadn't beaten a top-10 opponent in nearly a year. She had to qualify for the tuneup tournament in New Haven just two weeks prior. She'd faced Serena four times before and failed to win a set. She already had a flight back to Italy booked for later that night.
But on that day, Vinci's oddball variety seemed to throw Serena for a loop. She absorbed Serena's power and slung back whatever junk she could muster. She consistently managed to reset points with those slices, batted back sharp-angled balls that looked like sure winners, busted out tailing drop shots, and landed lunging volleys.
Serena steamrolled her way through the first set, but got tighter and tighter as the match wore on. She was vexed by her inability to put Vinci away, and by the unpredictable shots that came spinning back. Her feet slowed. She stopped hitting through her groundstrokes and started rolling the ball in. Vinci, emboldened, started to go on the offensive, and clinched the defining victory of her career with a pair of penetrating forehands followed by a cheeky half-volley.
When asked afterwards at what point she believed she could actually beat the world No. 1, Vinci answered: "Never."
Pennetta and Vinci had arranged a most improbable meeting in an all-Italian US Open final. They were then, and still remain, the two oldest first-time Slam finalists in the Open era. The following day, Pennetta beat Vinci in straight sets to become the oldest first-time Slam champion.
The final itself was sporadically entertaining, a little sloppy, and mostly unremarkable. There was some crafty shot-making on both sides, but neither woman played nearly as boldly or brilliantly as they had 24 hours earlier. Pennetta was noticeably more nervous than she'd been in her fearless run to the final. Vinci lacked the spark of inspiration that carried her past Serena.
It was understandable. The two had been friends for their entire careers. They'd been doubles partners as juniors, had played Fed Cup together, had even been roommates for a time. As often happens when two close friends face off in a high-stakes head-to-head, there was a sense of reticence and discomfort between the competitors.
Pennetta eventually steadied herself, won the first set in a tiebreaker, and then ran away with the second. It wasn't until the match ended that the tension gave way to unbridled joy. The two women jogged to the net and shared a long embrace.
Vinci didn't play particularly well, but she never let her head drop and never stopped smiling. She looked as content in defeat as most champions look in victory.
You couldn't help but be touched by the way Vinci, who would continue on tour for three more years before retiring, embraced the moment. She recognized how special it was, how unlikely she was to ever find herself on that stage again. Even if she didn't play her best, she was determined to enjoy every second.
Pennetta then capped off the emotional aftermath with a championship acceptance speech that doubled as a retirement speech. Hoisting the first major trophy of her career, she announced that it would be her last.
"This is the way I would like to say goodbye to tennis," she said tearfully, adding that she made the decision several months earlier.
If it's hard to imagine someone walking away from a sport immediately after playing it as well as she ever has, it's also hard to imagine a more fitting end to a career: Sharing the court with a lifelong friend, on the sport's biggest stage, in a moment neither could have expected to experience together.
Pennetta had been preparing herself for the end for a long time. She'd been on the pro tour for 15 years. She'd talked about struggling to sustain her competitive fire. She was ready to pursue other interests, ready for her life to be about something else. Winning a Grand Slam didn't change any of that; it just meant she got to tie up this one chapter of her life with a neat little bow.
"You lose so many things when you are young," she said afterward. "With this, winning today, my life is perfect. I cannot say something different. Perfect."
Joe Wolfond writes about basketball and tennis for RunSportBet.