5 takeaways from NFL Wild Card Sunday
Sunday's wild-card tripleheader ended with the Baltimore Ravens knocking out the Tennessee Titans, the New Orleans Saints beating the Chicago Bears, and the Cleveland Browns thumping the Pittsburgh Steelers. Let's take a closer look at some of what went down and what it means. For takeaways from Saturday's games, click here.
Holy cow, the Browns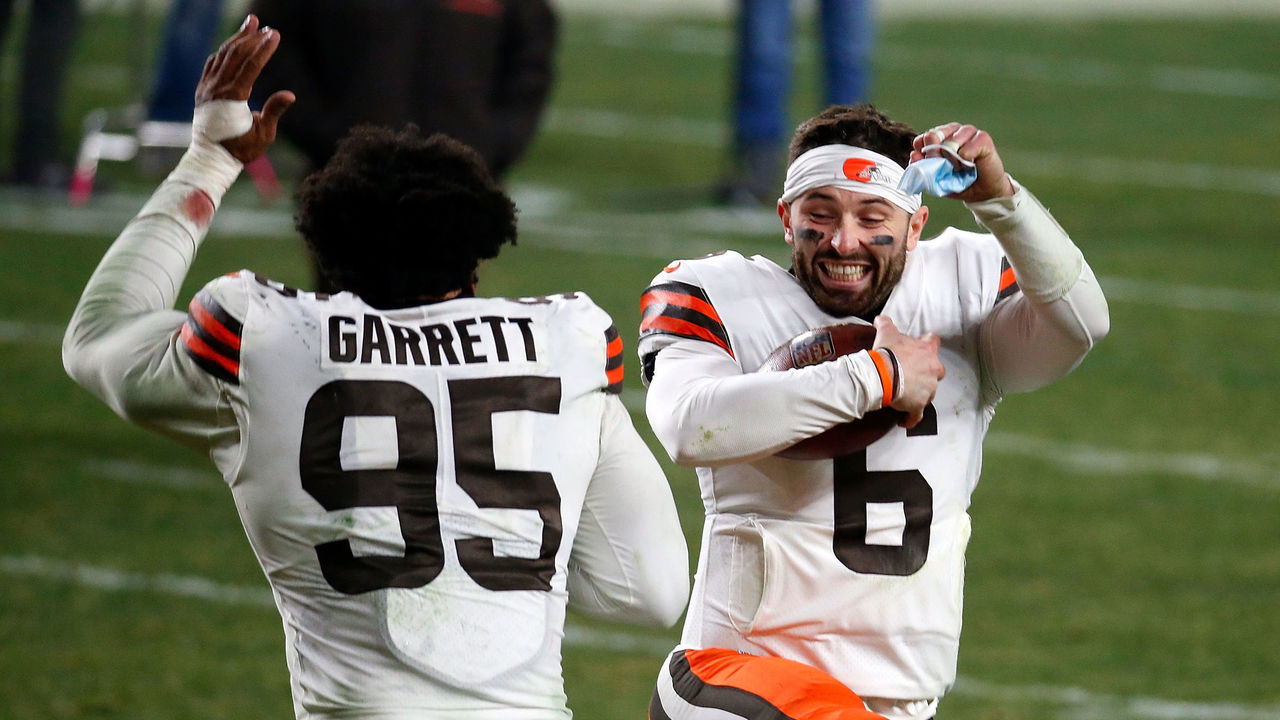 Who saw that coming? The Browns finally made the playoffs after 18 long years, only to have four coaches – including head coach Kevin Stefanski – and four players land on the COVID-19 list. They only practiced Friday, and they had to travel down the highway to face the Steelers in Pittsburgh, where they'd lost 17 straight games dating back to 2003, including a 38-7 whipping in Week 6. It was all set up for another #asexpected Browns letdown. And then the game began.
The Steelers, who had played exactly one half of good football since November despite finishing 12-4, turned the ball over three times on their first four possessions, doing so deep in their own territory each time. A snap sailed over Ben Roethlisberger's head and into the end zone for a touchdown on the game's first play. That was followed by an M.J. Stewart interception on a sailed throw. Then Larry Ogunjobi blew up star center Maurkice Pouncey on third-and-1 to force a punt, and Sheldrick Redwine picked off another inaccurate Roethlisberger throw. By the time Cleveland's offense had run 12 scrimmage plays, it led 28-0. It was the largest first-quarter lead in a playoff game since 1969. After all the years of heartache, Browns fans probably couldn't have dreamed of a sweeter scenario.
But Cleveland fans are conditioned to expect the worst, so they had to sit tight as the Steelers cut the lead to 35-23 and ended the third quarter with the ball at their own 46 – only for Pittsburgh head coach Mike Tomlin to chicken out and punt on fourth-and-1. Cleveland came tearing back up the field in six plays, with Nick Chubb racing 40 yards for a touchdown on a screen pass through a dejected Steelers defense. The collective sigh out of Northeast Ohio was reportedly heard as far away as Bulgaria.
There will be a time to break down Baker Mayfield's performance and the coverages the Browns used to take away Pittsburgh's ability to stretch the field early in the game. There will also be a time to consider how the Browns match up against the Kansas City Chiefs in the divisional round. Now is not that time. The Browns have won a playoff game for the first time since their expansion return in 1999 and their first on the road since 1969. And they did it by obliterating the hated Steelers. Savor it, Cleveland.
Beginning of the end for the Steelers?
Pittsburgh's crash and burn since its 11-0 start was one thing. But the worst may be yet to come.
The Steelers have major salary-cap problems awaiting them in 2021 when the cap seems likely to drop because of the pandemic's effect on league revenues. A few weeks ago, we examined the circumstances surrounding Roethlisberger's sky-high cap number and the complications it creates. As Ed Bouchette of The Athletic has pointed out, the Steelers also have 17 pending unrestricted free agents, including eight starters. That group includes wideout JuJu Smith-Schuster, edge rusher Bud Dupree, left tackle Alejandro Villanueva, running back James Conner, and nickel corner Mike Hilton. And Pittsburgh has little room to maneuver without making major changes.
"The Steelers have total cap liabilities for 2021 of $202 million, according to OverTheCap.com," Bouchette wrote. "If they remain $6.5 million under the cap as they are now, they can carry that space over to next year. They'd still be nearly $20 million over the cap, and that is without any of the potential free agents counting right now for 2021."
Some high-priced veterans could be cut to create cap room, including right guard David DeCastro and cornerback Joe Haden. But that would leave Pittsburgh without seasoned pros at key positions.
The NBC cameras captured Roethlisberger in tears as he left the field. His future as a Steeler will be determined by mid-March, when he has a $15 million roster bonus due. It will be the dominant storyline of Pittsburgh's offseason. But the Steelers have much, much more to sort out in the months ahead.
Ravens win with defense
Baltimore's victory provided some vindication for quarterback Lamar Jackson, who accounted for 315 passing and rushing yards and won his first playoff game on his third try. But it was also a huge defensive triumph.
The Ravens limited a Titans offense that finished the regular season ranked second in expected points added per play and third in offensive DVOA to an EPA/play of minus-0.09 and just 209 total yards. Derrick Henry – a 2,000-yard rusher during the regular season – was held to 40 yards on 18 carries. After a pair of first-quarter drives resulted in a touchdown and a field goal, the Titans were held to 3.3 yards per play and seven first downs. Their six possessions after the first quarter produced a field goal, four punts, and an interception.
The Ravens stacked the box with eight or more defenders on 72% of Henry's runs, per Next Gen Stats. That's the fourth-highest total a running back with at least 10 carries has faced all season. Against those stacked boxes, Henry averaged 1.8 yards per rush. The Ravens clearly benefited from having defensive linemen Calais Campbell and Brandon Williams on the field this time. The pair missed Baltimore's Week 11 loss to Tennessee when Henry picked up 89 of his 133 rushing yards in the fourth quarter and overtime.
Baltimore also played a lot of man coverage, which Titans QB Ryan Tannehill exploited on those two early scoring possessions. But the Ravens mixed in some Cover 3 defense and had cornerback Marcus Peters shadowing A.J. Brown after Marlon Humphrey was on the receiver at the start of the game.
Baltimore went into the matchup ranked 15th in weighted DVOA, which places less emphasis on contests played earlier in the season. This is the fourth straight game it's limited an opponent to 14 points or less. Now the Ravens get the Buffalo Bills on Saturday night. The chess match between Baltimore defensive coordinator Wink Martindale and Bills offensive coordinator Brain Daboll should be a treat.
Vrabel played not to lose, and it cost him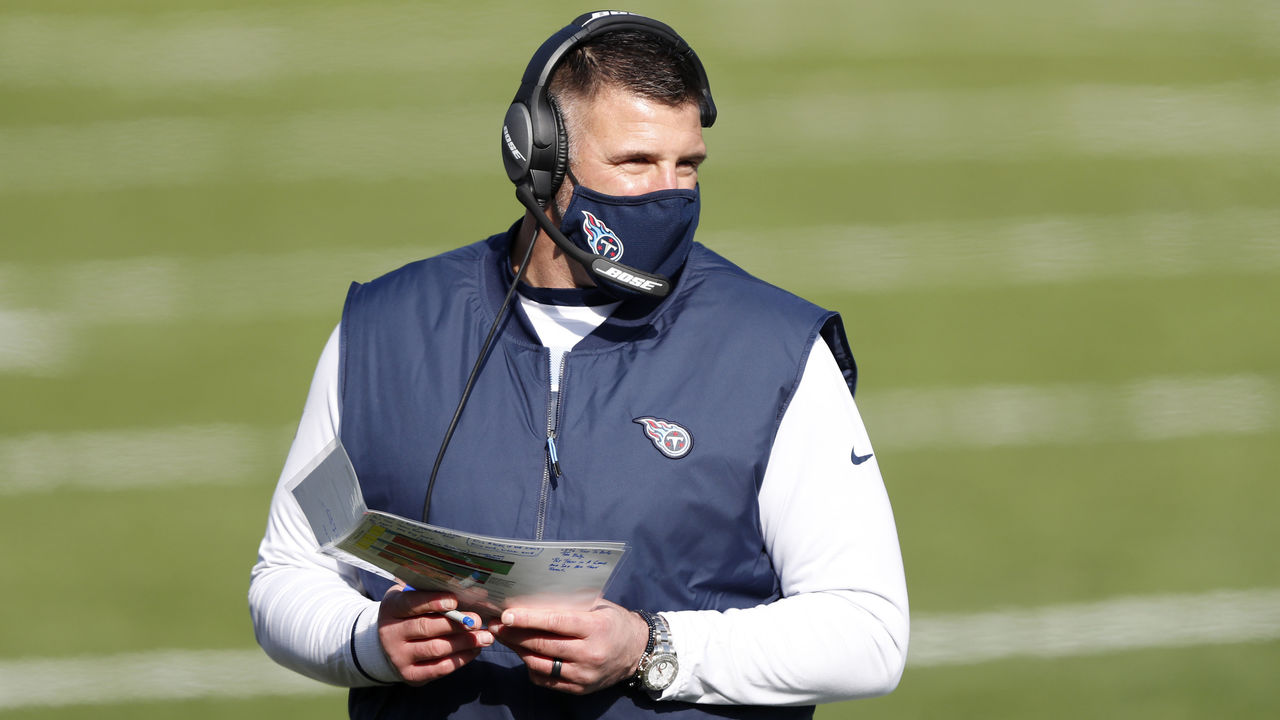 Two drives stood out in the second half where the Titans had the ball in late-down, short-yardage situations near midfield. On both, head coach Mike Vrabel opted not to use Henry and instead punt. Those decisions backfired.
The first time, Tennessee had a third-and-2 at its own 44-yard line with a little more than five minutes left in the third quarter, trailing 17-10. Instead of giving it to Henry, Tannehill attempted a pass to Corey Davis that fell incomplete. On fourth down, Vrabel decided to punt, even though Ben Baldwin's win probability model strongly suggested that going for it was the right move.
With about 10 minutes left in the fourth quarter, trailing 17-13, the Titans faced a third-and-2 from the Ravens' 40. A Tannehill pass short of the sticks to tight end Jonnu Smith was broken up by Ravens safety DeShon Elliott:
On fourth down, Vrabel again chose to punt even though Baldwin's model strongly pointed to going for it, with a chance to swing win probability in Tennessee's favor by nearly 8%. Brett Kern's punt was caught at the Ravens' 15-yard line, netting the Titans just 25 yards.
"I just decided to punt; I thought we were playing well defensively," Vrabel told reporters postgame, responding to a question about punting that second time. "It becomes a field position battle, and I thought that we'd get a stop and pin them inside the 10."
Good offenses tend to eventually play well, especially against a bad defense like the Titans', which ranked 29th in DVOA during the regular season.
After Kerns' punt, the Ravens marched up the field and held onto the ball for nearly six minutes before Justin Tucker kicked a 51-yard field goal to extend Baltimore's lead to seven. The Titans faced a third-and-1 from their own 30-yard line on the next possession. They handed it twice to Henry, who was stopped before moving the sticks on fourth down.
Tannehill was picked off two plays later, effectively ending the game. When Vrabel had opportunities to maximize his team's chances of winning, he chose not to take them. And now his team's season is over.
What's next for the Bears?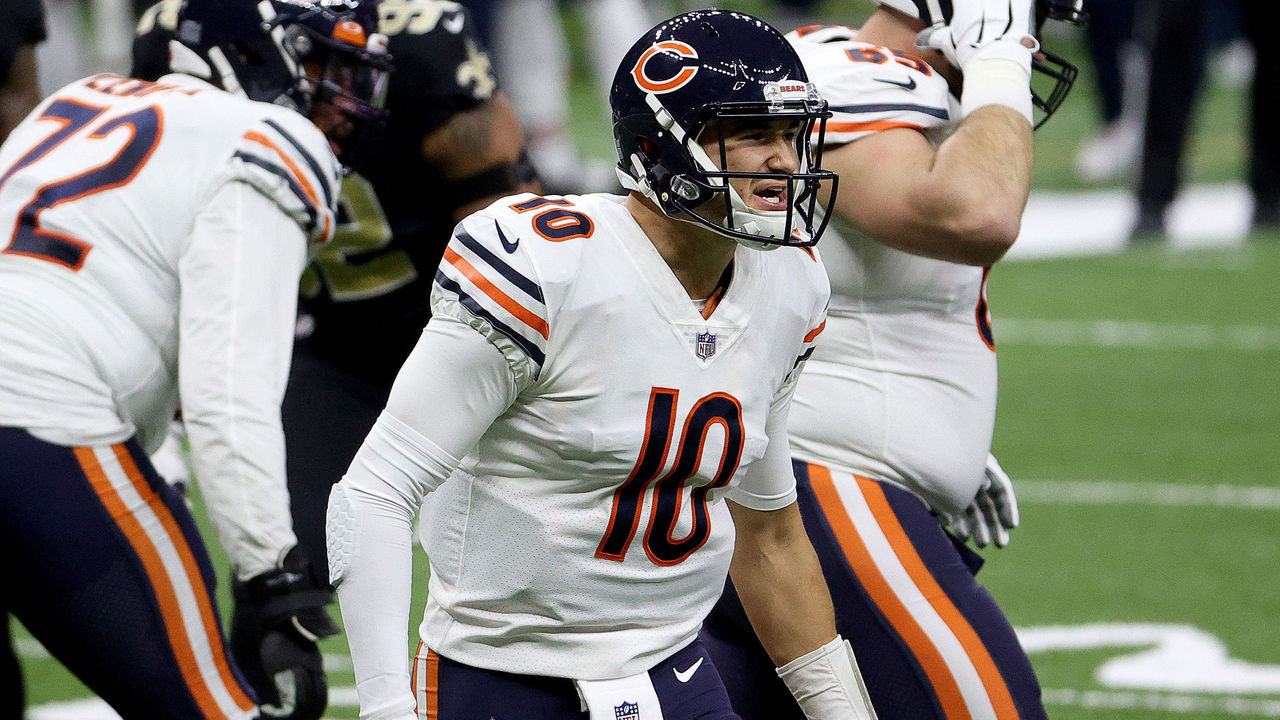 The Chicago Bears' campaign went about as well as anyone could have expected: An 8-8 regular season that barely got them into the playoffs, where they were quickly dispatched after a painfully dreadful showing on offense. Now what?
It's pretty much a certainty that Mitchell Trubisky won't be back. It was one thing for Chicago not to exercise the quarterback's fifth-year option for next year, but then came the report – on the morning of Sunday's playoff loss at the New Orleans Saints – that the Bears aren't set on re-signing Trubisky without a deep playoff run. The signal-caller went out and passed for 107 yards in the first 58 minutes before padding his stats with a TD drive that epitomized garbage time.
The Bears have a lot of other problems, though. Head coach Matt Nagy and general manager Ryan Pace were part of the brain trust that went all-in after Chicago won 12 games in 2018. The result has left the Bears with an expensive roster that's delivered little return heading into an offseason where the salary cap is likely to decrease. Chicago is also expected to lose wideout Allen Robinson in free agency.
Will the Bears blow it up, or try to patch things in a way that likely keeps them stuck in mediocrity? As Robert Mays, then writing for The Ringer, put it way back in June, Chicago is "short on resources and without any clear path forward. The Bears have been relegated to no-man's-land, and the journey out might be a treacherous one." True enough.
Dom Cosentino is a senior features writer at RunSportBet.