5 takeaways from NFL Wild Card Saturday
Saturday's tripleheader of wild-card games ended with the Buffalo Bills beating the Indianapolis Colts, the Los Angeles Rams upsetting the Seattle Seahawks, and the Tampa Bay Buccaneers holding off Washington. Let's take a closer look at some of what went down and what it means.
How Josh Allen did it is what matters
The Buffalo Bills quarterback put up numbers that look terrific on their own: 74.3 completion percentage, 324 passing yards, 54 rushing yards, two passing TDs, one rushing TD, zero interceptions. But it was the way he played that made all the difference in the Bills' first playoff victory in 25 years.
Take the drive at the end of the first half in which Allen marched the Bills 96 yards in just 1:32 to give Buffalo the lead. Twice in a three-play sequence, Allen delivered perfectly thrown sideline passes to wideout Gabriel Davis after being flushed from the pocket. The second one, in particular, was a prime example of Allen's ability to extend a play after it breaks down. Note his feel for escaping the pressure in addition to the way he quickly shifts his eyes back downfield before dropping in a perfect touch pass between two closing defenders:
Allen later extended the drive by drawing Colts defensive end Kemoko Turay offside on fourth-and-3. And then he flashed his rushing ability by picking up 16 yards on a QB draw before scoring a touchdown on an option keeper from the 5-yard line. Allen simply had too many ways to make it happen.
Indianapolis blitzed Allen on just seven of his 37 dropbacks (18.9%), according to Next Gen Stats. That's right around what the Colts did throughout the regular season when they blitzed just 17.1% of the time – the second-lowest total in the league. But even when they did bring extra pass-rushers, the Bills were able to pick it up and Allen was able to beat them, like he did on his 35-yard touchdown pass to Stefon Diggs early in the fourth quarter:
Allen wasn't perfect. He certainly got lucky when his fumble with less than four minutes remaining was recovered near midfield by Bills right tackle Daryl Williams on a play that resulted in a 23-yard loss. But Allen has succeeded so much this season – thrusting himself into MVP consideration and establishing the Bills as bona fide Super Bowl threats – because of a lot of what he showed on Saturday.
On Frank Reich's decision-making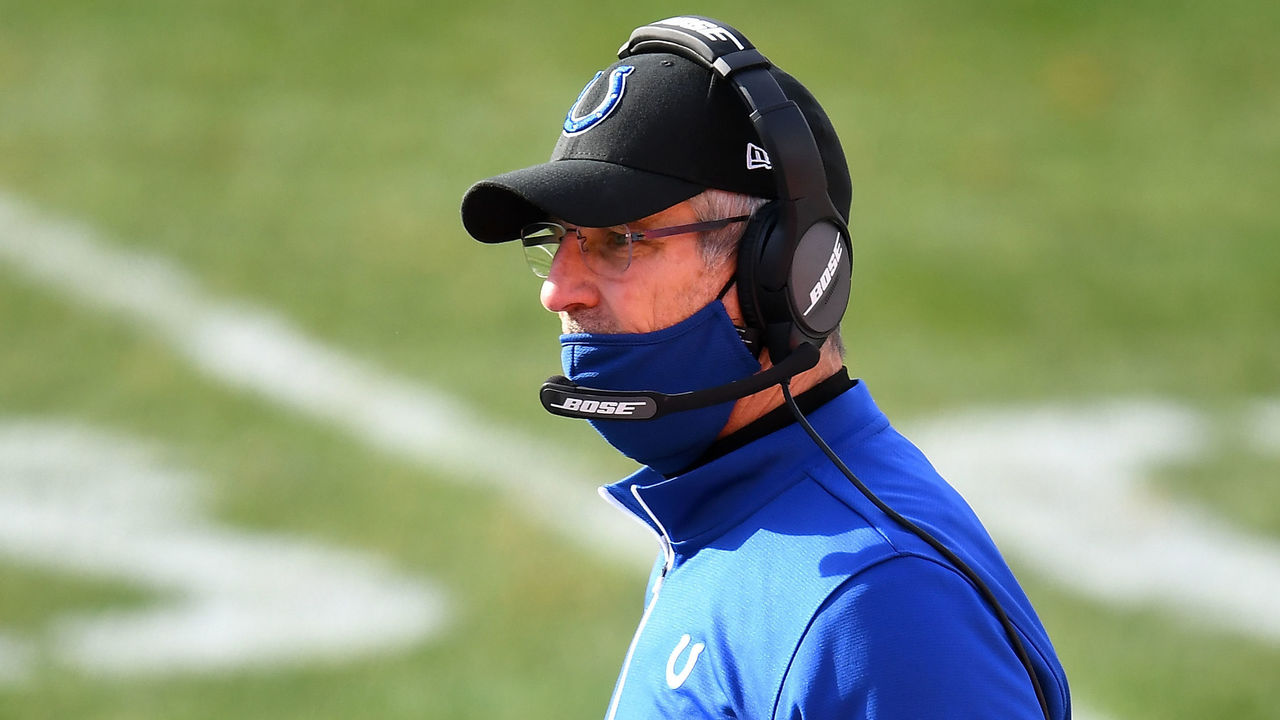 Colts head coach Frank Reich is going to be second-guessed for a number of choices he made, but two of the most consequential might not be the most obvious.
Forget Reich's decision to go for it on fourth-and-goal from the 4-yard line late in the first half, or when he later attempted a two-point conversion while trailing by eight points with a little more than 11 minutes to play. They were defensible decisions: Both Ben Baldwin's and ESPN's win-probability models suggested kicking a field goal on the former was the better option, but only slightly. The Colts were also winning the field position battle at that point, and pinning Buffalo on its own 4 with less than two minutes remaining made some sense; Allen just made multiple huge plays on the ensuing drive. The math also favors going for two when trailing by eight, and Reich made the decision to do so only after the Bills jumped offside, placing the ball at the 1.
Reich actually screwed up by handing off to Jonathan Taylor out of the shotgun attempt on that conversion, even though Buffalo had nearly its entire defense crowding the box. Reich also burned two of his three second-half timeouts for no reason. He used the first early in the third quarter when the Colts were about to get hit with a delay of game penalty on first down. He lost the second when he chose to challenge a Zack Moss fumble early in the fourth quarter even though replays clearly showed the running back was down before the ball came loose.
Indy used its final timeout before Buffalo punted with a little more than two minutes remaining. As a result, on their final drive, the Colts were forced to try to attack the sidelines, and Buffalo knew it. The Colts didn't get beyond the Bills' 47-yard line.
Tom Brady survives Taylor Heinicke
You read that right.
Brady threw for 381 yards, posting a robust expected points added per play of 0.49. But he barely beat Heinicke, who wasn't on an NFL roster until Dec. 8 and was only announced as Washington's starter a few hours before kickoff because of Alex Smith's calf injury.
Heinicke gamely finished with 306 passing yards while rushing for an additional 46 yards, and he seemingly produced a season's worth of "Whoa, who is this dude?" moments. Trailing by eight, he even drove Washington into Tampa Bay territory before turning the ball over on downs to end the game.
The takeaways for the Bucs here? Their offensive line did a terrific job of protecting Brady against Washington's formidable defensive front, the veteran signal-caller showed a consistent ability to make huge throws from the pocket, and running back Leonard Fournette (93 rushing yards on 19 carries) can provide a little boost of balance.
Still, the Bucs produced the most regular-season variance of any team in the league, and they'll next face either the Rams at home or the Saints on the road – a pair of clubs that went 3-0 against them this fall.
The takeaway for Washington? That Heinicke is the true GOAT, and the team will probably sign him to a multi-year deal averaging $30 million per year. (I'm kidding.) (Maybe.)
Rams' defense does it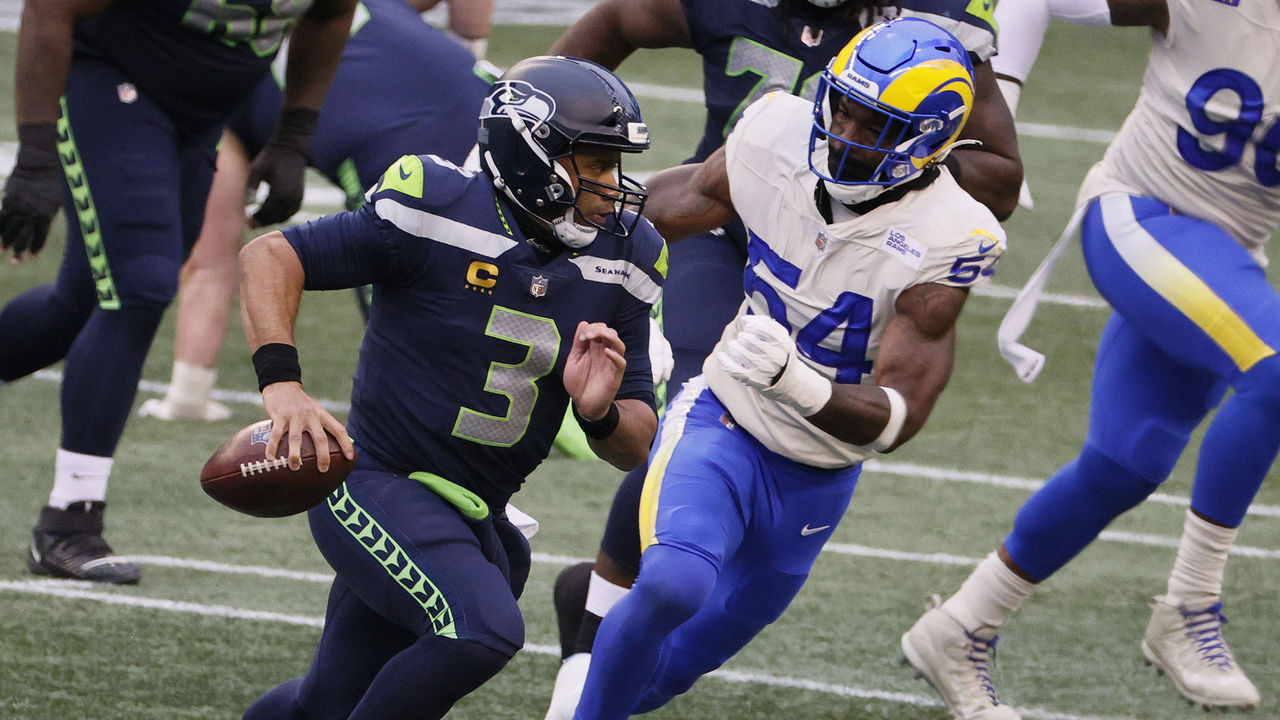 With John Wolford starting at quarterback, Los Angeles was going to need a big game from its defense to beat Seattle. And though Wolford was hurt in the first quarter and had to be replaced by the injured usual-starter Jared Goff, that's exactly what happened. What's most remarkable is how dominant the Rams were.
L.A. sacked Russell Wilson five times and hit him on 10 occasions. Wilson completed just 11 passes for a 40.7% completion rate – both season lows. He tossed a brutal interception that cornerback Darious Williams returned for a touchdown.
Here's the thing, though: Wilson saw pressure on a season-high 43.8% of his dropbacks, even though L.A. frequently rushed only four attackers. Some combination of Aaron Donald or Leonard Floyd wasn't in his face on every play, but it sure seemed that way. It should be noted that the Rams pressured Wilson 35.7% of the time in their three meetings this season, according to Next Gen Stats. Against the rest of the league, Wilson was under duress a mere 23.2%.
On the back end, L.A. cornerback Jalen Ramsey again largely erased Seattle wideout D.K. Metcalf:
The Rams' defense finished the season ranked first in weighted DVOA, which is adjusted to emphasize games played later in the season. It's the kind of formula that can carry a team, though the stakes certainly get much harder going forward. Next up is either Brady or Aaron Rodgers.
Soul searching in Seattle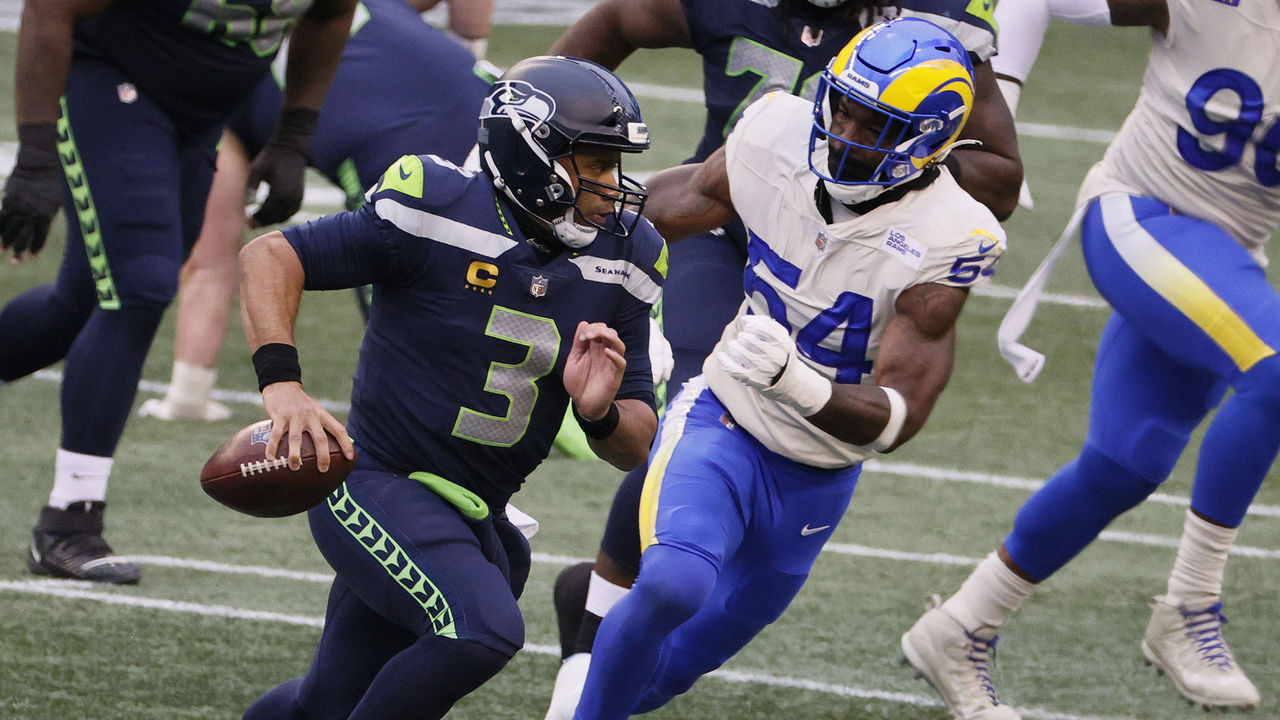 After such a quick playoff exit in a year that started with such promise, the Seahawks have to wonder where they go from here.
Wilson's performance tailed off considerably in the latter half of the season, and Seattle no longer has a first-round pick in either of the next two drafts. Those now belong to the New York Jets, who also have the Seahawks' third-rounder in 2021, all thanks to the summertime trade for safety Jamal Adams. That deal always looked like a win for New York, but especially now.
Dom Cosentino is a senior features writer at RunSportBet.