Well, that was underwhelming.
The hype train, somewhat predictably given the pedigree, went into overdrive ahead of Monday's meeting between perennial rivals Liverpool and Manchester United. Anfield looked gorgeous, and the stage was set for an intoxicating 90 minutes to close out this week's slate.
What we got, instead, was a classic Jose Mourinho show.
The Red Devils' boss implemented a defensive system that stymied a typically free-flowing Liverpool, and resulted in the first goalless draw between these clubs since 2005.
Here are four things we learned from Monday's contest:
Mourinho still doesn't know how to use Pogba
If any player was indicative of the sullen state of affairs at Anfield, it was the world's most expensive footballer.
Many have clamored for Paul Pogba to be thrust into a more attacking role in United's midfield, and Monday's marquee showdown provided, on paper, the perfect stage for the Frenchman to shine. Instead, he, like many of the 21 other players on the pristine Merseyside pitch, sputtered.
Particularly in the opening 45 minutes.
Pogba, the subject of much undue criticism since his return to the club from Juventus this summer, looked ponderous playing in the hole behind lone striker Zlatan Ibrahimovic, completing just two forward passes before halftime.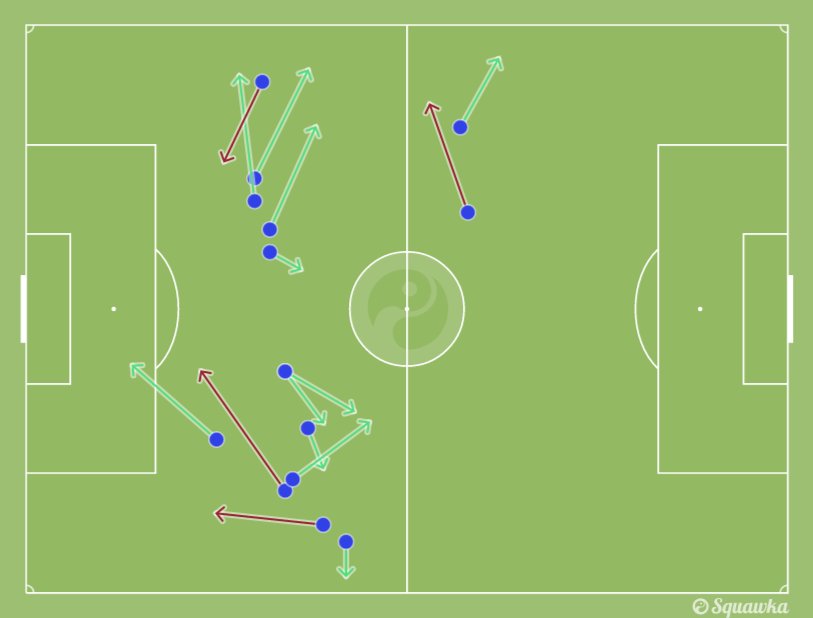 (Courtesy: Squawka)
And that was when he managed to keep hold of the leather spheroid.
His performance improved after the break – United's best chance of the match came after the angular No. 6 broke Jordan Henderson's ankles before sending a sumptuous cross onto the cranium of Ibrahimovic, only for the big Swede to miss the target.
While added attacking freedom is all well and good, Mourinho still seems unable to get the best out of Pogba. His ability to slice open a backline with a perfect pass has never been in question, but he's at his best when given license to roam from a somewhat deeper spot than he was playing Monday – not quite as deep, however, as he was at the beginning of the season, when he was anchored alongside glorified pylon Marouane Fellaini.
Mourinho needs to strike that balance, or United's season will wither.
Herrera vital to United's fortunes
While Pogba struggled to assert himself, midfield peer Ander Herrera picked up the slack, and continued his fine run that has seen him become an automatic choice for Mourinho.
The energetic Spaniard was left largely to rot on the bench by Louis van Gaal last season – he started only 10 games – and seemed destined for a similar fate in the very early stages of the new campaign under the new gaffer.
Instead, the former Athletic Bilbao man has become vital to the Red Devils, his dynamism and ability to cover copious amounts of ground – along with an underrated passing range – adding a much-needed box-to-box presence in the side. Indeed, he made more tackles and interceptions combined (18) than any other player in a single Premier League match this season.
He is, for lack of a better phrase, everything Wayne Rooney wishes he could be – and perhaps thinks, waywardly, that he is.
Given Fellaini's presence, having Herrera as a one-man wrecking crew that has the flair to also get forward is enormous.
Emre Can serviceable, but Liverpool misses Gini
For all of his defensive shortcomings – which aren't entirely his fault, given that he isn't a prototypical central midfielder – Georginio Wijnaldum offers Jurgen Klopp a vital attacking outlet.
The Reds are rife with talent up front, but the Dutchman's late runs and ability to make quick passing decisions in key areas adds an extra dimension to the attack that can overload defences already tasked with containing the likes of Sadio Mane and Roberto Firmino (two stars, who, for the record, had an evening to forget).
Wijnaldum was felled by a hip injury sustained on international duty with the Netherlands – another casualty of the intrusive World Cup qualifying schedule – and his absence loomed large Monday evening.
Emre Can provides the legs that continue to make Klopp's manic pressing system viable, but once he accomplished the goal of winning the ball back, he wasn't able to make the quick decisions that could unlock a sturdy Manchester United backline – save for a nifty bit of footwork that forced a great save out of David De Gea early in the second half.
Hurry back, Gini.
Mourinho shoots 50 percent
Mourinho's defensive setup was effective in shutting down what was the league's third-most prolific side heading into the encounter. The aforementioned Herrera was a monster, Fellaini at the very least provided an obstacle, and Ashley Young, handed his first-league start of the year, shut down Nathaniel Clyne's typically rambunctious forays forward.
Liverpool was sloppy in possession, sure, but don't fool yourself: Mourinho's plan had plenty to do with that.
His tactic for creating opportunities in the other direction, meanwhile, didn't quite have such generous results.
The Portuguese bench boss' intention of trying to exploit Liverpool's lack of aerial presence was clear an hour before Anthony Taylor blew his whistle for the first time; an imposing lineup was fielded, and Young's dead ball delivery could have theoretically been key to wreak havoc from set pieces.
United didn't get that chance, though.
Liverpool committed just 14 fouls – only five in the defensive third and none in what one would consider a dangerous area – and United only earned one corner kick. Fellaini could only muster a limp header wide of the target on said corner kick.
The aerial advantage went out the window, and for all intents and purposes, so did United's chances of leaving Merseyside with all three points.