With the top five clubs separated by a mere point, and certain players already putting their name in the PFA Player of the Year hat with mouth-watering showings, this Premier League season is shaping up to be a corker.
Sometimes, though, the drawbacks of certain personalities and philosophies can be equally entertaining and frustrating – and we've had our fair share.
Here are the four biggest Premier League disappointments as we reach the 2016-17 term's quarter-way point:
Guardiola's goalkeeping revolution
Pep Guardiola's dismissive wave to Joe Hart's 10 years, four Golden Glove awards, five major trophies, and Eastlands adulation at Manchester City was ballsy, but then to replace him with an error-prone veteran was teetering on stupidity.
Perhaps a little harsh – and it's a decent bet that Claudio Bravo, 33, will settle nicely between the sticks for the Blues and habitually show his wide array of passing skills – but so far he's made the impression of a fart in an elevator.
His flapped assist to Zlatan Ibrahimovic on his debut could, in fact, be more the fault of John Stones' positioning and decision making, but his dallying on the ball (the asset City stumped up over €18 million for) has been hounded week after week in the top flight.
He has taken his struggles into continental matters as well, handling the ball five yards outside his area against Barcelona to earn a red card and the spark the consequent collapse of his new side.
Jose Mourinho
Like a frivolous lottery winner, Jose Mourinho has dipped into the Manchester United coffers with no great thought on how his lavish purchases will look alongside the tired furniture of Marouane Fellaini and Wayne Rooney.
The most glittery procurement was Paul Pogba, a world-record €105-million buy, and Mourinho has denied the Premier League of an undoubtedly gifted performer. The combative boss has shunted him all over the XI like a porcelain figurine received as a gift from an elderly relative, subsequently hidden away in cobwebbed corners.
His failings don't just lie there. The exclusions of Matteo Darmian, £30-million summer buy Henrikh Mkhitaryan, and Morgan Schneiderlin are puzzling, and his insistence in fielding a 4-2-3-1 isn't doing the drab form of Anthony Martial and plenty of others any favours.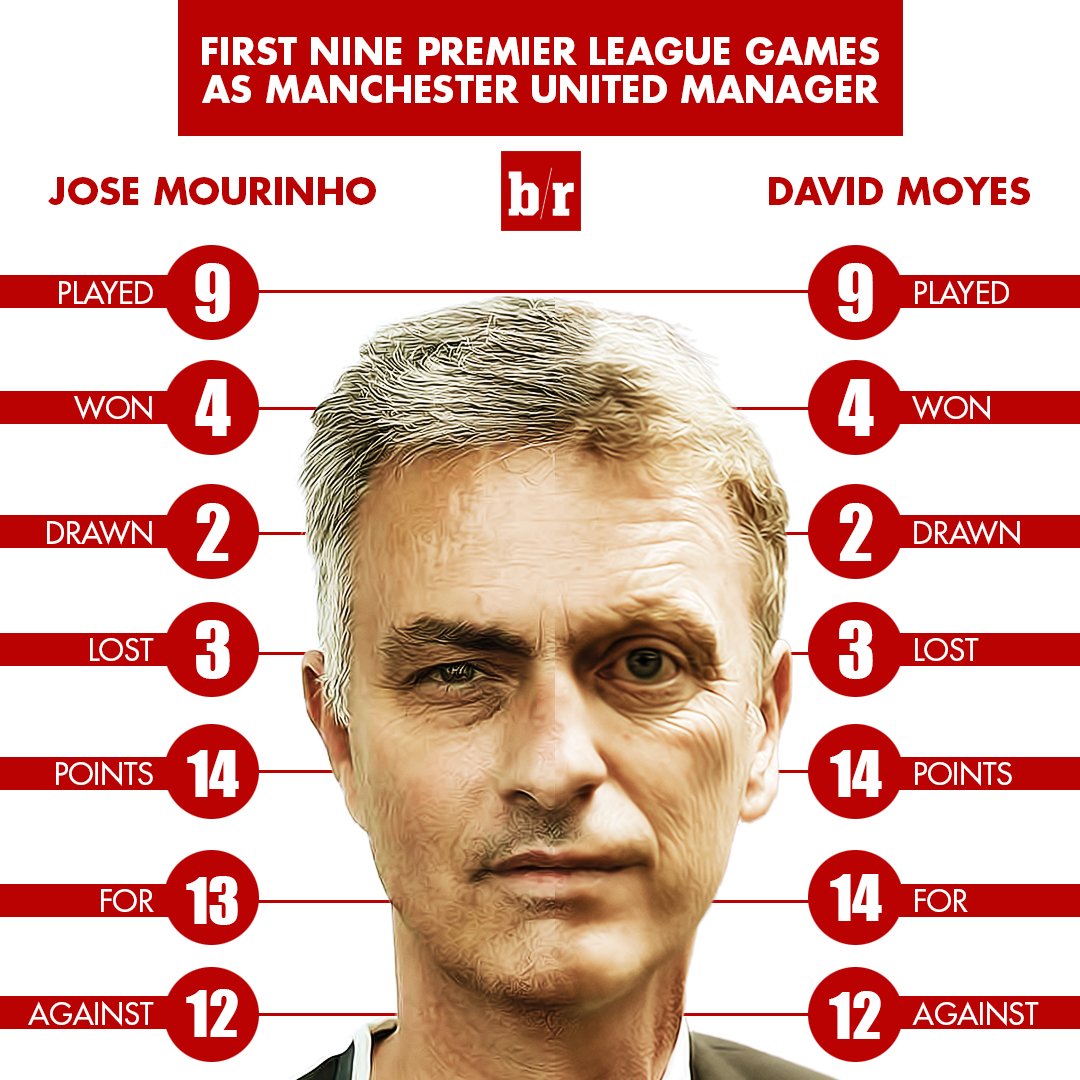 (Courtesy: @br_uk)
In fact, with the exception of glimpses from Ander Herrera and Jesse Lingard, it's difficult to make a case for a midfielder or forward showing anything but a downturn in fortunes under Mourinho's watch.
Mourinho needs to straighten things up at home, and that begins with Wednesday's League Cup visit from Manchester City.
Sunderland
"We want to get back to basics," said Sunderland chief executive Martin Bain last week. "We've got a football club here that has to be very synonymous with its northeast identity. The fans want that from the football club, and without being disparaging to anything that's gone before I think its probably lost its identity. It's tried sometimes to be a club that it's not."
Bain's vision to steadily improve the Black Cats' thinking is admirable, but maybe focus should rest solely on the on-pitch deficiencies.
David Moyes looks lost. His inexplicable signings of players who lack the pedigree for a basement battle – Donald Love, Paddy McNair, Adnan Januzaj, Jason Denayer, Papy Djilobodji – are unsurprisingly busts, and Jermain Defoe appears to be the only senior player capable of stepping up.
And the backup beyond Defoe, 34, is uninspiring to say the least: a crocked Fabio Borini, and Victor Anichebe, who somehow continues to carve out a top-tier career for himself.
Sunderland is the only team in England's top five leagues that's yet to record a win.
Lack of managerial spats
Guardiola. Mourinho. Wenger. Conte. Klopp. A smattering of Alan Pardew dancing for good measure.
This season's touchline tussles should've been barnburners, but all we've had from Mourinho is a bit of touchy-feely with supposed hated rival Guardiola, and a whispering of sweet nothings into Conte's ear.
What happened to the unnecessary barbed comments from a now defeated-looking Mourinho, or Wenger gesticulating like a wacky waving inflatable arm flailing tube man in the technical area?
It almost makes you miss Louis van Gaal's antics. Almost.